Two candidates for the New Mexico Senate consider the budget deficit a big issue, but not an essential factor in the election.
This year's race for the New Mexico legislature is a major one, as all house and senate seats are up for grabs. According to Ballotpedia, the battle between Republicans and Democrats for state legislative control is one of the most competitive, nationally, this election season.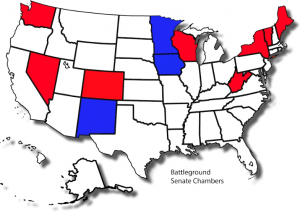 The state senate is controlled by Democrats by a margin of only six seats, and one of the most competitive seats is that of Senate District Nine, where incumbent Sen. John Sapien, D-Bernalillo, will be facing off against Republican challenger Diego Espinoza.
Sen. Sapien won the district in 2012 with only a 161 vote margin, meaning that it is a prime target for Republicans to take it back.
The Republican Legislative Campaign Committee and the Republican State Leadership Committee planned to spend $40 million on legislative races in New Mexico, and have targeted Senate District Nine as one of the seats to watch.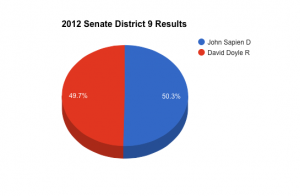 "I'm not too worried," said Sen. Sapien. "There is a real drag on the Republican party, and his name is Donald Trump."
Sen. Sapien said the controversial presidential candidate may turn more moderate Republicans away from the ballot box.
According to New Mexico in Depth, Sen. Sapien also said that despite the funding Espinoza  got — nearly $30,000 — he could hold his own.
Sen. Sapien has received around $31,000 in donations.
After repeated calls and emails from New Mexico News Port, Espinoza would not respond for comment.
How could the budget deficit shift the election?
Despite the pressing issue of the state budget, Lonna Atkeson, a political science professor at UNM, said it likely won't have an outsized impact on the actual election, especially with regards to down ballot races.
"There is some amount of roll off, but it's not huge," said Atkeson. "There is fall off, especially in a presidential election, because once you get down ballot you don't know a lot about these people."
Roll off would be voters not voting for legislative and local races, which are down ballot, because of the candidates on the top of the ticket.
Atkeson said that biggest factor in this election would be the drag of the president at the top of the ticket.
"Once you get to the second page of the ballot," said Atkeson. "The most important thing to the voter is the party on their ID card."
Atkeson also said that economic and budgetary issues have a greater impact on executive positions rather than legislative ones.
"In executive positions there is evidence that economic conditions matter for the voter's choice," said Atkeson. "But on the legislative side it's a lot more fuzzy. Because you have a hundred people in the legislature, and it's hard to pin the blame on a single individual."
Atkeson said that there is a chance, however that a reparation on the budget could benefit a candidate.
"There is a good deal of research that shows if you show a material benefit right before the election it helps the incumbent," said Atkeson. "But it's tough to say if that applies wholly to a legislative official."
How did New Mexico get into this budget hole?
New Mexico faced a projected  $458 million shortfall in the budget at the beginning of the new financial year in July.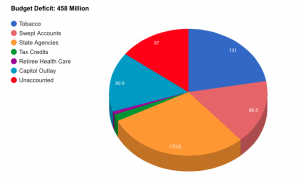 In an interview before the recent special legislative session, David Abbey, the head of the state Department of Finance and Administration, said that the main cause of the budget shortfall resulted from not anticipating how much revenue would decline in the state over the last financial year.
"In the fiscal year of 2016 revenues were at $6.2 billion," Abby said. "So we lost $500 million in revenue, and we thought that revenue would grow, but it went down by 10 percent."
Abbey said that the financial planning process wasn't properly prepared for such a plunge in revenue.
"It's fair to say that legislators, like the ones I work for, really raised flags on the issues for a long time" Abbey said. "The revenue estimators, of which my stuff were part of, were not pessimistic enough early enough. The magnitude of the decline caught a lot of people by surprise."
There were four major reasons that Abbey pointed to as the causes of the current budget hole.
"Why did revenues go down," Abbey said. "We're very weak in job growth. Our income growth is low, oil prices fell by half, and oil production is declining."
Abbey said that the decline in revenue from oil was 8.2 percent from the previous year; Meaning that New Mexico got $545 million less from oil than the year before.
When greeted with these harsh numbers, Abbey said he had four proposals to help shore the budget going ahead.
"There are four ways we are going to fix this," Abbey said. "We are going to sweep the corners of the treasury and move that money into the general fund. We are going to cancel capital outlay projects. We are going to cut spending. And then some people think we should find new revenue. That is how we are going to climb out of this hole."
What the legislature did about the deficit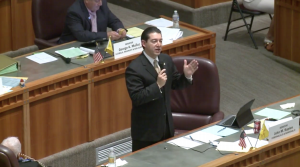 After the recent special legislative session that ended on October 6, the legislature closed the gap significantly, but still missed the mark by tens of millions of dollars.
The legislature has sent Gov. Susana Martinez a solvency package that covers $371 million of the deficit, but still leaves $87 million unaccounted.
The final solvency package contains senate bills, with house amendments, to help shore up the deficit.
Senate Bill 2 will use $131 million from the state tobacco to help with the hole, and another $96.5 million would then be swept in from a variety of state government accounts.
Senate Bills 4 and 9 will allow for $170.9 million in cuts from state agencies with the exception of medicaid and child protective services. State agencies will see a 5.5 percent cut to their operating budget. State universities, including the University of New Mexico, will see a cut of 5 percent, with further cuts to the judicial branch and public schools.
Senate Bill 6 will generate approximately $10.2 million by reducing eligibility to get high-wage tax credits and health care practitioner tax deductions.
Senate Bill 7 will siphon money from

a retiree health care fund and a separate fire protection fund to shore up another $4.8 million.
Senate Bill 8 will cancel some stalled capital outlay projects and free up another $89.9 million.
Sen. Sapien voted in support of all of the amended bills.
"The budget is among the most pressing issues facing New Mexico," Sen. Sapien said. "Senate Republicans and Gov. Martinez have been ignoring the issue for far too long, that's how you end up in situation like this."
Sen. Sapien also noted how difficult the special session was.
"There was tension in the air," Sapien said. "You could feel everybody running around and trying their best to fix this mess we found ourself in."
Follow Jeremy Zeilik on Twitter