[vc_row][vc_column][vc_column_text]
RFK High School Earns nearly $5,000 for Low-Power Radio Station
A South Valley high school will soon be home to a new low-power public radio station.  
Robert F. Kennedy Charter School and Quote Unquote Inc. last month hosted an evening with Amy Goodman, host and executive producer of "Democracy Now!" to fundraise for the new KQUQ radio station in Albuquerque.
The new low-power radio station (LPFM) tower will be anchored at the school and students will have their chance to create media to broadcast.
"The students are excited," said Colleen Gorman, the board president for Quote Unquote Inc. and a social studies teacher at RFK. She has been working on both sides of the preparations to get KQUQ started.
"I'm a supporter of freedom of speech," Gorman said.
RFK high school, in Albuquerque's South Valley, is also the site of a new tower to broadcast public radio from the call letters KQUQ. The station will be used for public radio programming.
The tower is finalized in terms of set-up," said Steve Ranieri, executive director of Quote Unquote Inc. Ranieri said the tower is ready for a tryout and that within the next month, they will have people trained and ready to broadcast.
The event was held in the high school's state-of-the-art gym and raised money through ticket sales and local bookstore, Bookworks, sold copies of Goodman's latest book, "Democracy Now!: Twenty Years Covering the Movements Changing America."
The event kicked-off a week of readings and book signings in New Mexico for "Democracy Now!" last month. The show broadcast from local public television station KNME.
Gorman said Denis Moynihan, a journalist and "Democracy Now!" veteran, was a big help in securing the actual equipment needed to power the new station.
The fundraiser is the most recent installation in 4 years of organizing to get Quote Unquote back into broadcasting.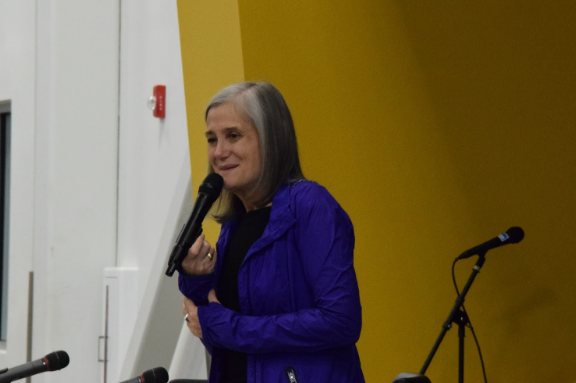 'The point of this is freedom of speech'
Quote Unquote operated public access channels in Albuquerque until the summer of 2012 when another company was hired by the City of Albuquerque to take over.
In 2012, Gorman said, the company also started the process of applying for a license to operate the low-power station.
"This was after the rug had been pulled out from under them with regards to operating public access," Gorman said.
Low-licensing is only available for public institutions, like colleges, government or public organizations and non-profits like Quote Unquote, according to FCC guidelines.
The cost and work to start an LPFM can vary, so other organizations like, the Albuquerque Peace and Justice Center, have stepped in to help Quote Unquote organize.
"This is our chance at freedom of speech," Gorman said, "our airwaves have been sold off."
Radio shows as part of class
RFK students will also get a hands-on experience in radio production as part of new curriculum accompanying the station.
"Quote Unquote will be working with RFK Charter School and with students to allow them the training and access to a studio here at RFK in order to create content to broadcast," Gorman said.
The students of RFK, Gorman said, are from communities that do not often get their voices heard.
"They have their own personal obstacles to overcome too. Just day to day, just being able to come to school," she said.
Though Gorman says her media background is almost exclusively in video production, she hopes that in the future media-makers will take volunteer and leadership positions to help train for audio recording, editing and radio engineering.
"I want the community to be part of this," Gorman said.
Although Quote Unquote will help create with student broadcasts, she said, they also will use KQUQ tower to broadcast the public programming for which it has become known.
Low power stations typically reach about a 6-mile radius, but Gorman said, the elevated location of RFK could mean that the signal will reach further.
"You can probably get the channel anywhere in the city," she said.
The event featured food truck fare and poetry written and performed by students from RFK high school and local poets.  
After Goodman's talk, fans lined up to have their books signed and take photographs with the award-winning journalist.
Bill Nevins, a professor at UNM-Valencia who attended the event said he hopes the station will succeed.
"The same people that back 'Democracy Now!' Will come forth and back [KQUQ]," Nevins said.
Follow Kateri on Twitter.[/vc_column_text][vc_tweetmeme][/vc_column][/vc_row]