Students from around the world come together in Taos, New Mexico, with one goal in mind: to learn how to build and maintain their own earthship.
Earthships are self-sustainable and entirely "green" forms of housing that began to be developed more than 40 years ago by the founder and owner of Earthship Biotecture, Michael Reynolds. The buildings are made out of natural and recycled materials, such as tires, plastic and glass bottles, empty steel and aluminum cans, reclaimed wood and scrap metal.
Not only do the earthships recycle salvageable materials, but they are designed to reduce carbon emissions by integrating carbon-zero technology into building plans. Because discarded materials take the place of materials that would require energy to produce, construction of these buildings allow for a negative carbon footprint, according to the company's website.
Earthship Biotecture is a company that promotes the manufacture of environmentally-friendly earthships, and encourages people from all different climates to try them. The company was started in the 1970's, when Reynolds realized that there was a market for those who wanted to turn away from conventional living methods, and instead seek out an environmentally friendly living option that offered the security of independent utilities, according to Earthship Biotecture. Since the company's creation, Reynolds has been refining his earthship plans so that they are more sustainable, and less costly.
Reynolds travels all over the globe to help others learn how to build their own earthships. He is helped by his staff, interns, and students, including those who attend his Earthship Academy, according to Earthship Biotecture.
Earthship Biotecture's Earthship Academy is a month-long program that costs students $2,500, and is located at the company's world headquarters in Taos. It offers students extensive training in the methods of creating an earthship, through hands-on learning and construction. Running six days a week, each academy session is split into classroom time and on-site construction work, where students are taught how to safely and effectively use the tools and the materials they are given to build an earthship. Students must be over 21 years old in order to participate.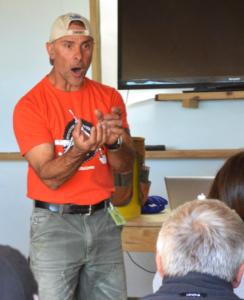 Ron Sciarrillo, the education director for the Earthship Academy, uses the program to teach students a range of valuable information, including proper equipment and tool usage, which helps reduce the risk of injury.
"What we're trying to accomplish is to educate people, from all over the world…that they can have their freedom, and live as healthy as anybody ever could," Sciarrillo said.
2016 marks the Earthship Academy's fifth full year in existence, and it has seen more than 600 students so far, according to Earthship Biotecture.
One Earthship Academy student, David Blanchet,came from Quebec, Canada, to learn more about building earthships. Blanchet plans on using the skills he learns at the Earthship Academy to create earthships for his community when he returns home to Canada.
"I'm kind of living in an eco-village up north, in Gaspésie, in Quebec. There we have the first earthship in Quebec, but it's never been finished," Blanchet said. "That's because the people who started it never had the knowledge to end the project. So that's why I came here; to end up finishing that project, because it's now 12 years old."
Blanchet is one of the many students at the Earthship Academy who have paid to live on the work site in Taos, for the duration of the class. His room is in an earthship called "E.V.E.", which stands for Earthship Village Ecologies. This prototype building is still under construction, and functions as an experimental site where Earthship Biotecture can test for carbon emissions using different materials, as well as for basic living conditions.
"In the last four years I've been traveling, trying to find sustainable ways of living," Blanchet said. "I think earthships are a good way to reach that point, because you are so self-sufficient. You have more power over your own life."
For their room, students pay between $450 and $800 for the duration of their stay, depending on the earthship they choose. For tourists looking to stay in an earthship, prices can run from between about $200 to $400 a night, depending on the number of rooms they choose and the time of year. Prices run more over the holidays.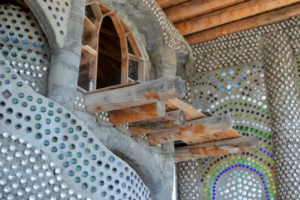 Unusual building materials
On average, an earthship can cost between $250,000 and $300,000 to construct, but after they are completed, costs to live in the home are less than $60 a month, according to Earthship Biotecture.
Earthships are first created from tires rammed with dirt, which are then staggered like bricks in order to become load-bearing foundations for exterior walls, according to Earthship Biotecture. Each earthship can use anywhere between 500 and 5,000 tires, which also act as a thermal mass to help the buildings naturally heat and cool themselves, and maintain a constant temperature despite the time of year.
Interior structures of the homes are formed by arranging bottles and cans in a honeycomb-like manner. Spaces are filled in by an earthen plaster made from dirt, sand, water and straw, which act like concrete to make the wall solid. Insulation is created from sheep's wool, straw, adobe bricks, scrap metal, and other materials.
To become more environmentally friendly and cost-efficient, snow and rainwater that falls on the roofs of the earthships are recycled four times. The use of recycled water therefore reduces the need for centralized water systems. Solar panels and windmills create all of the electrical power used within the buildings.
Overall, Sciarrillo said the Earthship Academy teaches students all of the necessary tools they will need in order to build their own off the grid homes. To reach that goal, however, he says the students must work hard during their time spent in Taos, and maintain their resolve after leaving.
"They'll have enough knowledge, they'll have enough experience, it's just a matter of their drive," he said. "It does take a huge effort to really take the risk, and go out and be your own person."
Follow the News Port on Twitter.