The University of New Mexico (UNM)  is set to receive $34.5 million for campus improvement projects, including a new Physics & Astronomy and Interdisciplinary Science center, if New Mexico voters approve Bond C on Election Day.
Bond C, one of the four general obligation bond questions on the Nov. 8 ballot, would provide higher education funding for capital projects at New Mexican public colleges and universities. In addition to the new science center at UNM's main campus, facility renovations and improvements are planned at the Taos, Gallup, Los Alamos, and Valencia branch campuses.
GO bonds provide funding for various types of brick and mortar projects, said Harrison Rommel, the interim director of institutional finance at the New Mexico Higher Education Department  (NMHED).
"The GO bond is one of the largest mechanisms for how institutions can develop capital projects," Rommel said. "Not only new construction projects, but maintaining infrastructure, new fiber optic lines, maintaining old buildings, and remodeling buildings where necessary," Rommel said.
According to a NMHED report, UNM would be the largest recipient of funds if voters approve Bond C in November — potentially receiving over $30 million once the bonds are sold.
UNM president Robert Frank said money from Bond C would benefit UNM during a time of financial struggle.
"Due to the current state budget constraints and commitment to keeping higher education affordable for students, general obligation bonds are sometimes the only way for institutions to pay for large scale projects," Frank said in an email.
Frank said bond funds would pay for a portion of the new Physics & Astronomy and Interdisciplinary Science center on main campus, as well as a variety of projects at other UNM branch campuses throughout the state.
Joey Keefe, a public information officer at the Bernalillo County Clerk's Office, said GO bonds are questions that go before voters to approve use of funds for certain projects.
According to Investopedia.com, after a bond referendum passes an election, bonds are sold as municipal bonds to provide funds for capital projects. Principal and interest on the bonds are then repaid over an extended period of time using money from taxes and/or revenue from the projects.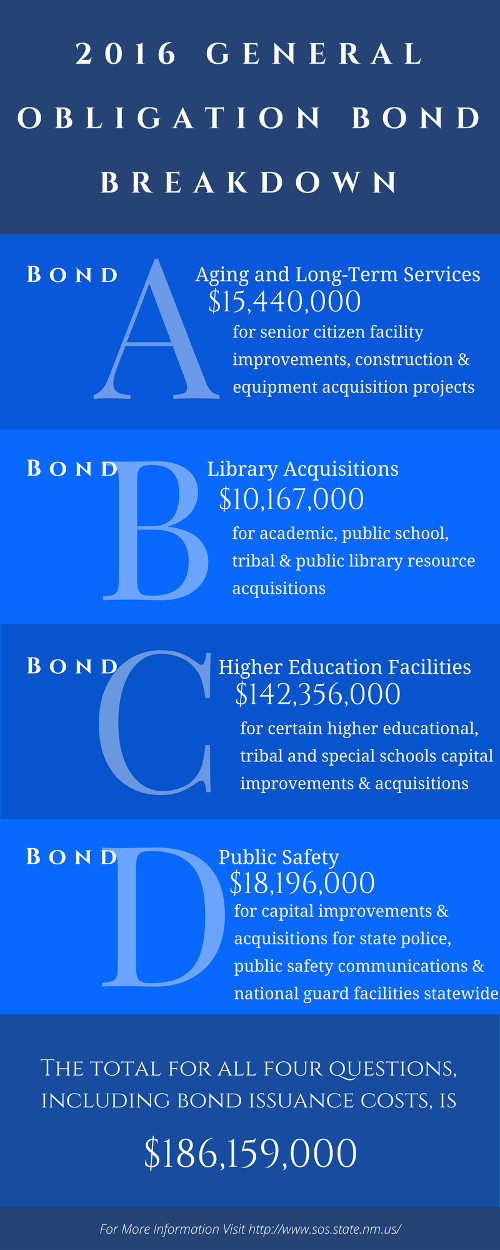 Though taxes are a common form of repayment for issued bonds, Bond C's approval will not lead to a tax increase in New Mexico.
NMHED Cabinet Secretary Barbara Damron said property taxes would remain the same whether or not voters approve the bond.
Rommel said general obligation bond referendums do not increase taxes.
"The reason it won't lead to a tax increase is because every county already assesses a certain amount of property tax for properties within that county and that money is earmarked for general obligation bonds," Rommel said. "So because the tax has already historically been collected for different projects on the general obligation bond, it won't lead to a tax increase."
Despite this fact, some higher education bonds have trouble gaining voter approval in the past, though there is no official Bond C opposition.
Damron said that in her experience, there are three types of individuals or groups who may not approve of Bond C: people who mistakenly believe the bond will raise taxes, who do not believe government or government agencies (like universities) should have access to more money and those who feel a specific institution does not deserve the money.
Others may vote against or not vote on bond questions because of the way they are displayed on the ballot, Damron said.
"I've [also] had people who vote against it just because they don't like its position [on the bottom of the ballot]," Damron said. "Or they don't feel they should have to read all that fine print in the booth."
NMHED has already determined how funds from bonds sales will be allocated if voters approve the ballot issue. Damron says if the bond approves, $136 million will be distributed to the 31 distinct public higher education institutions in New Mexico.
The process of institutions getting funds through GO Bonds starts long before voters pick up a ballot on election day, Damron and Rommel said.
First, NMHED holds capital project hearings during the summer before election year.  During these hearings, the institutions propose improvement projects to a panel consisting of representatives of NMHED, the legislative finance committee, the Department of Finance and Administration and the Energy, Minerals and Natural Resources Department.
"We get to hear about what their long term plans are for their campus," Rommel said. "Then, as part of that presentation, they also submit their proposed projects that would go on this year's general obligation bond."
Once the hearings are completed, the agencies go back to Santa Fe and look at which projects institutions have prioritized, how much money is available for GO bonds and which projects are most important in terms of the statewide impact on higher education, Rommel said.
Next, NMHED crafts its recommendations, which get distilled into the information going before the legislature. This election year, those recommendations became Senate Bill 122, which then goes through the legislative process.
Damron said a GO bond cannot go on the general election ballot until the legislature approves it. Though NMHED makes the recommendations, the legislature can adjust the recommended amount. If approved,the governor receives the final bill for signing. Only after this process is completed can residents vote for or against each bond question.
If Bond C is approved, the state begins the process of issuing bonds and ultimately granting the money to institutions.
"Upon voter approval and certification by the secretary of state, the state board of finance issues (sells) bonds to investors," Rommel said in an email. These bonds carry interest and are backed by the credit of the state of New Mexico.
"Bonds are usually sold in January and money is then held (invested) by the state treasurer until draws are made," Rommel said.
After the bonds are sold, institutions go before the capital projects committee and give their final presentations with more details.
"This is the same committee as when they present the 'idea' phase during summer hearings," Rommel said. "At this point the school knows they can move forward (the GO bond passed) so this is a more detailed presentation with blueprints, estimates, and other details."
This usually takes place in spring following the election, Rommel said. Following the presentations, institutions may execute grant agreements with NMHED on an approved project. The project then goes before the state board of finance for final approval to spend bond funds, Rommel said. Following that approval, NMHED and the school sign the grant agreement; only then can institutions finally start making draws on the project.
"May [or] June is about when they can really get going," Rommel said. "So about six to seven months after the GO bond is approved is a realistic timeline before shovels hit the ground."
However, if voters do not approve the bond, Rommel says the money intended for the projects then goes to service debt on other outstanding bonds.
Three other bond questions will be up for voting on Nov. 8. For more information about Bond Questions A, B, C and D, visit the New Mexico Secretary of State website to view a sample ballot with the bond questions or a voter's guide.
Follow Cynthia, Skylar, Kat and Christian on Twitter