A large proposed development in southwest Albuquerque is shaping up to be the largest issue in the Bernalillo County Commission District 2 race this November.
The Santolina development, which has been debated for years, is projected to be a 13,850-acre community, according to its official website.  It would house 100,000 people and create more job opportunities.
The two candidates up for election for this seat are Steven Michael Quezada, Democrat, and Patricia Paiz, Republican. Both candidates refuse to take a concrete stance on the development.
Those in favor of Santolina say it is an opportunity for growth and job creation.  Groups against the development have raised doubts about its sustainability, and are against the raise in taxes they say it would require.  Quezada said his priority would be finishing current projects and trying to foster job growth.  Paiz has also said job growth would be a major focus to her, but she has also called Santolina an "opportunity" that she thinks should be monitored.
Many District 2 citizens oppose the Santolina development.  District 2 is the area west of I-25, and east of I-40, along the Rio Grande, and encompassing all of the South Valley.  Due to the proximity of the proposed development, District 2 residents would be the most heavily affected, such as the adoption of new water distribution.
Despite the opposition, Santolina developers insist calculations have been made  suggesting the water supply should be able to support the area, and its potential 100,000 residents, according to David Morris of the Albuquerque Water Utility Authority.
Current District 2 County Commissioner Art De La Cruz, whose term ends this year, is a vocal supporter of the Santolina Master Plan. Many of De La Cruz's projects involved a heavy focus on public safety, redevelopment, and water rights, and Santolina was a combination of all of those issues.
The new District 2 commissioner not only will have the influence of being the swing vote on the County Commission, but will have to find a way to deal with the historic, lengthy battle for the South Valley's land and water, and to ensuring the public that there will be water resources available.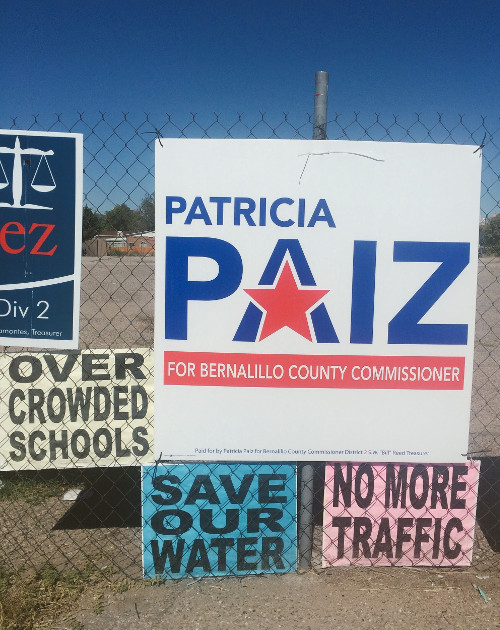 Quezada is an Albuquerque Public Schools (APS) board member and also APS's Board of Education secretary.  He is also known for his acting role as "Steven 'Gomey' Gomez" from the series "Breaking Bad."
Adrian Pedroza, Quezada's opponent in the District 2 Democratic primary, recently announced his endorsement of Quezada in an email to his supporters. Pedroza was openly against the Santolina Land Development.
"Steven [Quezada] will listen to the needs of our community members and will hold at least two community listening forums before taking important votes on the Santolina development's tax incentive applications," Pedroza said.
Quezada said his vision includes focusing on the unfinished projects which already exist, such as the Paseo del Volcan extension, connecting I-40 and U.S. 550.  This project was also supposed to create more job opportunities for the community, instead of starting new infrastructure projects.
"I have a vision for equity, and I am committed to working with local neighborhoods in the South Valley, Barelas, and Westside to build a comprehensive economic development plan that puts our existing neighborhoods first," Quezada said.
Quezada narrowly won the primary against Pedroza.  This was after controversy surrounding a Santolina-related PAC named Western Albuquerque Land Holdings. Western Albuquerque Land Holdings LCC owns the land Santolina is designed to be built on.
The Western Albuquerque Land Holdings PAC contributed to Quezada's campaign, and funded mailers critical of Pedroza. This political tie set up suspicion Quezada was being bought to be pro-Santolina, despite his campaign messaging.
According to the New Mexico Campaign Information System, the PAC was titled "New Mexicans for New Mexico" and multiple sources invested in it, including: Santolina's engineering firm, Bohannan Huston; Santolina's Asset Manager, Garrett Development Corporation; and attorneys from Rodney Law Firm, representing Santolina.
Paiz's focus is on job creation and infrastructure. She has not announced her support or disapproval of Santolina, but says she believes it is "an opportunity" that should be monitored. She did say she is not in favor of any tax increases.
Paiz was born and raised in the South Valley and campaigns with the slogan "vote for the person, not the party."  Paiz also campaigns with the goal of trying to bring growth to the area, according to her website. Paiz has spent more than 20 years serving as a police officer with the Albuquerque Police Department (APD).
The president of the Albuquerque Fraternal Order of Police recently endorsed Paiz.
"We trust [Paiz is] a woman who will do the right thing because we believe [she is] guided by ethics and not simply politics," said Mark Manary, president of the Albuquerque Fraternal Order of Police.
Both Paiz and Quezada have remained ambiguous about their position on Tax Increment Development Districts (TIDDs) and tax incentives. Another issue with Santolina up for debate is whether a TIDD would be used to pay the developers with a percentage of the new tax revenue generated by the new economic activity from Santolina, according to the Albuquerque Journal.
"My priority is that we manage the resources that we already have," Paiz said. "We encourage development, and that we can protect our way of life here."
The developers fighting for both District 2's water supply and the Atrisco Land Grant necessary for Santolina are primarily funded by the British bank, Barclay's. Barclay's has been extensively involved in the creation of Santolina, and would own the land it would be built on, according to The Guardian.
Developers repeatedly have funded efforts for TIDDs, with the goal of bringing thousands of new jobs to Albuquerque.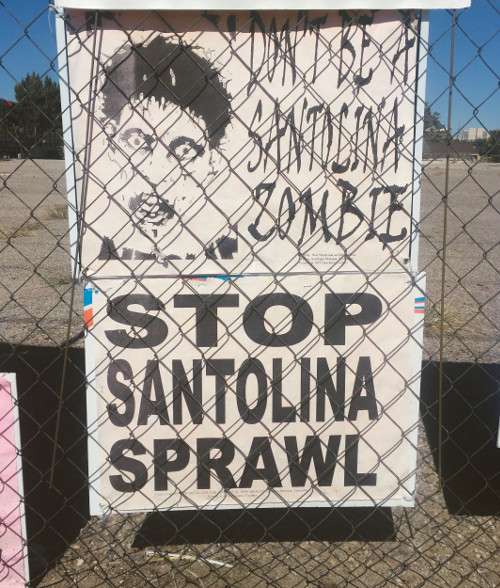 One of the most vocal people who are opposed to Santolina is Virginia Necochea, executive director of the Center for Social Sustainable Systems (CESOSS). Necochea is also an organizer with Contra Santolina, an alliance of organizations, neighborhood associations, and community members opposing the Santolina development. Contra Santolina has been opposing Santolina since its creation in 2014.
Opponents to Santolina began using the term "Zombielina." This term is in reference to a land battle that has happened before and has now arisen once more. Zombie developments are also a term describing unfinished suburbs that become ghost towns.
The friction between water rights and land development mirrors other situations in other areas of the United States. For instance, the tensions here are similar to those between the North Dakota Access Pipeline supporters and the Standing Rock protesters.
"The courageous relatives at Standing Rock have inspired us to take a stand against corporations and those with vested interests who continue to put profits over people," Necochea said.
Current Bernalillo County Commissioners Maggie Hart-Stebbins and Debbie O'Malley also oppose Santolina related TIDDs.
O'Malley also asked for an ethics investigation due to the Santolina development team donating to PACs which can influence the District 2 race. There are no pending investigations.
Early voting began Oct. 11 and polls close at 7 p.m. on Nov. 8.
Follow Alicia, Desiree and Christina on Twitter