[vc_row][vc_column width="1/1″][text_output]
Voter ID big topic in tight SOS race
Voter access and ballot security are two key issues in the 2014 New Mexico Secretary of State race.
The incumbent, Republican Dianna Duran, is pushing for voters to provide photo identification before voting, a move she says will prevent voter fraud.
"The one person who commits voter fraud, disenfranchises the right of all other eligible New Mexicans," Duran said during an interview with New Mexico PBS.
Her Democratic opponent, Bernalillo County Clerk Maggie Toulouse Oliver, says this extra step could turn away eligible voters.
Voter identification laws in some states require each eligible voter show a valid photo ID before casting a ballot. In New Mexico, voters are not required to present an ID if they have voted in the state before. First-time voters must present an id if they did not do so when registering.
For registered voters to complete a ballot, they must either verbally state their name, year, date of birth, and their registered address. They can also provide a physical identification; that includes a valid photo ID, utility bill, government check, paycheck, or student or tribal ID with name and address.
During her first term as secretary of state, Duran investigated voter fraud around New Mexico. According to Duran, she and the Dona Ana District Attorney's Office found at least 23 cases of voter fraud in the state. Six of these cases led to prosecutions, while the remaining cases are still ongoing.
"What my primary objective has been, and continues to be, is ensuring every New Mexican understands that we do as much as we can in the Secretary of State's office to ensure that your vote counts and counts only once," Duran said in the interview.
However, as Oliver points out, in comparison to the number of registered voters in New Mexico, the percentage of people caught or convicted of voter fraud is significantly low. According to the Secretary of State website, 1,152,917 people were registered to vote in New Mexico in 2010. Fewer than .00002 percent have been suspected of or convicted of voter fraud.
"What we need to focus on is not the very rare occurrences of voter fraud that occasionally are able to slip through the cracks of what is essentially a human system and can't, by definition, be perfect, but again, is fostering that voter participation," Oliver said during an interview with New Mexico PBS.
Oliver says requiring an ID to vote may turn many away from the polls. She cited a Texas federal judge as an example, saying he eliminated the state's voter ID law, concerned it would deprive people of their constitutional right to vote.
"A federal judge struck down their photo voter ID law arguing that it's a poll tax and that it creates a barrier to the ballot box to people being able to undertake their right to vote and I am against it for that reason," Oliver said in the interview.
Providing proper voter identification has not always been a hot issue in New Mexico. CNM political science professor Bob Anderson said the issue and debate of voter fraud and voter ID is a topic put into the spotlight this campaign season by candidates to grab voter attention.
"This is a part of the trends in politics and of candidates' parties ideological groups needing some kind of issue to campaign when they don't have anything else," Anderson said.
Anderson said the office of the Secretary of State has other issues to focus on, such as voting accessibility.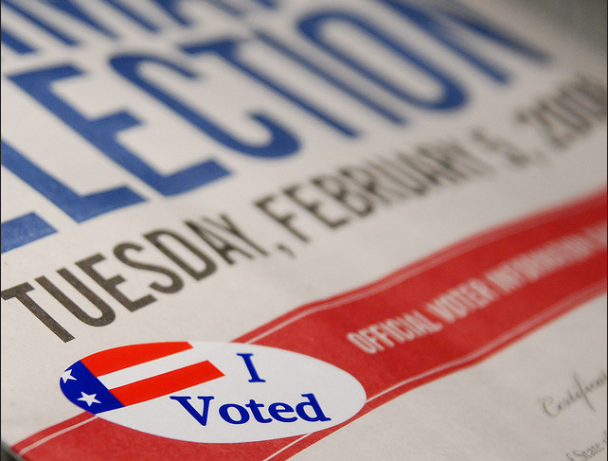 Photo by Denise Cross and used under a Creative Commons license.
Voters like Albuquerque resident Jim Harvey, 68, share a similar opinion, saying simpler voting methods should take a higher priority and ultimately, strict laws or requirements can turn people away from the polls.
"I think all the hub bub of having picture ID is really designed to keep people away from the polls and deny people their inalienable right to vote," Harvey said.
Harvey, who visited the polls during early voting, says it was not difficult to provide the ID, but feels there should be other ways to confirm a voter's identification.
"To me, it's not an inconvenience, but at the same time, I don't think it's absolutely necessary," Harvey said. "I think there are too many other ways that you can verify if someone is going to be legitimately coming to the polls to vote or not."[/text_output][share title="Share this Post" facebook="true" twitter="true" google_plus="true" linkedin="true" pinterest="true"][/vc_column][/vc_row]