Erin O'Donnell was inspired by the popularity of do-it-yourself blogs to start Dovetail Community Workshop, a space for woodcrafters.
"It was something that I've had the idea about for about a year and a half," O'Donnell said. "I found out there were others around the country just like this, but I felt Albuquerque would be a good place for it."
Back in Kansas, where O'Donnell used to live, she lead a network of bloggers.
"Part of what I really got excited about were the do-it yourself bloggers," O'Donnell said.
"The people who were making things and teaching others to do things, and this kind of pushed a button for me."
She said she saw that doing projects are not that hard, as long as crafters know the basics.
She credits Ana White, who published how-to videos and published plans for woodcrafting on her site.
"She's a young mom who started making furniture with some very basic skills and tools, " O'Donnell said. "it's easy to look at her and her work and think, "If she can do it, so can I."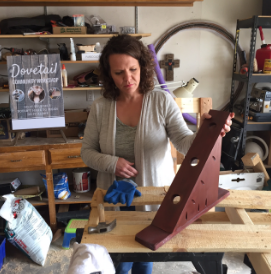 O'Donnell was a journalist and a writer for 20 years. Now she is trading working with words for scraps of wood and power tools running a community workshop.
But she also saw an opportunity in providing the materials and a place to do these projects.
Dovetail Workshop is still in its startup stage.
O'Donnell is working out of her home and her garage, but she plans on having her own workshop this summer or early fall.
O'Donnell and her business partner, Sonja Dewing, picture a workshop that will offer events, how-to classes and a workspace for those who need it.
Their business model requires users to buy a membership to the workshop, or an individual can pay an hourly fee to use the workspace, materials and tools.
"We plan an open to the public woodworking shop." O'Donnell said. "That you may buy a membership or you may come to use on an hourly basis and we will also host classes and events."
Right now, O'Donnell and her volunteers host workshops, called Brew and Build, at local businesses around Albuquerque.
"Our events have been small — intentionally — just so that we are able to answer questions, and be there for everybody who needs us," O'Donnell said.
A past Brew and Build was held at Tractor Brewing Company, and those who attended built a wine rack.
2 of our Brew&Builders get ready to make pocket holes on their wine racks at tonight's event @tractorbrewing. pic.twitter.com/LPl6gPlhVw

— Dovetail Workshop (@DovetailCW) February 4, 2016
At these events, O'Donnell provides all materials and tools needed to complete that event's project.
She also likes to know the skill level of those attending. This will determine how much explaining will be needed at the beginning.
During these events, there are mostly women who attend, and this is a focus for Dovetail Workshop.
O'Donnell wants to empower women to learn make something that reflects their personal style, and to learn how to use power tools.
"We want it to be appealing to women, to feel empowered to come and learn to use these tools and not be intimidated and to see that they can fulfill a vision for something that they can see in their own home."
O'Donnell said she likes to use Pinterest, Instagram and things she comes across in her daily life.
"There are just times that I would see something in real life as opposed to online," O'Donnell said. "I'm able to . . . figure out if that is something that will be easy."