Milo Yiannopoulos of Breitbart News, stopped at the University of New Mexico (UNM) on Friday to deliver "America Deserves Borders." Yiannopoulos addressed New Mexicans about immigration reform and the border wall as a part of his "Dangerous Faggot Tour." While hundreds of protesters of the event rallied outside of the barriers set up by NM State Police, Yiannopoulos received a warm welcome of applause inside from the large group of people who attended.
"2017, as I had predicted in 2016, is the year social justice (expletive) dies," Yiannopoulos said to roars of approval from the crowd.
Hosted at UNM by College Republicans and Young Americans for Liberty, Yiannopoulos visited to share his sentiments about free speech, climate change and other political topics accented by brazen jokes at the expense of immigrants and feminists.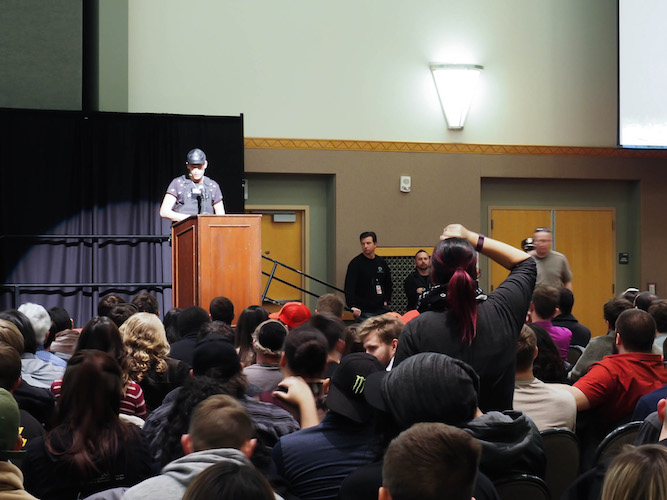 "Latinos face a challenge in assimilation," Yiannopoulos said, "for one thing their identity is confused."
Yiannopoulos also said how Latinos are all really just white people too. He said the Latino racial identity is manufactured by the left side of the political spectrum.
"I've worked out it's because the left has told them, 'No no no, you're not white, and if anyone is ever mean to you it's because they're hateful, straight, white, male, misogynist, bigot, trans-phobe, blah blah,'" Yiannopoulos said.
Yiannopoulos' message for New Mexicans about immigration was apparent when he displayed a slide showing the Immigration Control and Enforcement (ICE) hotline, emblazoned with the slogan "Support Women and Homosexuals, Purge Your Local Illegals."
"If you see something, say something," Yiannopoulos said.
Yiannopoulos also commented about acting UNM President Chaouki Abdallah and addressed the controversy earlier this week about a $3,400 security fee the university said it would impose.
"What he lacks in looks, he makes up for in his attitude towards free speech and to security fees," Yiannopoulos said about Abdallah, "So we should be grateful for that."
Yiannopoulos thanked Abdallah for reconsidering the security fee. The fee was assessed by the university following concerns surrounding the event because of recent protests at other universities.
Attendees Addressed Climate Change Denial
However, not everyone in attendance was in complete agreeance of Yiannopoulos' philosophy on free speech. Hecklers were removed from the ballroom at multiple points throughout the event.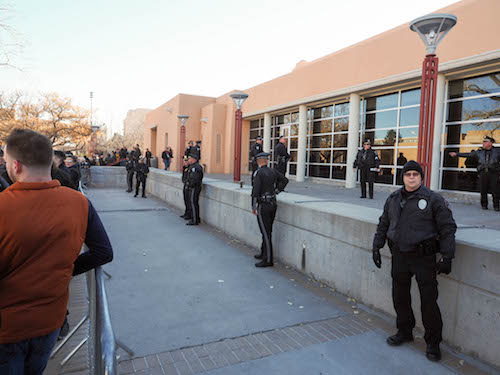 Simon Walker, an instructor and Phd candidate at UNM in philosophy, had some concerns about Yiannopoulos' message.
"My one problem with the free speech movement is that often it enables us to move away from the truth, and that might be fine in the media, but on a university campus it is very worrying," Walker said.
Walker asked Yiannopoulos about climate change s during the Q&A portion of the event.
"My way of asking him if he thought that truth was important along with free speech," Walker said, "was how the newspaper that he works for consistently denies climate change."
Walker raised a question about climate change, of which Yiannopoulos and other members of the same political allegiance, including now President Trump, deny the existence.
"His response was something like, climate change is hysteria, and that alienates people, and my response to that is that on the one hand, perhaps it is something we need to be hysterical about," Walker said.
There Was Also Plenty of Support
Leonard Gallegos, a supporter of Yiannopoulos, heard a different message.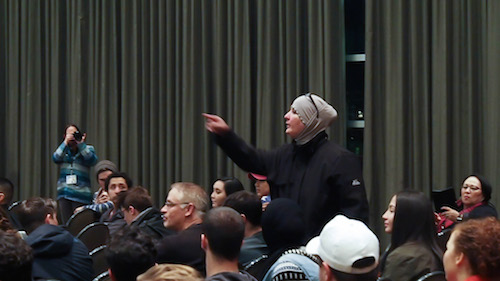 "It was basically what I think all Americans are thinking and wanting, a better America, Americans first," Gallegos said. "We need to take care of us, instead of spending all of our money funding abortions abroad in other countries."
Gallegos attended the event with his friend, Bill Carroll, who introduced him to Yiannopoulos' work on YouTube. Carroll is also a supporter of the free speech movement.
"I know he's a great guy, a patriot, that really puts it out there, and pretty much it's all common sense stuff. It really is, I like everything he's done, and I'm proud to be here," Carroll said.
For others, Yiannopoulos' words on Muslim immigrants and a Muslim ban had a big impact.
"My boyfriend is a Saudi student who just finished his Phd. here at UNM in pharmaceutical research, so it hits a little close to home for me talking about Islam specifically," Katie Moriarty said. "I don't agree at all with Milo in saying that you can't be both Muslim and Pro-American. I believe that there are plenty of Muslims that live in the United States, that are just as patriotic, that are natural born citizens."
Moriarity attended the event with her friend, Madeleine Boyle, to hear the conversation, even if they disagree politically. Boyle is on the opposite side of the political spectrum but they still find common ground.
"While I agree that you can be Muslim and be American, as far as the hijab goes, I think that is absolutely a way of suppressing women," Boyle said. "Women wearing those hijabs automatically put themselves into a category in everybody's mind."
Protesters Speak Out
William Dauk, a junior at UNM, said that the protest was an expression of free speech as the protesters lined up with police outfitted in riot gear.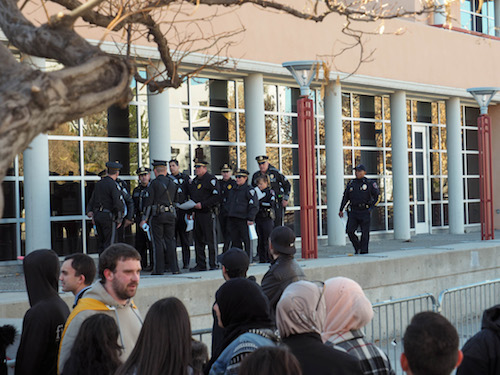 "Democracy is messy and that's beautiful," Dauk said.
Chloe Puglisi, a first year biology major at UNM wore her "Pussyhat" which were the iconic pink hats with stylized cat ears worn for the Women's March that occurred the day after Inauguration.
"I'm here to stand with people affected by hate speech," Puglisi said. "The goal would be to shut him down by making him understand how much he hurts people."
Rudy Vasquez, 31, a videographer and graphic designer wore a Pikachu hat matching the yellow signs dotting the crowd. He said the protest had good intentions but could not achieve its goals.
"We were like props to his show," Vasquez said. "This was an all or nothing. And right now it kind of feels like we got nothing. We had to come out here and say something, but unless we shut him down, we would just add to the show. How can he feel like a provocateur if there is no one to provoke?"