The Society of Professional Journalists awards national and regional honors to UNM innovation and collaboration lab
(Indianapolis, Ind.) — The Society of Professional Journalists has announced its regional and national winners in its "Mark of Excellence Awards," and the list includes New Mexico News Port, an independent news lab based at the UNM Communication and Journalism Department.
In the regional contest, the judges declared the News Port,  "Best Independent Online Student Publication," for a multi-state region including Colorado, Utah, Wyoming, New Mexico and part of Texas.
In the national contest, featuring all regional winners, News Port was named one of two finalists for the best online student publication.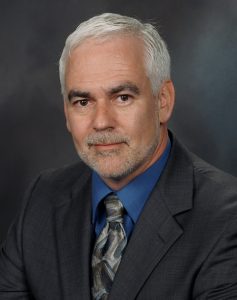 The awards credit "The New Mexico News Port Team," which is led by paid student editors and powered by student journalists in the upper-division news courses in the C&J Dept.
"What a great birthday gift for our five-year-old," said UNM Professor of Practice in Journalism Michael Marcotte, who founded the News Port in 2014.
Marcotte supervises the lab's editing team, teaches advanced news courses and oversees the school's internship program.
"It's a testament to the caliber of our students that we topped a very competitive field — both regionally and nationally," Marcotte said.
The student editors who piloted News Port during the spring and fall semesters of 2019 were…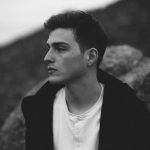 Bryce Dix graduated from UNM in May 2020.
He was recently awarded a local news fellowship with New Mexico PBS;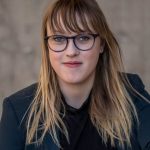 Celia Raney graduated from UNM in December 2019.
She is now a local news fellow with New Mexico In Depth;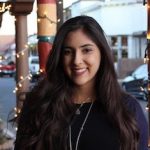 Makayla Grijalva graduated from UNM in May 2020.
She was recently awarded a local news fellowship with Silver City Press;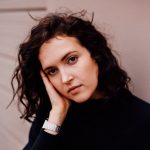 Shayla Cunico graduated from UNM in December 2019.
She is now studying for a master's degree in graphic design at Arizona State University.
The regional contest also honored two individual contributors to the News Port. Joseph Rull and Sevia Gonzales were named finalists in the contest for "Best Online In-Depth Reporting," in honor of their team report, "Climate communications aim to bridge the partisan gap." Rull and Gonzales reported for News Port during the fall semester.
The New Mexico News Port turned five years old in 2019. It was started with a grant from the Online News Association as part of the Challenge Fund for Innovation in Journalism Education.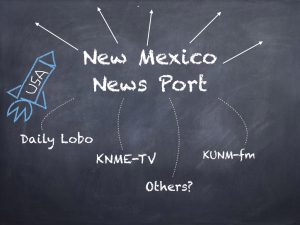 The concept was to create a journalism service that experimented with new technology while creating collaborations between student journalists and local professional news organizations.
In 2015, ONA named News Port a national grand prize winner.
News Port has since become a fixture in the C&J Department. Its news partners include New Mexico In Depth, The Daily Lobo, Searchlight New Mexico and NM PBS.
News Port has now successfully published over 700 stories by more than 350 students.
For most students, Marcotte said, News Port is their first opportunity to be published.
"What's unique about News Port is how it is embedded in the journalism curriculum at UNM, while maintaining editorial independence," Marcotte said. "Students in our advanced reporting classes provide real world reporting based on professional editorial standards to produce stories serving the people of New Mexico."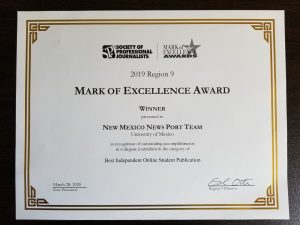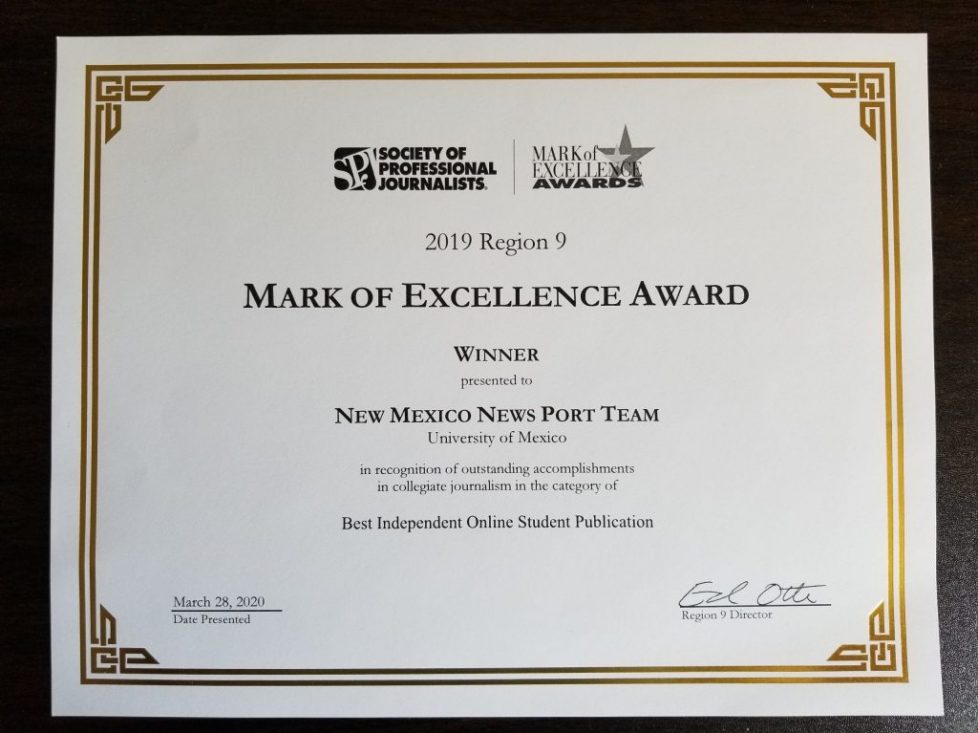 Marcotte said the real-world experience is especially vital in a federally designated "Hispanic Serving Institution," like UNM, because successful and readily-employable graduates are instrumental in creating a more diverse workforce.
News Port is organized around nine beats, including NM Voices, Raising NM, Green NM, Enjoy NM, Political NM, Justice NM, Creative NM, Curious NM and, the recently added, Healthy NM.
The New Mexico News Port mission statement says it exists to "support the state's local news ecosystem through innovation, collaboration and publication — with students."
Follow @NMNewsPort on Twitter