The Albuquerque mayoral race is down to the wire, and while the candidates generally share common ground on crime, they voice competing views on other key topics.
State Auditor Tim Keller and his opponent City Councilor Dan Lewis sat down with New Mexico News Port to discuss positions on issues such as sanctuary cities, gun regulation, public financing of elections, and adopting a healthy workforce ordinance.
Keller has an MBA from Harvard and spent 15 years in the private sector. He has been elected twice to the NM State Senate. In 2014 he was the youngest elected NM State Auditor. Keller was responsible for financial oversight of 900 state and local governments.
Lewis has a Master of Divinity degree from the Southwest Baptist Theological Seminary and is the founding Pastor of Soul Rio Community Church, where he served for 15 years. He was elected into Albuquerque City Council in 2009 and then again in 2013. He is also vice president of Desert Fuel, Inc.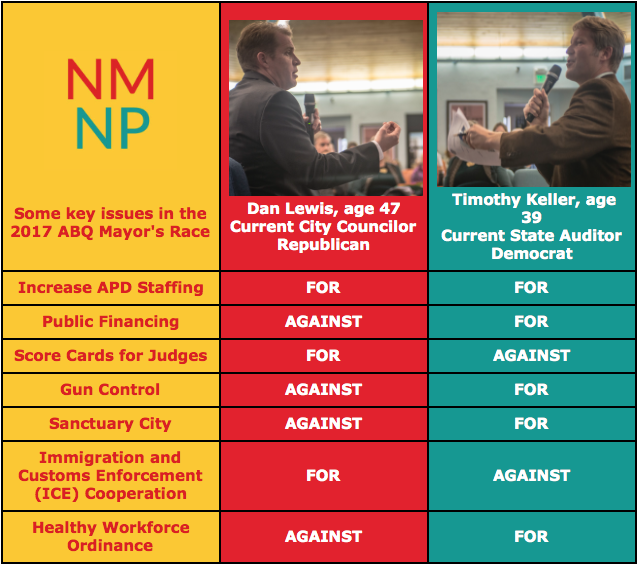 Anti-Crime Initiative
Lewis says he wants to turn Albuquerque around when it comes to crime. According to the 2017 Federal Bureau of Investigation crime report, last year in Albuquerque there were 6,245 reported instances of violent crime. Rape, robbery, aggravated assault, murder and nonnegligent manslaughter fall under this category.
"I want this to be the worst place to be a criminal," Lewis told News Port. Lewis' proposed solution includes beefing up police visibility as a crime deterrent.
Lewis suggested the police staffing ratio should be 25 officers for every 10,000 people.
"I was one of the first to mention numbers of officers, and I want there to be 1200 officers," Lewis said.
APD currently has 839 sworn officers and 744 of those are on patrol.
Keller also plans to increase the number of resources and officers to combat, what he calls, the "crime epidemic" in Albuquerque.
He looks to reform APD from "top to bottom" by adding 400 more officers trained in community policing.
"It is policies, procedures, culture, attitude, it's everything" said Keller, "We have got to get back to community policing."
Keller urges that the city aid the Department of Justice's efforts to reform the Albuquerque Police Department by implementing more oversight of the department to maintain its accountability.
Both candidates boast extensive plans to address crime See Lewis' declaration and Keller's agenda.
Public / Private Financing  
Keller opted-in to the public financing model endorsed by Albuquerque voters in 2005, meaning he cannot take cash donations like other candidates. This year publicly financed candidates were allotted a little more than $340,000 in campaign funds. With permitted seed money his campaign operated at $380,000.
Keller emphasized the success of campaigning with public funding is hard-won, especially for higher offices.
"For city council races it seems very usable…for mayor it's totally imbalanced. You hardly get any money," Keller said.
Keller would like to make the amount of public money the candidates receive more competitive. One of Keller's changes would involve using the internet to raise the initial qualifying seed money.  
Lewis used public financing twice, to run for city-councilor, but says it is ineffective in a mayoral race. In his opinion public financing only works if a candidate has the support of a political action committee (PAC).
"In a mayor's race it is not viable because if you take the 350 or so thousand dollars and the only way you can compete is to set up other PACs," said Lewis. He claims Tim Keller has supplemented the remainder of his campaign financing using "shady" tactics and aid beyond the allotment from the publicly endorsed model.
On the eve of election day, the city's Board of Ethics & Campaign Practices found the Keller campaign in violation of public financing regulations but declined to fine the candidate. The complaint was filed in September by general election opponent Wayne Johnson (who is facing allegations of ethics violations himself). The board ruled that Keller accepted some $30,000 in cash donations that wrongly accepted as by Keller's campaign manager as "in-kind professional services."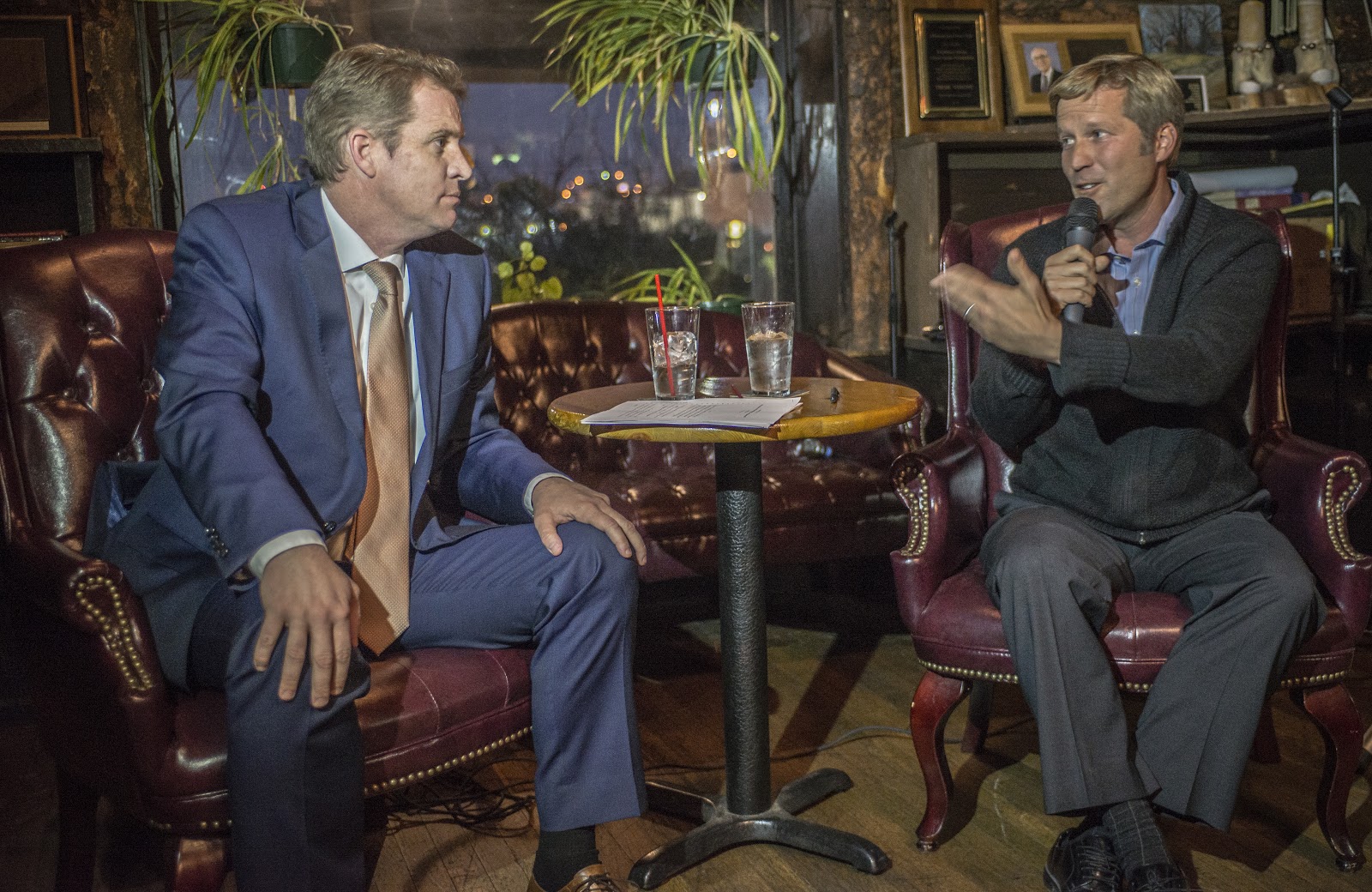 Score Cards for Judges
"I want to rate the judges and be able to give them scores on their decisions,"Lewis said.
Lewis explains the judges need to be held accountable by citizens for their rulings that may put criminals back on the street.
In May, the Albuquerque police chief issued a special order to officers to scale back on arrests and jail time of low-level nonviolent offenders.
Littering, panhandling, drinking in public, marijuana possession, prostitution, certain shoplifting offenses, criminal trespassing among others were classified as low level nonviolent crimes within the new order.
"The system allows the judges to call criminals 'low level nonviolent' which allows them to go to pretrial services and do not have to stay in jail 'til the trial," Lewis says that puts criminals back on the streets to commit more crime.  Lewis hopes his approach will press judges to keep criminal defendants in jail while they are pending trial.
Keller is against giving judges scorecards.
"We need to make families safe now, and that's what my campaign is all about," Keller said, bringing the focus back to law enforcement.
Gun Control
With recent mass shootings in Las Vegas, Nevada, and Sutherland Springs, Texas, gun policies are a timely topic in the election. Lewis defends gun rights. "I want people in this city have the ability to protect themselves and their loved ones," Lewis said.
However, Lewis also wants to be more strict on criminals who have a record.
Keller says he believes gun violence and gun policy issues are integral in the overarching crime issue.  He wants to support the state legislature in cracking down on the illegal sale of semi-automatic firearms through online exchanges, like ARMSLIST, an online classifieds for firearms.
Keller noted that the city can step up district attorney prosecutions of felons for having illegal firearms. "We talk about the revolving door of criminals. Almost every criminal that's coming out of that door we could have busted for illegal possession of a firearm."
The recent case of Albert Pulido highlights the problem. He was convicted of violating federal firearm laws by possessing firearms and ammunition after previously being convicted of numerous felony offenses.
Sanctuary City
Lewis is opposed to making Albuquerque a sanctuary city, a loosely-defined term that implies local law enforcers are not responsible for enforcement of federal immigration laws.
"I do not want the city of Albuquerque to be a sanctuary city and end up like Chicago or San Francisco."
Both cities have filed lawsuits against the Trump administration who mandated pressure on key sanctuary cities.
The policy implemented by the DOJ would bar sanctuary cities from receiving public safety grants, unless they cooperated with immigration authorities.
Lewis claims cooperating with the federal government will benefit the community in the long run.  
Keller supports making Albuquerque a sanctuary city. Keller said his plan to create a safe haven, and working with immigrants is all part of being mayor.
"I feel the mayor takes an oath to stand up and protect every person in the city… I believe in protecting our families and our immigrant families," Keller said.
Immigration and Customs Enforcement (ICE)
Keller opposes the city's current policy that gives federal ICE agents the authority to check the immigration status of people who have been arrested by local authorities.
"A lot of these things Trump is doing creates separation, I don't want separation," Keller said.
Lewis favors giving ICE agents access to people after they are arrested and placed in the county detention center.
"If  someone is booked and arrested by APD, no matter what race, background, status, or crime committed, anyone can have their citizenship checked," Lewis said.
Healthy Workforce Ordinance
The Healthy Workforce Ordinance is a workplace sick leave policy that was narrowly voted down during the October 3rd general election, but remains a hot topic in the mayor's race. The controversial ordinance would have required employers with a physical presence in the city to provide employees paid sick-leave (employees would earn one hour of paid sick leave per 30 hours worked).
Lewis opposes city-wide adoption of a healthy workforce ordinance. He says he will not propose any kind of paid sick leave. He explains that he does not want any mandated regulations on local job creators.
"As a city, why would we put great burdens on these people (employers) who have so many challenges," Lewis said.
He says local government would be unable to enforce such measures and that businesses themselves can decide what benefits to provide employees.
Keller's says his hope is to work with both sides of the issue to create a sick policy that works for all parties involved.
He said "If we do not step up again" the referendum will return. "It's incumbent upon leaders to step up to provide an alternative that works for the city."
Keller does not want the ordinance to keep reappearing, but create one that works for both sides. Keller exclaims "I'm running for mayor to actually try and drive policy for the city, not sit back and wait."
Early voting ended on November 10th. Election day is November 14th.
For more follow us on twitter:Andrew Lucero, Kevin Maestas & Sarah Ihlefeld