The University of New Mexico's Athletic Department has been buried in debt over the last decade and owes millions to Lobos . The athletic department reportedly has failed to balance its budget for eight out of ten fiscal years. In October, the New Mexico Higher Education Department stepped in and is asking athletics to pay up.
Data given to the Albuquerque Journal by the University, reported the Athletic Department  with a $1.54 million deficit for fiscal year 2016. Overall, the last 10 years have contributed to a cumulative departmental debt of  $4.7 million, with no resolution in sight.
The source of the debt
"While there are many factors, certainly student welfare costs –cost of attendance, meals, insurance and medical needs — have continued to rise," said Frank Mercogliano, assistant athletic director of communications. "Scholarship costs have continued to rise, costs for sponsoring 22 athletic teams have continued to rise, travel costs have continued to rise, and we have been competitive regionally and nationally in salaries."
Mercogliano says the department is currently analyzing how and where they spend their resources to see if they are utilizing them in the best way possible.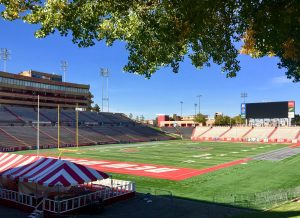 "There are a variety of reasons [for debt], but most important, our goal is to have a balanced budget. That needs to be the first goal, and while very few Division I institutions make money, that needs to be the goal we strive for," says Mercogliano.
When it comes to revenues, the athletic department points fingers to various problems including low in ticket sales in both men and women's basketball and in men's football. Ticket sales account for 21 percent of the athletic department's budget.
A data representation of the UNM Athletic Department's financial red ink from 2007-2016.
The $60 Million Dollar Renovation
Since the $60 million dollar renovation of UNM's indoor arena, The Pit, eight years ago, the athletic department has failed to collect money from many Lobo fans who agreed to lease luxury suites.
The private suites sell for $45,000 a year, but according to public records released to KRQE News 13, the department had yet to collect a total of $432,641 in rental fees.
The public record released in May 2017  listed that 42 private suites were shown to be unpaid since 2010.
Steve Carr, supervisor of UNM Communications and Marketing, said student fees are contributing to the department's budget. But, they have not made much of an impact to resolve the debt.
"The athletics department received $4 million in student fees last fiscal year – 2016-17," said Carr.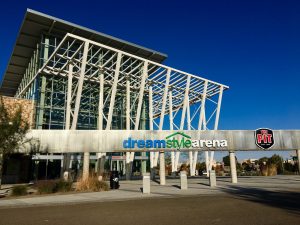 Although athletics receives this and other funding, it does not seem to the help the department recover.
"For football attendance, in 2007 we averaged 29,712, coming off of five straight Bowl eligible seasons. In 2012 we averaged 22,307 and this year we are averaging 23,281 through the first four games. These numbers mirror the trends nationally," said Mercogliano.
"In men's basketball, last season we finished 28th nationally in attendance and women's basketball finished 16th."
"Attendance has decreased throughout the nation over the last few years. Ticket revenue is a component of our budget, and one of the things that we will be looking at is how we project ticket revenue and what things we can do to enhance the fan experience so that fans want to be at the events, specifically football and men's and women's basketball," said Mercogliano.
The department is constantly looking at ways to increase attendance and the overall fan experience.
"Improving the fan experience is crucial and we will be using analytics along with industry standards to improve our efforts moving forward. (New Athletic Director) Eddie Nuñez was just hired about two months ago and is currently going through a process of analyzing everything we do," Mercogliano said.
Nuñez was named UNM Athletic Director as of Aug. 31st following the retirement of past director Paul Krebs.
Previous athletic director, Paul Krebs, who spent just over 10 years in the department before retiring in August 2017, was well aware of the University's increasing debt.
As quoted in the Daily Lobo, Krebs stated that the department encountered its worse case scenario- flat revenue and rising expense. He also pointed to the poor economy status of New Mexico which contributes to low ticket sales.
Though the debt continued to get worse during Krebs's presidency, he mentioned that the department was working on implementing a range of changes to cut costs before he left UNM.
Changes included evaluating the necessity of vacant positions before hiring new employees, as well as changes in concession food at events to help bring in additional revenue.
There is no evidence showing that the athletic department's debt rests completely on the shoulders of Krebs. However, as Mercogliano stated, he is looking forward to working with new athletic director, Eddie Nunez.
The official list of unpaid Pit suite invoices from 2010-2015.
Source: Public Records by UNM presented to KRQE News 13
Restructuring the Athletic Department
Through the department's financial struggles, there have been efforts to control the chaos.
Interim President Chaouki Abdallah says that he is well aware of the athletic department's debt and is working diligently to find a solution.
"UNM is committed to transparency and fiduciary responsibility of all areas across campus," said Abdallah in an interview with NM News Port.
"While we have internal transfers and subsidies, we expect all units to live within their budgets. This summer, I took immediate action to institute stronger internal controls and more thorough oversight of the Athletic Department's financial operations."
The athletics department now has a multi-year deficit reduction plan in place. They reduced their budget this year to account for the $350,000 reduction.  
Abdallah said that part of the internal review purposes is to target reasons behind why the athletic department has continued to fall short of budgetary goals.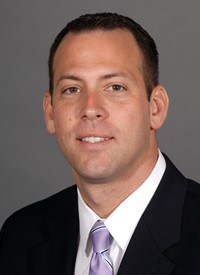 "Potential contributing factors may include optimistic estimates of attendance and revenues" said Abdallah.
Abdallah is optimistic that working with new athletic director, Eddie Nuñez, the two of them will be able to resolve the problem, and continue to push the department forward and out of debt.
Eddie Nuñez took filled the shoes of former athletic director, Paul Krebs, who retired June 2017.
The majority of expenditures within the athletic department took place when Krebs was in office.
"Working together with new Director of Athletics Eddie Nuñez, we are continuing to evaluate the athletics budget and reviewing the businesses practices in UNM Athletics Department to assure that it is operating efficiently and responsibly," said Abdallah.
For more follow Jazzy and NMNews Port on Twitter