By Santana Ortiz for New Mexico News Port /
William Sahlstrom is a typical 9-year-old who loves Batman and basketball, but William has had to learn to move through life a little differently than other boys. He was born without a left hand due to a congenital condition that affects one in 10-thousand.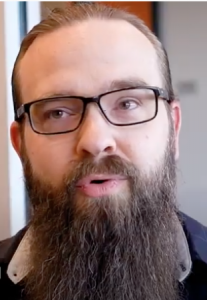 "They think it was 'amniotic band syndrome' in utero," said William's father, Theodore Sahlstrom.
Last November, Theodore visited the Air Force Research Laboratory Maker Hub looking to print a 3D prosthetic hand.
"I heard about [The Maker Hub] through the Sandia Lab News," said Theodore, who works at the Advanced Nuclear Concepts department with Sandia National Laboratories. "I had printed a hand in the past—mainly prototypes with mixed success." 
The Maker Hub is a collaborative space that offers a variety of tools, and equipment, that can be used by anyone with base access for work or personal projects. 
"Normally, a prosthetic hand would cost thousands of dollars" said Maker Hub Director Liam O'Brien. "With our Ultimaker 3D printer and the cost of filament, the cost was roughly $30 in equipment and less than $5 in plastic. All in all, a hand that has the same functionality as a $15,000 prosthetic, we were able to print for under $50."
YouTube video produced by AFRL Makers Lab
Cosmetic prosthetic hands can price below $5,000. But, for a prosthetic that offers functional movement, the starting price is $10,000 and can reach $100,000. Though health insurance can alleviate some of the cost, it often does not cover the entirety. 
"It's not a fully functioning medical grade prosthetic, but he has the grasping capability," Theodore said. "It's like a new tool that he can use to expand his capabilities."
William had used prosthetics prior to working with O'Brien and the Maker Hub, but this time around he was able to create a more effective model. 
"I was really excited and I couldn't wait because it has been a few years since I had made one," William said. "It's a lot bigger and can do more. I think it's really helpful because I can hold more stuff at once. I think it makes me feel different because I have two hands, not just one."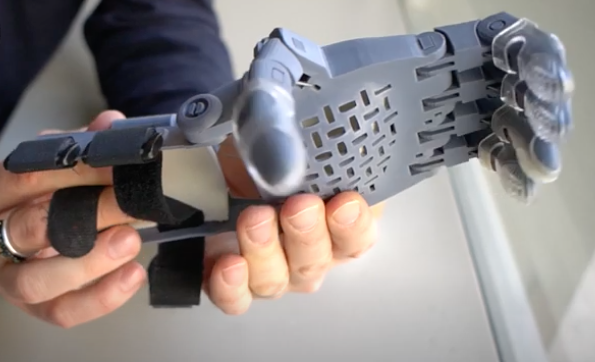 William and Theodore were able to work alongside Maker Hub staff to design and create the hand in less than two weeks. The assembly of the hand took longer than the actual print, and Will was an active participant in both aspects. 
"It took about three days to print it and a week to make it," William said. "I got to watch them design it and print it. I thought [The Maker Hub] was really cool and I liked how they set up the 3D printers." 
The Sahlstrom's are excitedly putting William's hand to the test in new ways and are brainstorming new materials that might advance the quality of their next print. 
"As soon as it was finished he just took it and wouldn't give it back," Theodore said. "He's actually been able to pick up things that he never has before. He drank from a cup for the first time from his left hand."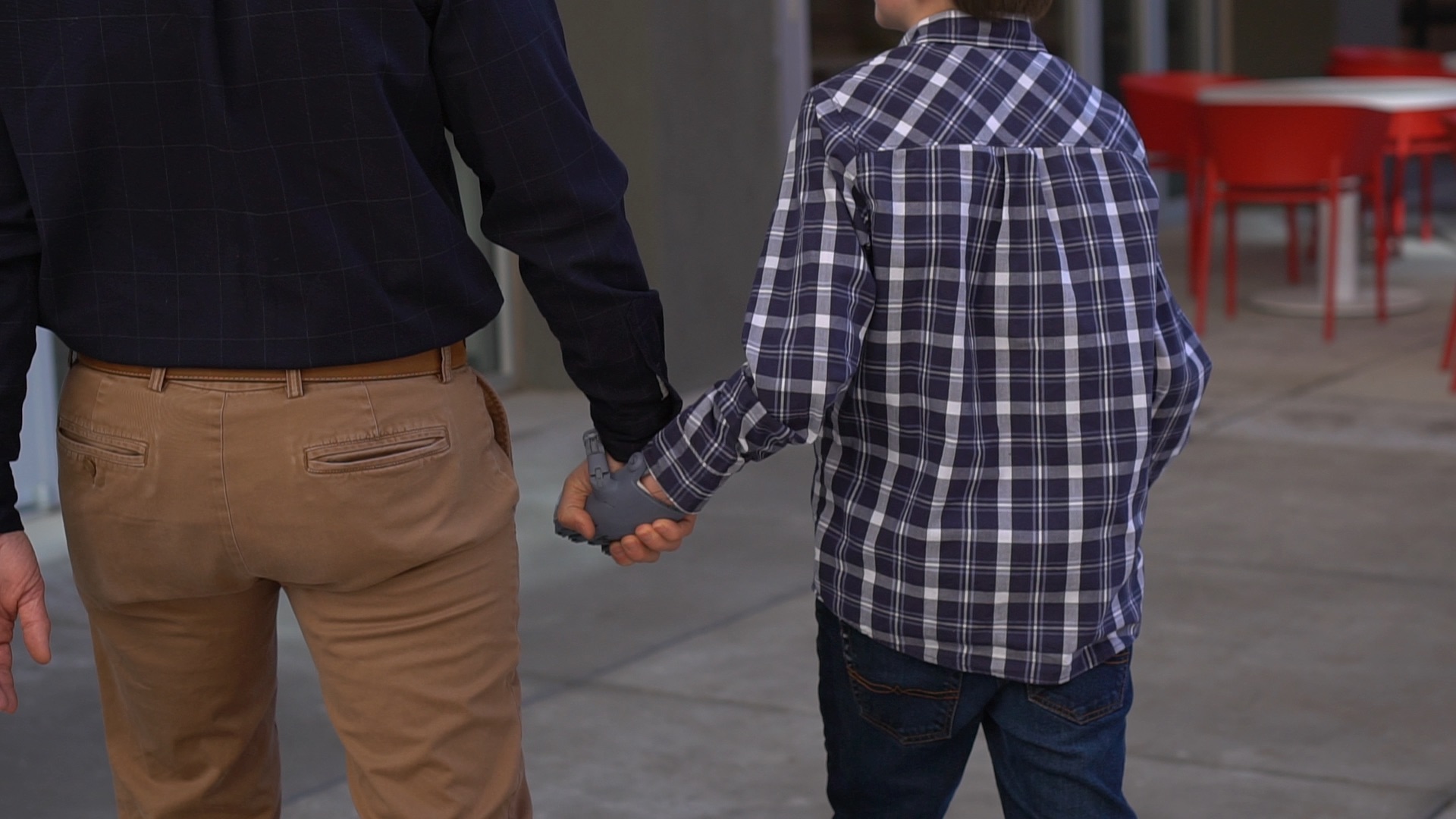 Theodore advocates for the E-Nable organization. Through his work with Sandia National Laboratory, he's found local scientists and engineers that have taken interest in his experience and hope to one day contribute to the non-profit group. 
"I found this design through a website called Enabling the Future," Theodore said. "Engineers donate their time to develop plans so you can take the mechanical drawings and input them into a 3D printer."
"One reason is the cost," Theodore said. " As kids grow, they need new sizes frequently so we're able to just print the next size up as soon as he outgrows this one. He's almost ready for the next size now."
The AFRL Maker Hub does not claim to be a supplement for medical grade prosthetic developers, but it does offer the tools and opportunities for those with base access to use innovative methods to create solutions. 
"We're not really trying to break into the medical field—that's not really our wheelhouse out here," said O'Brien. "We're just in the favorable position to have access to tools and capability to rapidly prototype and test equipment."
The Sahlstrom's hope that in sharing their story they might inspire others with similar needs to pursue maker spaces as a means to meet their needs. 
Although the Maker Hub is only accessible for those who have access to Kirtland Air Force Base, the Maker Hub is partnered with the FUSE Maker Space in downtown Albuquerque that has similar 3D printing capabilities.
Santana Ortiz is a former reporter for New Mexico News Port. This article was originally published by her new employer, The Air Force Research Laboratory.