Voters in a sprawling rural district east of Albuquerque will help decide which party controls the next session of the NM State Senate. They'll be voting this November in Senate District-39, where appointed Republican Ted Barela is challenged by Democrat Liz Stefanics.
Democrats hoping to maintain their grip on NM senate
When Gov. Martinez appointed Republican Ted Barela in April 2015, the Democrats' control of the senate narrowed to 24-18
"We most importantly need to maintain the control, so that we can begin the process of pulling ourselves out of the mud that Gov. Martinez has put us in," First Vice Chair of the Bernalillo County Democratic party, Tom Solomon said.
Solomon says that in the last six years Republican Gov. Martinez has vetoed what Democrats perceive as positive state legislation.
"With a Republican governor and a Republican controlled house the Democratic controlled senate has been the number one obstacle in passing important legislation," said Communications director for the Republican party of NM, W. Tucker Keene.
Republicans only have to flip three seats in the chamber to force a tie because Lt. Gov. John Sanchez, a Republican, holds the vote to break it.
Keene says that the last time there was a republican-elected majority Senate was in 1931.
Republicans have highlighted seats they intend to target but will also have to defend the seats they currently hold.
"We need to win every seat we are contesting," Keene said.
Barela appointed by governor to fill open seat
In March 2015, the 39th District seat was vacated by Sen. Phil Griego (D) who had held it for 20 years. He was forced to resign due to a corruption case.
Gov. Susana Martinez responded by calling an emergency appointment to find his replacement, but she was denied by the state supreme court.
Instead, each of the six county commissions in District 39 forwarded candidate nominations to Gov. Martinez. The winner was Republican Ted Barela, who was then appointed by the governor.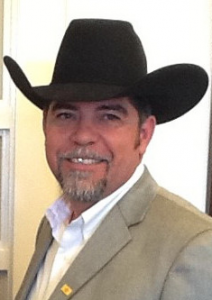 Barela says it has been very exciting representing the people of the district.
"There is so much to learn but I think my experience as a town trustee, mayor and public employee has served me very well. I can relate to conversations going on," Barela said.
Santa Fe County Commissioner, Liz Stefanics who held the seat from 1992-1996, was rejected in the appointment process.
Although half of the counties endorsed her for the seat, Stefanics says she was not surprised that Martinez picked Barela.
"I knew that the governor would appoint a person from her own party," Stefanics said.
That same year, Stefanics announced she would be running for election.
"My name was put forth by three counties so I felt that was a good vote of confidence to get started," Stefanics said.
Education needs to be re-evaluated both candidates say
"Our teachers have so many other pressures included in their job that they are unable to be as creative as they should," Stefanics said.
Stefanics says that there is too much emphasis on state testing. Attention needs to be directed on the needs of the each student.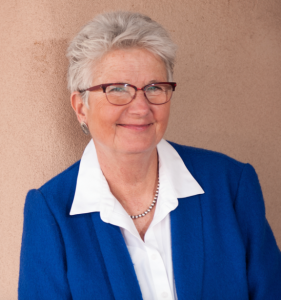 Stefanics acknowledges that income levels impacts education but says that the state should adequately invest in education.
She supports using a small portion of the state's Land Grant Permanent Fund as a source to fund early childhood development.
While Barela also agrees there is too much focus on state testing, he says one of the key issues stems from home stability.
Barela says that providing more jobs to the parents of the communities will help to provide a more stable home environment, which in turn will result in children prepared to learn when they are at school.
"The senate has not been controlled by Republicans in over 80 years," Barela said. "We are at the bottom in education and our economy is hurting. I think it is in our state's best interest to try something new; it is clear that something isn't working."
According to Education Week's Quality Counts, New Mexico ranks 49th in educational achievement.
Jobs at forefront of the race
District-39 covers mostly rural areas in Lincoln, Torrance, San Miguel, Santa Fe, Valencia and Bernalillo counties.
According to the New Mexico 2016 State of the Workforce Report,21.3 percent of people in NM are living below the poverty level.
Barela says the rural areas that he serves are economically distressed. "This area isn't a huge money maker. We don't have much manufacturing or fabrication," he said."We don't have jobs in this state."
A key factor in the lack of jobs is because businesses have much to lose from lawsuits, Barela explained.
"There's not much of a cap on the amount of money people can sue businesses for, and someone can lose their entire business over a lawsuit," Barela said.
Barela says if companies knew they had protection from frivolous lawsuits, they would be willing to come in.
"I think it is important that we consider tort reform," Barela said.
Barela also says the state needs to reconsider the utilization of its natural resources, to create more jobs.
"With the right legislation in place we can reconsider the logging industry and potentially reimplement," Barela said. "Our government needs to provide opportunity to both small and large businesses."
Republicans, like Barela, agree that there is not enough opportunity for kids with college degrees, and corporations and businesses need to be established in the state to provide more work.
Barela's opponent, Liz Stefanics, has a different view on providing jobs to the people of District-39.
Stefanics says she wants to help already existing businesses find the capital needed to succeed.
"Without (broadband) internet you can't do any kind of business dealing online, and that is really inhibiting small business growth," Stefanics said.
Stefanics says that more internet availability will help existing businesses improve.
Voting demographics in District 39
Barela ran unopposed in the primary election and, according to the NM Secretary of State website, received 2519 votes.
Stefanics beat out three other opponents by receiving 2377 votes, which was 979 more votes than any of her opponents.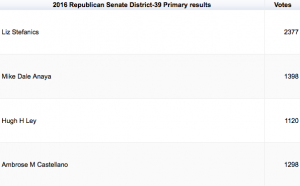 According to data from the Secretary of State website, as of Sept. 30 District-39 has recorded 50% registered Democrat voters compared to 31% republican voters.
While Stefanics appears to have an advantage due to the district having more registered Democrat voters, Barela thinks otherwise, citing his cultural connections and the fact that he was born and raised in the district.
"Will I understand people's issues better? I think I will because I understand our culture better," Barela said.  "I live it."
Barela wants people to get away from looking at him as a Republican and look at him for what he stands for.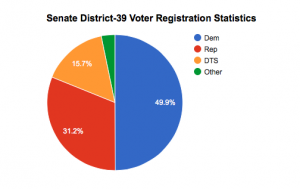 But Stefanics is hardly an outsider. She points out that she's been a resident of New Mexico for 30 years and she lives a life similar to the people of District-39.
"I live in a rural area off of Cnty Rd 82, where I have my own well, septic, and dirt roads I have to take care of," Stefanics said.
Although her party has an advantage in registered voters, she says still needs to earn her votes, especially among the 59 percent Hispanic population of the district.
"Now that I won the primary, my focus for the general election has turned towards convincing Democrats not to go over to the Hispanic male that is in the race," Stefanics said.
Follow Jacob on Twitter.