By Alika Medina & Mariah Perry / NM News Port
Albuquerque Public Schools (APS) started the school year on Aug. 12 with remote learning. Seven days later, the district announced the virtual learning approach would be extended through the fall semester. 
It's part of a safety plan put in place to prevent coronavirus transmission among students, families, faculty, and staff. 
APS originally hoped to move beyond remote learning and adopt a hybrid model that combines remote and in-person learning by Labor Day. But a survey sent to 59,000 parents showed a majority were uncomfortable with a return to physical classrooms.
The APS survey also highlighted parents' other concerns. Some worried about special education students who require more individual attention, while others expressed concerns about daycare and how they would balance work with providing instruction at home. 
The district is working on a continuous learning plan for the rest of the school year. In the meantime, supplemental online and printed learning materials are being provided for families.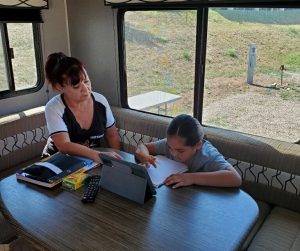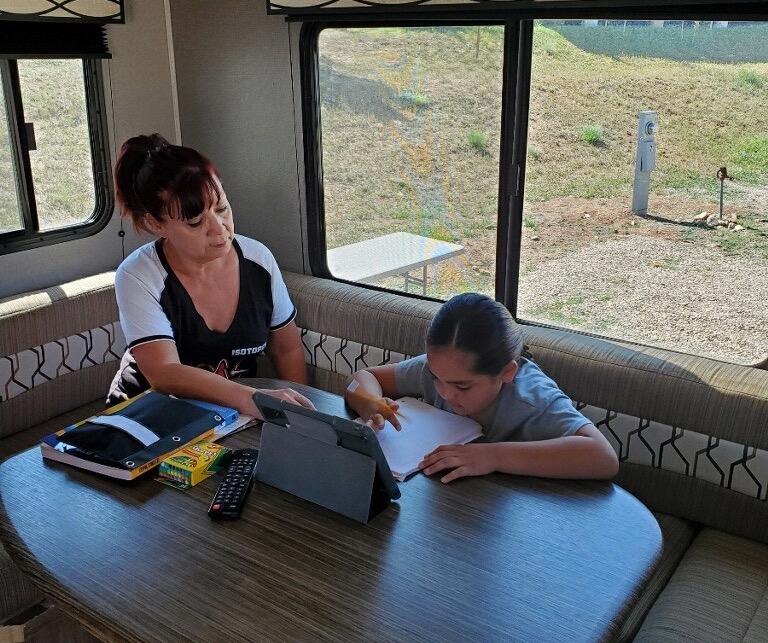 "For me it's really hard," said Ariel Garcia, mother of Albuquerque elementary school student Tara. "My daughter is in first grade and I am a single mom. I can only sit in for 15 minutes and then I have to leave for work." 
Tara's grandmother Angela Garcia helps out.
"I help Tara when Ariel is at work to get her schooling done but it is hard sometimes because I don't know the whole technology part," Angela Garcia said. 
"It's an adjustment, for sure, for everyone, and it's a different kind of tired," said Jennifer Smith, a third grade teacher at Tierra Antigua Elementary School.
With everything having to be switched to online instruction and online homework, Smith says, it is incredibly difficult to teach when you can not be present in the moment to see how the students are doing.
"It takes a different type of focus," Smith said.
Technological barriers affect remote learning
Since last year, the district has been partnering with Comcast to provide affordable internet to families.
"Through Comcast, they gave us two free months of internet, but then we had to pay ten dollars a month after that," Angela Garcia said.
APS also provided computers to all students in early August. Most students got Chromebooks, though some of the district's younger students, special education students, and English language learners received iPads.
On the first day of school, APS did virtual "home visits," wherein the teachers met with parents on Zoom to discuss their technological needs. 
The APS Educational Technology department will be hosting a live stream for parents on Sept. 14 at 7 p.m., where they'll be giving a rundown of Chromebooks, iPads, Google Classroom, Gmail, and resources on their site. 
Smith said students are doing reasonably well in her class, although they're struggling with the technological aspects of remote learning.
"It seems like the only difficulty they have is with technology — other than that, they are doing alright, at least it seems," Smith said.
"Everyone is doing the best that they can with what they have."
– Jennifer Smith, APS third grade teacher
"It's hard because kids are at home and some of them are in their bedroom," Smith said. "The chat box has been a huge thing because the kids just want to message each other, but I get it because they need that social part they are missing so much." 
Smith emphasizes what she calls star behavior: sit up straight, track the speaker, ask and answer questions, and respect. She said this helps her when trying to keep the kids engaged.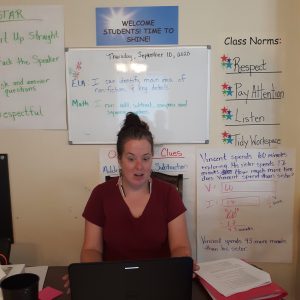 "I'm personally adapting. I am working harder day-wise," she said. 
She added that teaching online is much harder than face-to-face because she can not assess how well students are following along.
"I want to be in the classroom. Doing it over the computer is very hard. It's like, are they even connecting to these standards that I am trying to teach?" Smith said. 
First grader Tara Garcia has a grievance, too. 
"I don't like online school because I miss my friends at school," she said.
"I would definitely go back to the classroom," Smith said, "because I don't think that they are going to perform to their potential online.  
Mariah Perry and Alika Medina are reporters for the New Mexico News Port. They can be reached at nmnewsport@gmail.com or on Twitter @MariahP93714334 and @Medina_Alika.