In November, New Mexican voters will decide whether to amend the state constitution, giving judges power to hold dangerous defendants in jail without cash bond. It would also allow judges to release poor defendants without bail if they are not a risk to the community.
The language of the amendment was passed 29-9 by the NM State Senate last February. Senate Joint Resolution 1, proposes reform that would allow judges broader authority in when to impose bail or deny bail — a practice known as preventive detention — depending on the degree to which the judge believes the defendant is dangerous to the community.
Lee Romero, UNM law professor and appointed chair on the Supreme Court Ad Hoc Pretrial Committee, was asked by the Supreme Court to make recommendations regarding reform of the bail bond system. Romero says the public should approve the reform because of the benefits for the citizens.
"I think people will see the value in the constitutional amendment," Romero said. "I think the community is really concerned with the release on bail of people who should not be released."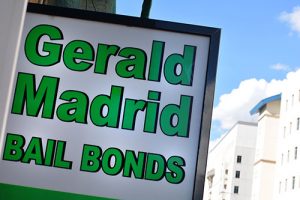 At the same time, Romero says, people who are a low risk to the community are held in jails simply because they can't come up with high bail fees.
"People right now are being detained by judges on a really high money bond," Romero said. "Those people are not going to be able to pay a bondsman to post a million dollar bond."
With the State cracking down on the most dangerous defendants, it leaves bails bondsmen wondering how this will affect the bail bond industry.
Gerald Madrid, president of the Bail Bonds Association of New Mexico says this measure is good for the citizens of New Mexico.
"There's so much crime happening and there's so many people outraged, especially victims, and they're interpreting it as judges are soft on crime," Madrid said. "It's a way of the court showing that it's tough on crime."
Madrid's support of bail bond reform is somewhat unique. Reforms in other states have been opposed by the bail bond industry.
"I'm not sure how it's going to affect us. I think they're will be some legal challenges to that by the public defender's office or private attorneys," Madrid said. "Some of their clients are going to be held in jail without bond and no possibility of getting out; it could be for a long time."
With the most dangerous defendants kept behind bars awaiting trial, opponents of the amendment say this will cause overcrowding in jails.
"There will probably be more people in jail," Madrid said. "Right now at Albuquerque MDC [Metropolitan Detention Center], our jail population is at an all-time low."   
Since more defendants will be in jail awaiting trial, Madrid also said he is concerned about how New Mexican citizens make up time lost if defendants are found not guilty.
"As a community, we're a system," Madrid said. "How do we make that up to the defendant who was completely innocent?"  
Voters will decide in November. Since it is a constitutional amendment, the results will be final––requiring no approval from Gov. Susana Martinez.
Follow Ricky Garcia on Twitter.