"Black boys are dying and it's trending on social media."
Twenty-three year old Nikki Archuleta read from her original poem, Friday evening September 22nd, in downtown Albuquerque at the Black Lives Matter rally she organized.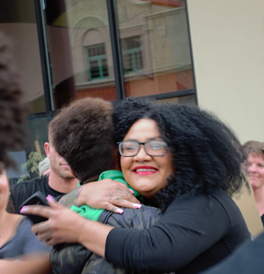 The march opened with prayers and speaker leading a couple of hundred protestors in chants outside the Century 14 theater at 2nd and Central Ave.  
"A lot of the time I get the question, 'Why do we march?'" Archuleta said. "We march to broaden and demand the conversations and actions taken around state violence, to include all the ways in which black people are intentionally left powerless at the hands of the state and white supremacists."
Protesters carried signs such as "De-Militarize the Police," and "Police Protect Property, Not People." They marched about six blocks west on Central, chanting "Whose streets? Our streets," and "Hands up, don't shoot."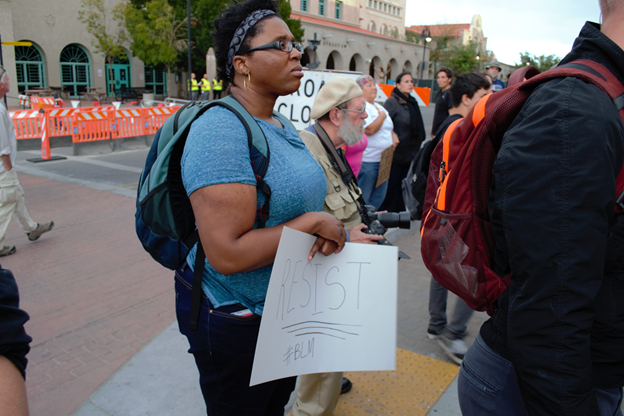 Some participants wore neon green shirts, indicating they were part of a self-determined "de-escalation safety team," to prevent violence.
Peaches Blackbird, 21, a full-time student and a coordinator at the Albuquerque Peace and Justice Center said peaceful resolution tactics should be used by protesters everywhere.
"De-escalation should be all over, especially after Charlottesville. It's crucial for us to be safe, not only the participants but the observers too."
Ana Moran, 22, American Civil Liberties Union field organizer also wore a green shirt.
"Have a conversation and talk through mutual respect, that's where the transformative work can happen," Moran said. "These techniques can protect the people telling their lived experiences. If people are successful in silencing them, it strikes fear into people participating and takes that voice away."
There was a handful of counter protesters. At one point one man chanted "Donald Trump" as a speaker, Shakir Farid Abdullah, addressed the crowd.
"Donald Trump — God bless him, too." Abdullah responded to the heckler.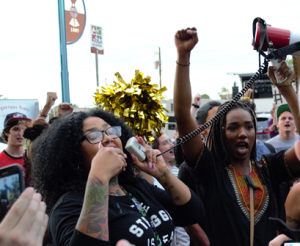 Protesters entreated the community to be invested beyond the march. Victoria Lovato-Montoya, 18, an freshman attending the University of New Mexico said she appreciated the show of support, but called for more action.
"Call your Senators, make petitions. There is no more time to talk, it's time to take it to the next level," Lovato-Montoya said.
Speaker Skye Gullatt, 23, challenged those who portray the march as something like a riot – requiring businesses to close.
"That is what Black Lives Matter is about. Look at us as humans, that's it," Gullatt said.
For more, follow The NM News Port or Dani on Twitter