Colorful kayaks, a striped sailboat and white canopy tents lined the shore of Abiquiu Lake on Sept. 9. The sounds of motors, chatter, laughter and splashing filled the air. It was the third and final day of a camp put on by the Adaptive Sports Program New Mexico.
About 55 to 60 athletes, family members and volunteers attended the adaptive water sports camp, according to ASPNM Director of Operations Jason Cline.
"It gives them confidence, something that they thought maybe they could never do again in their life or have never been able to do," he said. "We provide an opportunity to allow them to try it."
ASPNM "has offered therapeutic recreational activities to children and adults with disabilities" since 1985, according to its website. Today, the program offers adaptive sports throughout the year.  
Adaptive sports are sports that have been adjusted or created for people with disabilities.
During ASPNM's water sports camp, this included the use of specialized equipment like seated waterskiing and other means of helping participants feel comfortable.
Over the weekend, athletes participated in paddleboarding, jet skiing, tubing and more, Cline said. The group was comprised of people with Down syndrome, people with autism, disabled veterans and other individuals.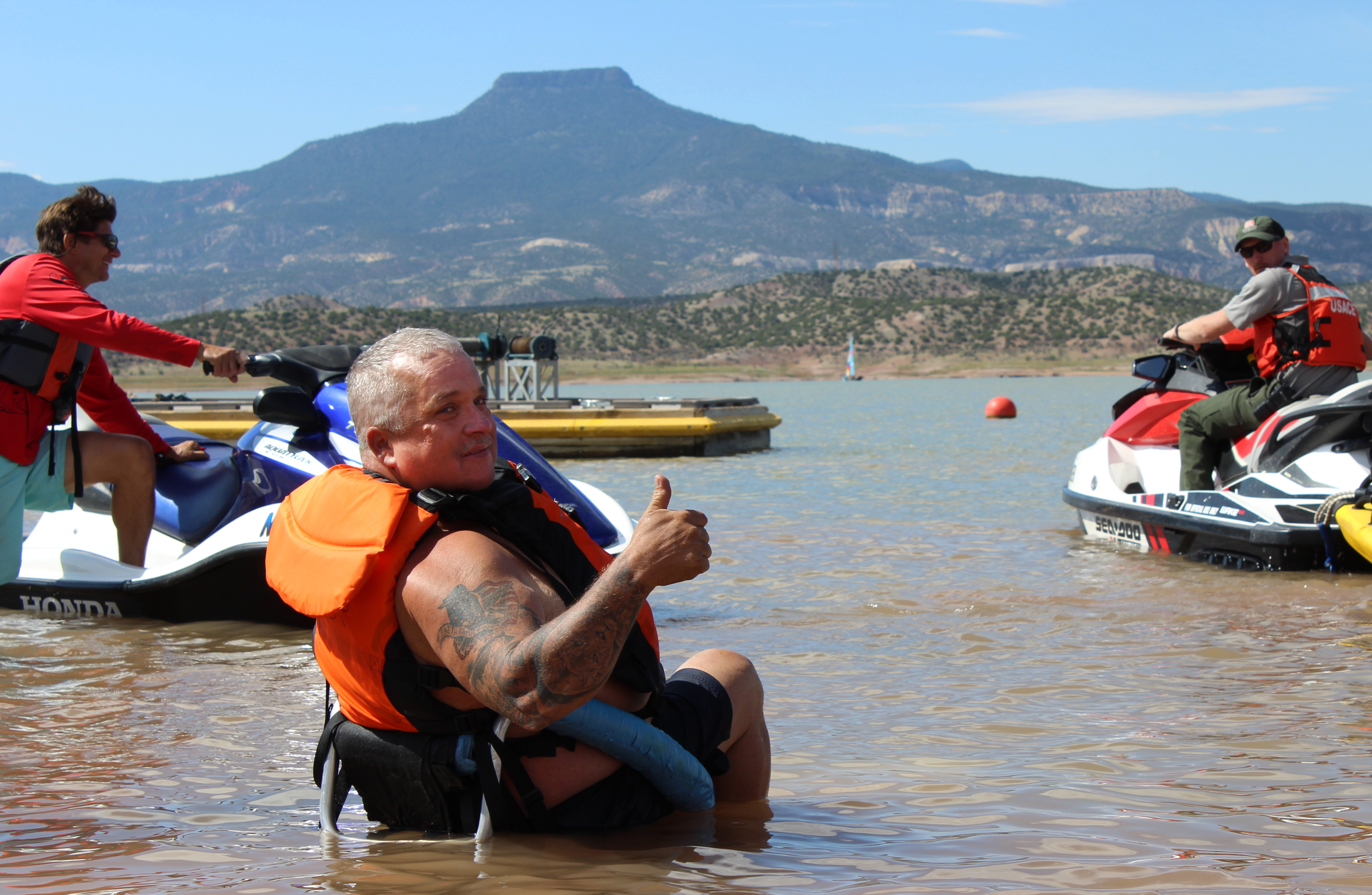 "The No. 1 thing (the camp) offers is a sense of community," he said. "It offers camaraderie. It lets people know that they're not alone in whatever they're going through in their lives. There's a support group for them."
This holds true for veteran Mark Whitson.
"(ASPNM) opened doors that I thought were closed," he said. "The opportunities are endless."
Whitson and his wife served in the Army during the mid-80s, he said. The two married on Veterans Day, and 10 days later, Whitson lost his leg during an accident in the line of duty.
"Before, I would watch people participate, like my kids and my wife," he said. "I would go skiing with them, I would take them, because my kid learned how to ski early, so I always watched, and I never participated."
He and his wife skied together for the first time around three years ago, Whitson said. Today, he also skis with his children, travels and participates in events with other veterans.
"These are things that would have never been done," he said. "This family of people. So, yeah, it's really been life-changing for me. I went from an isolating, sort of depressed vet (to) more open, meeting a lot of new people."
The Centers for Disease Control and Prevention finds exercise beneficial for people with disabilities.
Sherri Erler, a physical therapist who works with children at the New Mexico School for the Blind & Visually Impaired, said, "Just as it is for any person — if you can achieve some level of exercise and fitness through a sport or an activity, it's more fun, and it benefits (people with disabilities) just as much as it would someone else."
Cline said the camp's sports can also give athletes independence and confidence.
A camp with an accessible, adaptive climate might be what people need, Erler said. Without a resource like this, people with disabilities might face isolation. They might not engage socially and actively, which could affect mood.
"In general, activity and nature and having fun has an emotional impact," she said. "When you have fun, don't you feel happy?"
ASPNM Volunteer Coordinator Board Member Joyce Aller is the mother of Mia Gonzalez-Aller, this year's ASPNM athlete of the year.
Aller said if ASPNM did not exist, "I'd have to go find something else. I'd have to start one. I'd have to move. Because when (Gonzalez-Aller) doesn't have this program, she regresses."
Gonzalez-Aller described the program as "fun and great," adding that the people involved are "awesome" and more volunteers are needed.
"It's gotten me out of the house, it's gotten me to do stuff and interact with people," she said.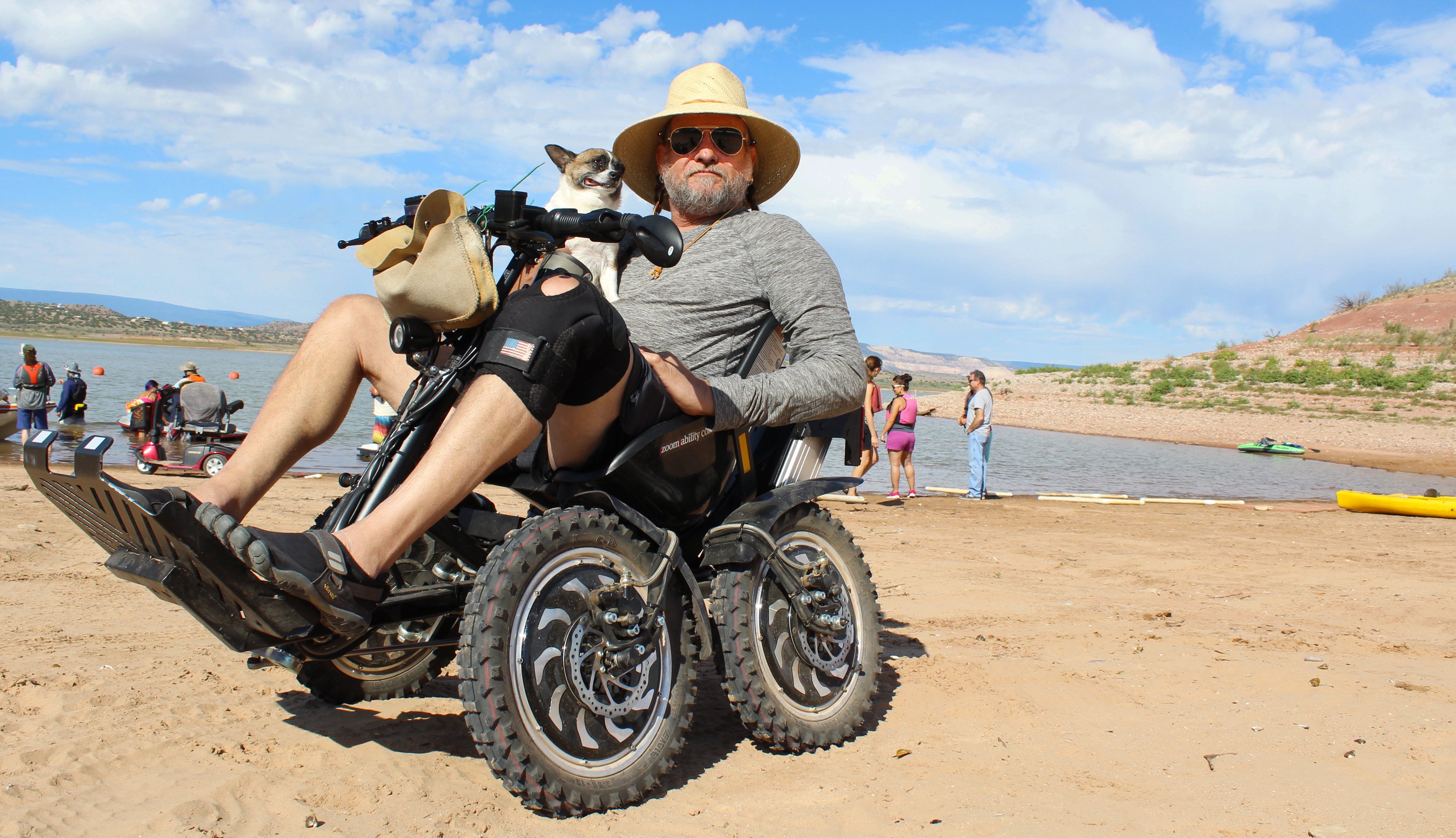 Chuck Schorb (pictured in the photo to the left with his service dog, Buck) served 13 years of active military duty until he was injured in the Persian Gulf. Today, he is an ASPNM ski instructor and helps other veterans.
"I guess my story starts after I got out — that's harder than any war I was ever in," he said, adding that he faced PTSD, which made communicating with others difficult.
He isolated himself for 20 years, he said. He also struggled with drug addiction.
"But then I had a moment of clarity," Schorb said. "I got clean. I moved out here six years ago, got eight years clean, and it's like I'm making up for lost time. I do anything and everything these guys have. This organization, ASP, they're wonderful. They literally gave me the opportunity to regain a life."
You can follow Elizabeth Sanchez on Twitter @Beth_A_Sanchez.