Starting Sept. 17, Southwest Airlines will allow miniature horses as service animals in the cabins of their aircrafts.
The new rule was approved by the U.S. Department of Transportation (DOT). Other airlines have recently changed their policies on service animals as well.
Southwest Airlines did not make a spokesperson available for comment, but said in a published statement that, "Southwest will accept only the most common service animals—dogs, cats, and miniature horses. For the health and safety of our Customers and Employees, unusual or exotic animals will not be accepted."
According to Southwest, service animals are not allowed to do the following:
Scratching, excessive whining or barking

Growling, biting, lunging

Urinating or defecating in the cabin or gate area
Miniature horses are typically under 38 inches from the base of the neck.
Jeff Lisowski, a miniature horse farmer in Belen, New Mexico believes that letting the little horses  into the cabin of an aircraft is a matter of working with the animal.
"It's all what you expose them to. They're very personable animals," Lisowski said.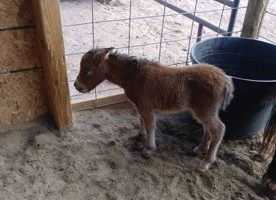 Lisowski said he worked with horses for most of his life until he injured his back riding  horseback. He still wanted to work with horses and began working with miniature horses instead.  
"They're great for people that deal with big horses," Lisowski said.
Lisowski sees many positives of having a miniature horse. This includes picking up and fetching items, carrying weight, and helping guide people that are vision impaired.
"They learn from an early age, and seek comfort to be around someone,"Lisowski said.
Horse owner and licensed clinical psychologist in the Dept. of Psychiatry and Behavioral Sciences at UNM, Brandi Fink, PhD, is skeptical of having miniature horses on aircrafts.
"[Horses] are so psychologically evolved to flee from any perceived danger," Fink said .
She adds that unlike other service animals, such as dogs or cats, which are predators, horses are prey animals.
"So [horses] have a whole different relationship with the world," Fink said. "They can be spooked and explosive."
Fink had to work with her two regular-sized  horses to slowly introduce them to various loud noises to train them to not  be frightened.
"Working and training with horses you have to do tons of exposure to all sorts of stimuli," Fink said .
Teddi Chambers, a UNM clinical mental health student and Land of Enchantment Miniature Horse club member, volunteers her time by taking her miniature horse, Miss Fire, to hospice facilities and foster care.
She adds that miniature horses are great emotional support animals. Especially, for people who have  a strong connection with regular-sized horses. Her miniature horse is allowed in many public places.
"I had one lady from hospice that just cried and cried," Chambers said "She was a horse breeder."
Chambers suggests that New Mexico has a strong connection to the miniature horse issue because it's  rural and many people are involved in equine sport.
"Horses are extremely intelligent, emotionally and intellectually," Chambers said.
Sol Traverso can be contacted on his Twitter at @SolTraversoinc