Toulouse Oliver and Espinoza wrestle over Voter ID and transparency in wake of Duran scandal
When the cell door slammed shut on Dianna Duran in December of 2015, a different door opened for two New Mexico politicians who hope to take over her former office as secretary of state.
Voters will decide in November whether Maggie Toulouse Oliver or Nora Espinoza will officially take Duran's place. Albuquerque City Councilor Brad Winter is doing the job in the interim.
In August 2015, Duran was charged with 64 separate criminal counts, including fraud, embezzlement, money laundering, campaign law violations, tampering with public records, conspiracy, and violating the Governmental Conduct Act. According to court records, Duran illegally appropriated campaign funds for her own personal use — including trips to the casino.
After resigning in October, Duran plead guilty to six of the 64 charges against her, including two felonies, according to court documents.
In December, she was sentenced to 30 days in jail, 2,000 hours of community service and ordered to pay $28,000 in fines and restitution.
Additionally, the judge ordered Duran make more than 100 speeches to school and civic groups about her crimes and attend meetings aimed at curbing gambling addiction.
The secretary of state oversees the election process for all of New Mexico, enforcing laws enacted by the legislature and the governor to maintain transparent elections.
The secretary is also responsible for enforcing campaign finance laws, and ensuring campaign financing is properly reported.
The secretary is also second in line to run the state in the governor's absence, meaning if both the governor and the lieutenant governor are out of the state for any reason, he or she will administer New Mexico's government.
This is Toulouse Oliver's second attempt at running for office on the Democratic ticket, the first coming in 2014 when she lost to Duran.
Toulouse Oliver, who has served as the Bernalillo county clerk since 2007, said once she is voted into office, she will focus on repairing the public trust Duran broke.
"The whole reason we're having this election," Toulouse Oliver said, "is that the previous Secretary of State was violating the laws she was charged with enforcing."
On her website, Toulouse Oliver states she is "running to restore integrity and public trust in the Secretary of State's office." She said her highest priority is to "enact thoughtful and innovative reforms to New Mexico's campaign finance system and hold elected officials, government employees, candidates, lobbyists and all political groups to the highest levels of ethical standards and accountability."
As part of restoring trust, Toulouse Oliver said she campaigned suggesting several ways of increasing transparency in campaign finance reporting.
First, Toulouse Oliver said she wants to add archived data to the reporting system, and second she wants to make it easier for the average citizen to see who has been donating money to different candidates. She said although the current system does allow for searches, it can be difficult to navigate.
For example, A business owner might donate under the business's name to a particular candidate, then donate under their own name and then again under their spouse's name, she said.
Technological advancement is key in making that happen, Toulouse Oliver said. By adding a new, more easily searchable campaign finance and lobbyist disclosure portal, and by closing campaign finance reporting loopholes, she says she hopes to increase the level of transparency in elections.
For Toulouse Oliver, new tech means "the sky's the limit" as far as increasing voter registration and voter engagement, she said.
For Republican candidate Nora Espinoza, imposing new rules and changing systems already in place go beyond the scope of the office of secretary of state, according to her website.
"This is an administrative position," Espinoza said in a campaign speech reported on by The Alamogordo Daily news.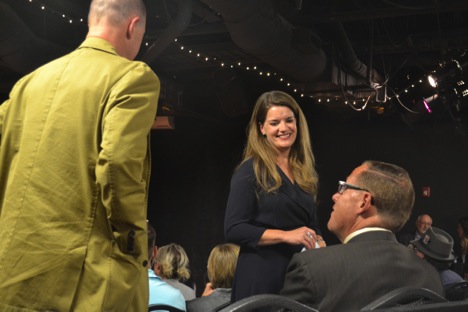 The NM News Port team repeatedly tried contacting Espinoza for comment, but she did not respond to emails and phone calls requesting an interview.
Espinoza spent 22 years teaching in Roswell and was an administrator for the Republican Party of New Mexico.  She has been a state representative since 2006 and is the current house Education Committee chairwoman as well as a member of the Regulatory and Public Affairs Committee.
In her campaign speech, Espinoza said the secretary of state's main job enforces rules already established by other legislative and executive bodies. Interpreting those laws and making new rules surrounding them is not part of the job, she said, because that would be ignoring the voting public's voice.
"When I was elected as a state representative it was not just for passing laws," Espinoza said. "It was to listen to you for what was important to you and what needed to be changed or what needed to be amended because we don't want more rules and regulations."
According to Espinoza's website, her major focus is protecting New Mexicans' votes, ensuring voting is fair and "to ensure integrity in New Mexico's electoral system."
Espinoza says she plans on making voting fair by establishing photo voter identification, which is her major campaign focus.
"Voter ID would mean that fake, fraudulent registrations do not turn into BALLOTS CAST — which can never be uncounted," Espinoza said in a Twitter Town Hall Debate on Oct. 5.
The twitter debate has been the only public debate the two candidates had during the election thus far.
Espinoza says she believes voter fraud is not rare by any means, and that voter ID is the only way to ensure truly fair elections because it will guarantee mistakes will be easily caught.
"The reason we have a hard time discerning voter fraud from an honest mistake is that we lack voter ID," Espinoza wrote in the Twitter debate.
Toulouse Oliver said that she does not think a photo voter ID is something that will help with election integrity.  She says it is nothing more than "a political distraction technique used to garner votes."
Legitimate voter fraud is relatively rare, about 31 cases in more than a billion votes cast, according to research by the Washington Post.  Toulouse Oliver said she believes the scarcity of voter fraud points to the fact that the issue is used to stir up votes during campaigns.
"It's a red meat issue that kind of gets thrown out every election and then people don't care about it in between elections," Toulouse Oliver said. "It's used by advocates of that type of bill in order to make themselves look like champions of election integrity and make the opponents look like they're interested in opening up our elections to the masses to be taken advantage of."
Toulouse Oliver said there are other election integrity issues she finds more valuable than voter ID, including protecting vote counting and having secure election systems and databases.
Matt Simpson, an undecided voter attending a panel discussion hosted by Toulouse Oliver, said he thinks she does a lot to improve voting convenience.
"I think anything that lowers barriers to people's participation in the political process is a great thing," Simpson said.
Espinoza said protecting the integrity of every vote remains her most important mission, and part of that is ensuring only authorized voters reach the ballot box.
In a campaign speech earlier this year reported on by the Santa Fe Reporter, Espinoza said she is concerned over Toulouse Oliver's plan that would make it easier for more people to vote.
Espinoza said Democrats have a "plan" to "drive or carry anyone they can find to the polls and have them vote regardless of eligibility."
In another speech, Espinoza said voter ID has no real downside.
"Albuquerque has had voter ID for over 10 years, has there been any complaints? Zero.
Has there been anyone disenfranchised? Zero. Because there is nothing wrong," Espinoza said.
Espinoza said that Toulouse Oliver wants voters to be able to register on Election Day.
"That is opening the door for voting fraud," Espinoza said.
Espinoza said there is plenty of time to register to vote, as well as many ways to vote, at least in Otero County.
"What issue is more important that protecting the integrity and the sanctity of each New Mexicans vote?" Espinoza said.
Voting for the Secretary of State's office will be held during the general election on Tuesday, Nov. 8.  Polling locations can be found online at the secretary of state's website or by contacting the local county clerk's office.