Citizens want Rio Rancho to ditch the title of being a suburb of Albuquerque and put more focus on increasing commercial land use. Rio Rancho is expected to grow from 96,000 residents to 143,000 residents over the next two decades, an increase of 33 percent
Citizens of Rio Rancho discussed Rio Rancho's development over the next 20 years in a Comprehensive Plan Public Meeting at Fire Station #5 in the Enchanted Hills area. Rio Rancho's municipal planner, Amy Rincon, led the meeting and provided different scenarios of how Rio Rancho's future could turn out.
According to the City of Rio Rancho, the vision statements focus on a safe, fun town full of friendly people in all stages of life.
"It's always an option not to change anything," Rincon said. "We can leave things as is."
The scenarios reflected land use distribution, and primarily focused on residential and commercial land uses, while also meeting the city's vision statements.
"Our average household size is 2.88 people per household, showing that 71 percent of our land area is residential," Rincon said. "Rio Rancho is going to have a larger share of the metropolitan statistical area's growth."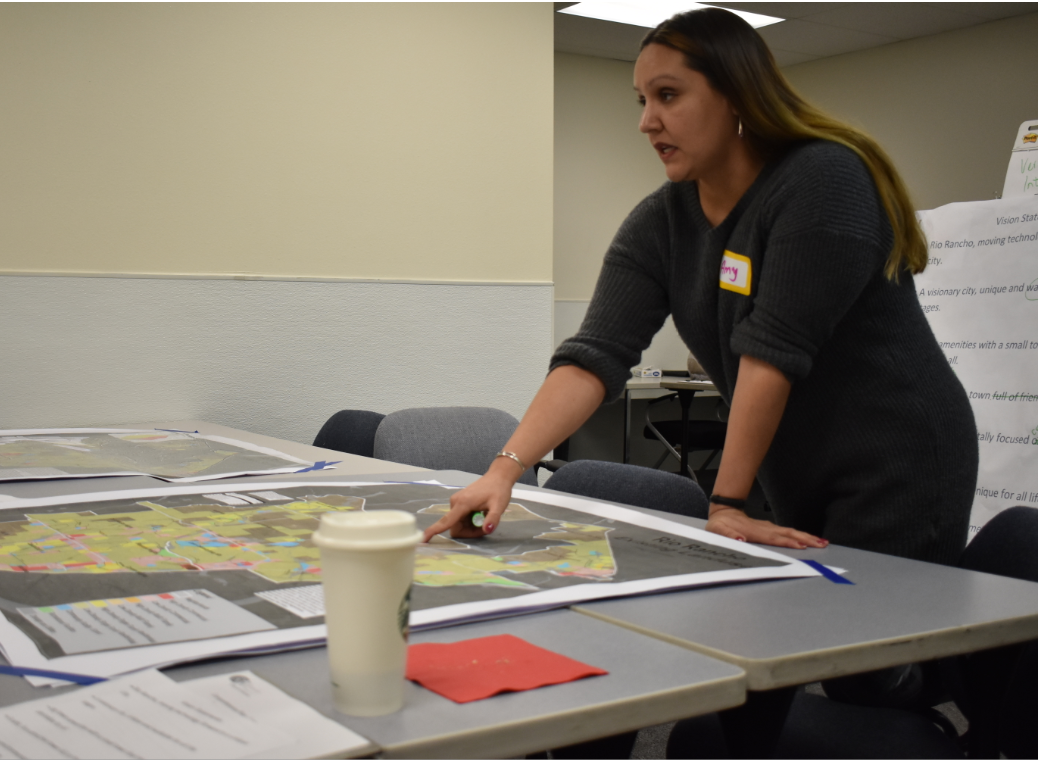 According to the City of Rio Rancho, Rio Rancho's population will comprise 12 percent of the total Metropolitan Statistical Area in 20 years. This means Rio Rancho will experience a consistent growth rate of 2 percent every year.
"Albuquerque is starting to kind of max out on their growth areas, on where they can actually expand to," Rincon said.
Citizens present at the meeting made it clear that they wanted to see an increase in commercial land use in Rio Rancho to make the city more attractive. They do not want to be seen as a suburban homestead of Albuquerque.  Rio Rancho citizen, Mike Jackovich, came to voice his concerns about the potential direction of the city and make sure government officials know that opening more businesses is the key.
"I looked at the existing plan, and it is so out-of-date; it needs updating," Jackovich said. "There is a lot of items in there that are obsolete and there is some that need to be rebuilt."
Rio Rancho has plenty of commercial activity spread throughout the city, including the areas of Southern & Unser, Enchanted Hills, the Santa Ana Star Center, and Southern & 528.
Rio Rancho citizen, Neal Shotwell, has not ruled the possibility of more potential business hubs.
"There are a lot of unestablished areas still in Rio Rancho, right?" Shotwell said.
In order to get more recognition from the rest of the state, Shotwell sees business growth as an opportunity to pump cash into Sandoval County, allowing Rio Rancho to fund its programs. According to the Sandoval County website, the current gross receipts tax rate in unincorporated portions of Sandoval County is 6.25 percent, of that amount 5.125 percent is the rate set by the state.
"We would get more gross receipts, and more business, and more services here in Rio Rancho," Shotwell said."We don't get as much money in the school systems as other counties and cities do because we don't have a very big gross receipts portions."
All citizens in attendance wanted to see their city grow, specifically on the commercial side. Out of the three scenarios provided by the city, the citizens favored the scenario featuring a ratio of 47 percent residential land use and 37 percent commercial land use plan, as opposed to the current ratio of 71 percent residential and 15 percent commercial land use.
According to the Rio Rancho Observer, Rio Rancho is the fastest growing city in the state of New Mexico. All scenarios, charts and data will be available to the public in two weeks and can be accessed through the City's website or via email: arincon@rrnm.gov.
Daniel Zuniga can be contacted on Twitter @DanTheManj12.