By Manuel Romero / NM News Port
With COVID-19 case numbers surging across the state, most children find themselves at home trying to learn from virtual classrooms.  But for some school kids, Albuquerque's community centers are their homebase. 
City of Albuquerque Community Services Division Manager Cristin Chavez-Smith said that these distance-learning programs provide a sense of normalcy for the kids while helping parents who may not be able to stay home.
"We're serving kids of essential workers," Chavez-Smith said. "These kids' parents work in all sorts of industries, including health care, first responders, grocery store attendants and the whole spectrum of essential work."
At the Los Duranes Community Center, Supervisor Brittani Torres is coordinating children from some 20 local schools. 
 "I want to say we are doing a great service to the families and considering everything that is happening, (the programs) gives (the kids) some sort of social infusion."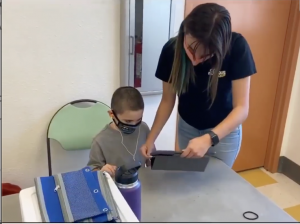 To ensure these learning programs run as smoothly as possible, Chavez-Smith says, the community centers have been working with Albuquerque Public School (APS) along with charter and private schools.
"We have weekly or bi-weekly meetings (with APS administration) to make sure we're on the same page and (address) any issues either organization might have," Chavez-Smith said. 
The 22 community centers throughout the city of Albuquerque are providing 500-1000 kids in grades K-8 a safe environment to facilitate their education.
"It doesn't matter what school they go to. If they're in the same district as the community center, we will take any kid that lives in Albuquerque into our programs" said Chavez-Smith.
Torres said one challenge she and her staff have found is keeping the kids' attention focused on computer screens for most of the day.
"Not so much the older kids, but the younger ones have a little more difficulty," Torres said. "It's hard for me to sit in front of a computer for 8 hours so it's kind of harder for them to try and stay focused and do the work and constantly be on the computer."
Torres says while she's working, her kindergartener also attends a distance learning program.
"It is challenging with schedules and everything,  but our staff is awesome," Torres said. "We have their schedules posted so we can stay on top of it and we work with it the best we can."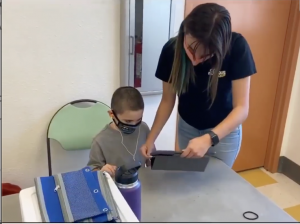 Chavez-Smith said the community center buildings are large and the programs are able to operate while following state safety regulations regarding COVID-19.
"Kids get put into group sizes of five, per the state health order to keep the kids safe," Chavez-Smith said.  "The kids stay in that same group all day long, even when the school day ends and they're having recreation time."
She said the groupings have remained the same for the whole semester. 
Torres said that she has been very impressed with how well the kids in her distance learning program have adapted to the health guidelines. 
"Kids are the most resilient of all of us because they just have been rolling with it," Torres said. "I know we get stressed out and it gets hard but their attitudes haven't changed."  
"To see their smiling faces and to see them happy to be here and happy to get their school work done is super powerful." — Brittani Torres
Torres also said that the kids she has worked with have a clear understanding of what's happening around them. 
"It's amazing to see how informed the kids are and how seriously they take safety," Torres said.  "They understand why we social distance, why we wear our masks, why we wash our hands, why this is taking place and it's amazing to see."
Torres said that she believes her distance learning program as well as others will continue to be successful despite any changes in the future.
"I have total faith in our department and our team," Torres said. "We will roll with those punches and we will make the most successful program that we can in each of our programs.  I have no doubt in mind with whatever is given to us, we will proceed."
Manuel Romero is a reporter for New Mexico News Port. He can be reached on Twitter @mannyboy92phx or at nmnewsport@gmail.com.