By Bethany Johnson / NM News Port/
Followers of the race for New Mexico's open seat in Congressional District one will notice that both Janice Arnold-Jones and Debra Haaland, employ quite different approaches to Twitter when it comes to campaigning
Debra Haaland (@Deb4CongressNM) tweeted 41 times the week of Sept. 10 to 16 with an average of 5.9 tweets a day. She has used hashtags 14 times in those tweets, including her own hashtag, #BeFierce. Haaland has 18.3K followers and follows a total of 2,066 people.
Janice Arnold-Jones (@LadySunshineNM) tweeted 284 times the week of Sept. 10 to 16 with an average of 40.6 tweets a day. Jones circulated the same seven photographs within almost all of her tweets that week, sometimes with the same picture in consecutive tweets. The pictures range in quality, from professional headshots and graphics, to pictures at work and outdoors. Jones used 515 hashtags with an average of 13.6 hashtags per tweet on Sept. 16 alone. Jones has 1.4K followers and follows 1,512 accounts.
| | | | |
| --- | --- | --- | --- |
| CANDIDATE | Tweets | Hashtags | Followers |
| Deb Haaland | 41 (Sept.10-Sept.16) | 14 | 18.3K |
| Janice Arnold-Jones | 284 | 515 (Sept. 16) | 1.4K |
On the date of publication Haaland's Twitter bio reads "NM Dem Nominee for CD1. Former Dem Party Chair. Proud UNM Lobo Mom. Pueblo Woman. Marathon Runner. Gourmet Cook." While Arnold-Jones' Twitter bio reads, " Former NM State Representative Janice Arnold Jones and the 2018 Republican nominee for Congress NM CD-1."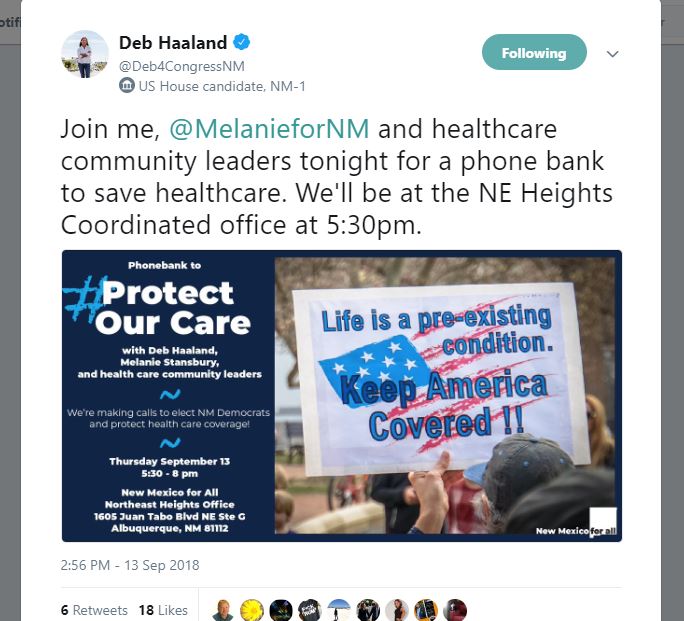 During the week observed, Haaland tweeted about fully funded public education, climate change, healthcare and other issues. She released a personal statement about her opinion of Brett Kavanaugh on Twitter. She also tweeted about suicide prevention, Hispanic Heritage Month, and a Jewish holiday. A common theme of Haaland's feed is women in politics, often mentioning other candidates she supports.
According to David Weiss, a political communication professor at the University of New Mexico, Haaland may not be trying to reach an outside audience, but rather is trying to reinforce the beliefs of those already supporting her. Haaland may also be trying to get unlikely voters in the Democratic Party to vote, he said. 
Haaland is in the running to be the first Native American woman in congress. On her website, the first statement she makes is "For Congress. For us.,"communicating that she stands for all New Mexicans. She typically tweets to various people groups, appearing not to be too selective with who she is trying to reach. Haaland's Tweets about Jewish holidays, Hispanic Heritage month and suicide prevention are all specifically focused on an audience that may or may not have to do with Native Americans. With this, Haaland is trying to communicate that she stands for all New Mexicans.
Jones' tweets consist of  one line sentences and fragments of sentences. Some of her tweets do not have the correct punctuation or structure and have hashtags that did not process correctly. Some tweets are also duplicates of a previous tweets.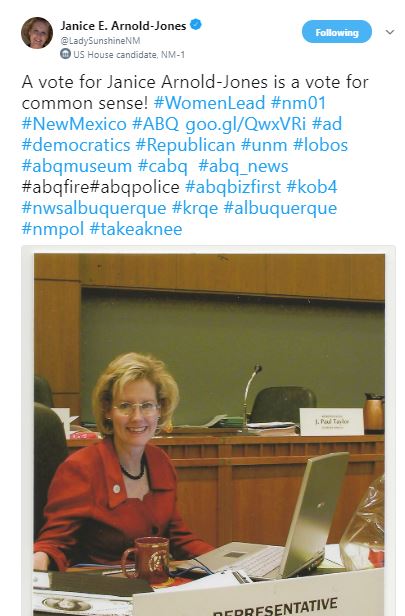 Wiess pointed out that Jones does not tweet too much about the issues, but uses vague one liners. Jones aligns herself with President Trump by occasionally tweeting the hashtag #MAGA (Make America Great Again).
Weiss suspected that this account is run this way to draw in outside voters. The vague language within the tweets could be purposeful in drawing in Democrats and Independents.
Donyelle Kesler an employee at Siarza Digital, a public relations firm in Albuquerque said that when it comes to Jones' Twitter the redundancy in imagery and blocks of hashtags take away from the messaging and make it difficult as a user to stay interested in the messaging being presented.
Kesler said having a strategic approach for each social media platform is the first step in being effective and influential on these platforms. Kelser said that it seems like Jones' account seems to be an afterthought in comparison to Jones' efforts on Facebook, which could reflect a possible lack of a strategic approach.
Weiss said that there is no wrong way to use social media. It all depends on how you want to use it and get your message out there. Both candidates have different approaches and neither are right or wrong, he said.
n Weiss' opinion, Haaland is better at targeting her democrat voters, and Jones is better at being less targeted in her approach. Being less targeted could pay off in attracting outside voters, he said, but there is no way to know for sure which is more effective until the election.
Bethany Johnson is a journalist for the NM News Port. She can be reached @bethanyjson on Twitter.