New Mexico has ranked among the most impoverished states for the past seven years, which makes poverty a major issue in this year's race for governor of New Mexico. With New Mexico's population being around 2,044,187 people and the poverty rate at 19.7 percent, 401,755 people are living at or below the poverty line. 
Both candidates, Republican Steve Pearce and Democrat Michelle Lujan Grisham, have proposed plans to decrease poverty in the state. Those plans include improving poor education systems, growing jobs and increasing health coverage.
Steve Pearce tells the story of how he experienced poverty first-hand, born into poor living conditions. His campaign literature emphasized that Pearce feels a moral obligation for government to stand alongside and support people, so they can work their way out.
Pearce's plan starts with reforming the Children Youth and Families Department (CYFD) and the unemployment in New Mexico. He said he intends to recruit employees who have been affected by child protection, law enforcement and abuse investigations. Pearce said he expects future CYFD employees to resolve cases quicker as new ones are created.
Pearce said the solutions to poverty include fighting crime, expanding the job market to provide higher paying jobs and reforming New Mexico's education system. In addition, Pearce has created a resolution to to resolve New Mexicans taking advantage of unemployment benefits, which will take place through an app that is accessible on smartphones.
Michelle Lujan Grisham's campaign literature emphasizes raising New Mexico's minimum wage, preventing cuts to the Supplemental Nutrition Assistance Program (SNAP) and increasing health care benefits. Lujan-Grisham focuses on making sure state resources are assisting struggling families, and expanding the use of state Working Families Tax Credit (WFTC), which is similar to the federal Earned Income Tax Credit (EITC).
The expansion includes adding additional tax preparation programs for low-income families and publicizing WFTC, so those who need assistance in preparing taxes will be aware of WFTC and its purpose. Furthermore, Lujan Grisham's health care plan includes family planning services that are more accessible.
If elected, Lujan Grisham said she intends to raise minimum wage to $10 an hour, and eventually to $12 an hour within the next four years. On her website, Lujan Grisham cites one in 10 New Mexican children live in a minimum wage household. New Mexico's current minimum wage is $7.50 per hour and has been since 2009.
"When people earn more money, they pay more taxes, whether it's because they have higher incomes or because they're spending more money and paying more sales taxes," said Sharon Kayne, communications director at New Mexico Voices for Children.
Kayne said she favors a higher minimum wage because of the broad impacts it would have.
"That means we have more money to keep our parks looking nice, to pay our police officers, to keep our roads in decent shape. People earning more (money) is better for the society as a whole because it means there's more money going into the kitty, where we fund all of the things that benefit us, our public education system, our libraries, everything," Kayne said.
Kayne said that low wages do not only impact employees; they impact children living in poverty, too. "Children who grew up in poverty tend to not have access to the resources and the opportunities that children need to reach their full potential," Kayne said.
Kayne said she believes New Mexico's economy significantly influences the state's well-being.
"Poverty is a not a jobs problem; it's a wages problem," Kayne said. "If people who are working low wage jobs made a living wage, they would be buying more nutritious food, they would be buying more books for their kids, they would take their kids to the zoo more often."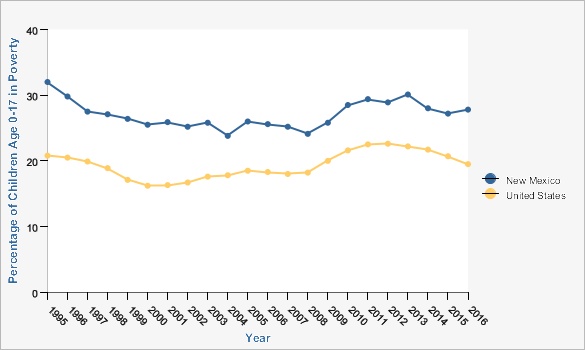 With poverty comes hunger. Sonya Warwick, communications officer at Roadrunner Food Bank in Albuquerque, explains the correlation.
"We tend to have high hunger rates and with that comes high poverty rates; they go hand in hand," Warwick said.
Warwick points out that one in four children experiences hunger during the course of a year.
"I don't think we can grow our community to be viable and strong if we don't have the everyday sort of things that we need to grow and survive — and that includes food," Warwick said.
Warwick said she hopes the next Governor will turn the economy around so consumers at the Food Bank can taper off.
The solution she said may be complicated, requiring many approaches instead of one quick fix.
Pearce's plan to reduce unemployed residents includes reduced unemployment checks if unemployed citizens refuse a job offer, or if they accept a job offer and do not show up.
Currently, family planning services provides unequal coverage for women's educational and economic opportunities. Lujan-Grisham said parents need to plan their families prior to planning their careers.
According to a poll via Albuquerque Journal, Lujan Grisham is leading Pearce 50 percent to 43 percent.
Early voting begins Oct. 20 and ends on Nov. 3., Election Day is Nov. 6.
Lainey Jameson can be contacted on Twitter @livewithlainey.