New Mexico Democrats increased their majority in the state House of Representatives in Tuesday's election, gaining firmer control over Republicans. With a couple of recounts yet to called, the Democrats are projected to hold up to a 46 to 24 majority. Leading up to the election, Democrats held a 38-32 majority. Not all incumbents faced challengers.
The Democrats in the House will join Governor-Elect Michelle Lujan Grisham when the Legislature meets in Santa Fe early next year. Democrats hold a 26-16 lead in the state Senate, which had no seats up for election Tuesday.
"It's a great night for New Mexicans, we are moving in a different direction, it's going to improve the wellbeing of everyone," Democrat state Rep. Daymon Ely said.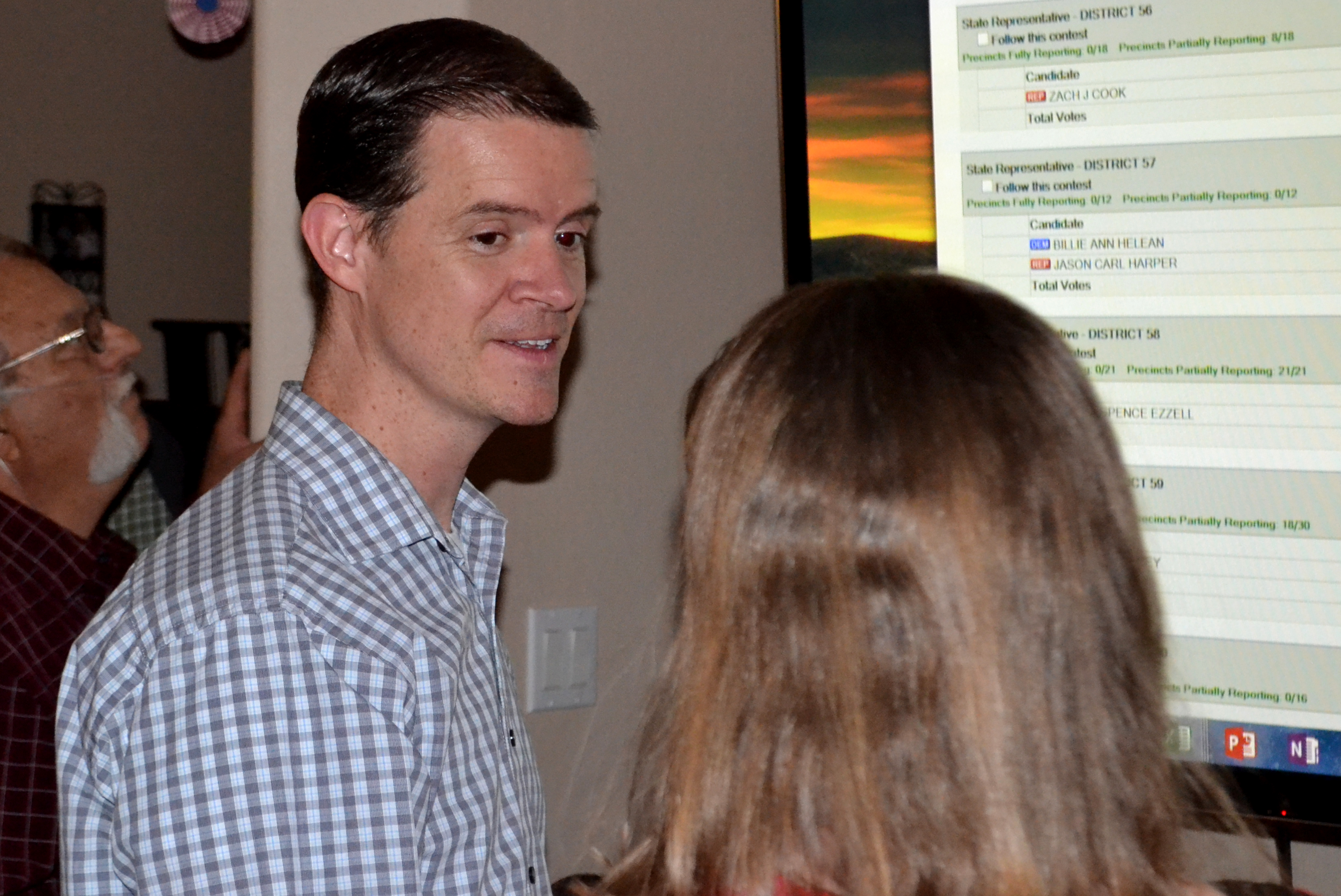 Ely, a state representative from Corrales, won his District 23 seat by a big margin. Ely has garnered 57 percent of voting, and his opponent republican Brenda Diane Boatman garnered 42 percent of the vote, according to unofficial results.
N.M House Incumbent Jason C. Harper (District 57-R) talks to supporters at the 2018 election watch party hosted at his house. Photo by Daniel Zuniga / NM News Port.
However, in House District 57, which includes Rio Rancho, Republican incumbent Jason Harper won his fourth term. He beat Democrat Billie Helean by 51 to 48 percent of the vote, according to unofficial results.
"It has been an honor these last six years representing Rio Rancho, and I haven't forgotten who I work for, thank you and I am grateful," Harper said in an interview.
Harper was not the only incumbent defeating a strong opponent. Democrat Liz Thompson won decisively in District 24. Thompson earned 58 percent of the vote, beating out Republican Trey Stephen Morris.
"New Mexico is blue, we have done a great job, and the women really kicked it up tonight," Thompson said. "I already have 30 bills that I promised to carry out," she added.
In other high-profile state House races, Republican Rep. Monica Youngblood, who represents Albuquerque's West Side lost to Democratic challenger Karen Bash. Youngblood become politically vulnerable after being convicted of aggravated DWI in September.
In Albuquerque's Northeast Heights, Democratic challenger Melanie Stansbury defeated Republican Jimmie Hall in an area where Democrats worked hard to pick up the seat, according to unofficial results.
Daniel Zuniga can be contacted on Twitter @DanTheManj12.