By Jesse Jones / NM News Port
Added reporting by Gavin Moughan
Democrats won handily in all five of the statewide offices in New Mexico, not including those of Governor and Lt Governor.
SECRETARY OF STATE
The incumbent Secretary of State Maggie Toulous Oliver will retain her position. She brought in 54% of the vote while her Republican opponent Audrey Trujillo had 43% of the vote.
This contest was a stark choice between an experience elections administrator and a Trump-style election critic.
Toulouse Oliver ran Bernalillo County elections as county clerk for 10 years and has served as secretary of state — running state elections for six years. She is active in leading a bipartisan campaign combating election disinformation.
Trujillo is a former political director of the New Mexico chapter of the National Republican Hispanic Assembly and had been endorsed by high profile Republicans with ties to former President Donald Trump. She was a guest on a recent episode of Steve Bannon's podcast War Room, during which Trump's former chief strategist gave her his support.
ATTORNEY GENERAL
The next attorney general of New Mexico will be Democrat Raul Torrez, who defeated his Republican opponent, Jeremy Gay, to take this open seat. Torrez won with 55% of the vote to Gay's 45%.
Torrez attended Harvard University, the London School of Economics and Stanford Law School. Prior to becoming the Bernalillo County district attorney, he worked as an assistant district attorney and assistant attorney general. He served as a White House Fellow, appointed by President Barack Obama, and was a senior advisor to the Department of Justice.
Jeremy Gay is a military veteran who runs a private law firm in Gallup and runs a legal assistance office that protects servicemembers and veterans from consumer fraud and predatory lenders.
STATE LANDS COMMISSIONER
Stephanie Garcia Richard won reelection in the race for Commissioner of Public Lands beating out her Republican opponent Jefferson Byrd by 10% of the votes, 55% to 45%.
"The land commissioner has a great deal of control over oil and gas," said Patrick Brenner, president of Southwest Public Policy Institute. Brenner was attending a watch party for Republicans and lamented having a Democrat in charge of public lands.
"Because of the heavy reliance of New Mexico's budget on the royalties generated by the oil and gas industry, I would imagine New Mexicans ought to favor a conservative or Republican in that seat," Brenner said, "but that's not the case."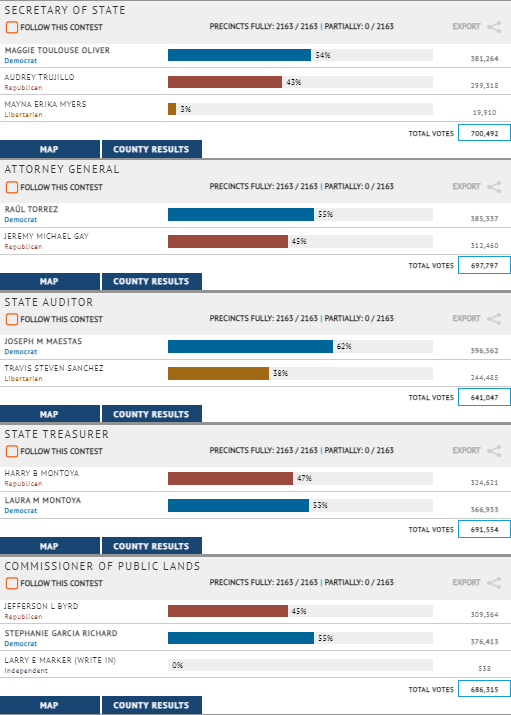 TREASURER
The closest of the statewide races was for the State Treasurer. Democrat Laura Montoya prevailed with 53% of the votes in defeating Republican Harry Montoya — no relation — who had 47%.
Laura Montoya has served two terms as Sandoval County treasurer. She was also the executive assistant to the state treasurer and has helped pass legislation while representing county treasurers at the state Legislature.
AUDITOR
The largest margin of victory went to Democrat Joseph Maestas, who received 62% of the votes for state auditor, easily beating his Libertarian competitor Travis Sanchez who had 38% of the votes.
Maestas most recently served as a public regulation commissioner and previously served as the mayor of Española, and a city councilor in Santa Fe.
Sanchez is a small business owner from Rio Rancho with no political background.
Republicans again will have to wait another four years for their run at these top positions.
"People are so resistant to change, they'd rather have, excuse my french, they'd rather have crap then try something new" said Republican Neil Colella, who was attending the Mark Ronchetti election night party.
Polls had predicted a Democratic sweep of these top offices.