By Jack Boggs, Junko Featherston, Anthony Romero-Kleve / NM News Port
It took all votes to be counted but when they were, Democrat Gabriel Vasquez had narrowly defeated Republican incumbent Yvette Herrell by 1224 votes to take a seat in the U.S. House of Representatives representing the 2nd District of New Mexico.
The district was redrawn after the 2020 Census and went from one that favored Trump by 12 points to one that would have gone for Biden by 6. Vasquez had a better favorability rating in the new district, 41-29%, compared to Herrelll's 39-42%, according to the Siena College Research Institute.

Herell has deep roots in the district, which includes Las Cruces and the oil/gas rich areas of in the southeast corner of the state. She was born in Ruidoso, went to high school in Cloudcroft and worked as a real estate agent in Alamogordo. A citizen of the Cherokee Nation, Herrell was the first Native American Republican woman elected to Congress.
Vasquez, who grew up on both sides of the Mexican border, worked in public relations for the conservation group Hispanics Enjoying Camping and the Outdoors (HECHO). He also served as a staffer for Sen. Martin Heinrich, and as the executive director of the Las Cruces Hispano Chamber of Commerce.
In claiming victory, Vasquez said, "whether you voted for me or not, I will fight my heart out for you, because public service is a sacred responsibility that I will never take for granted."
CD1
Meanwhile, in the 1st District, Democratic incumbent Melanie Stansbury handily beat Republican challenger Michelle Garcia Holmes.
This district includes most of Albuquerque and, after its redrawing, now includes portions of central New Mexico from Rio Rancho and Placitas south to Ruidoso and east to Fort Sumner.
Stansbury took 59% of the vote.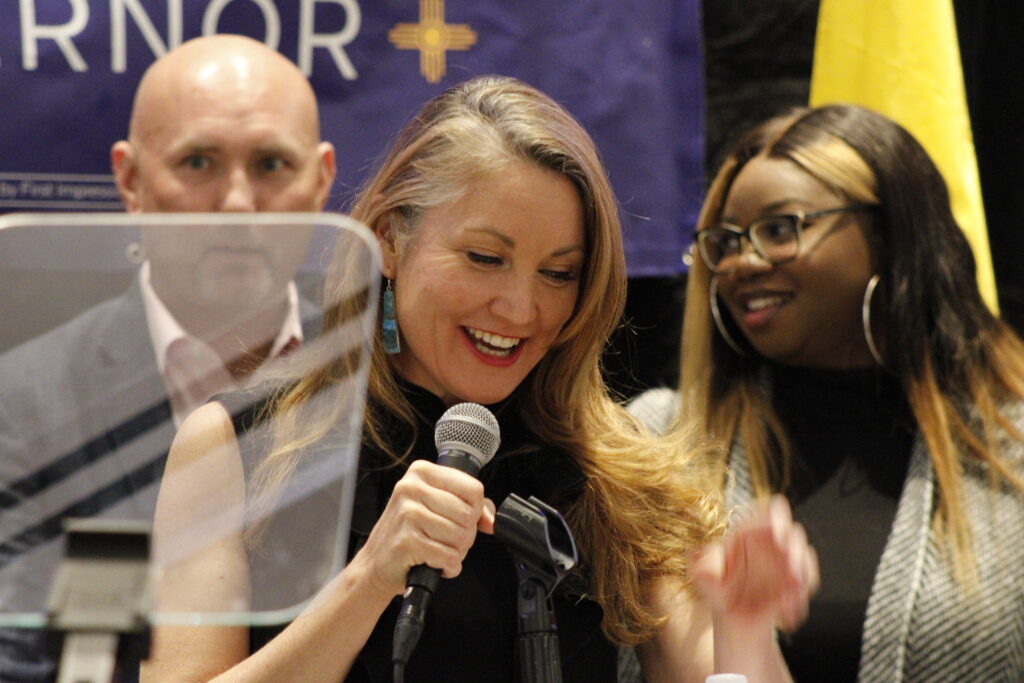 Garcia Holmes had spent 30 years as a police officer and detective, with particular experience in crimes against children, domestic violence and sexual assault; she is the former chair of the Intimate Partner Death Review Team and was a member of the Joint Terrorism Task Force.
Stansbury has been in congress only since June 2021, when she won a special election to replace Deb Haaland who had been named Secretary of the Interior. Before that she served one term as the first woman elected to state House District 28.
Stansbury's main priorities for New Mexico are access to more affordable healthcare, opening more behavioral health facilities and solving climate issues within the state, she told the ABQjournal.
CD3
Voters in the 3rd District, which cradles the capital of New Mexico, Santa Fe and a large swath of the north and east parts of the state, reelected incumbent Congresswoman Teresa Leger Fernandez. She defeated Republican challenger Alexis Martinez Johnson, 56% to 44% of the vote.
Polls aggregated by FiveThirtyEight had Leger Fernandez ahead by 18 points.
This is the second attempt for Martinez Johnson, who also lost to Leger Fernandez in 2020.
"On the big issues that are troubling America, Leger Fernández supports reproductive rights for women, respecting privacy and women's autonomy," the liberal-leaning Santa Fe New Mexican argued in its endorsement. "She is a sensible vote on gun safety laws, understanding crime on the streets will not decrease without reducing guns."