A bill to reinstate the death penalty in New Mexico did not pass in a special legislative session held soon before the fall general election. With all New Mexico house and senate seats up for election, Democrats dismissed the bill as a distraction.
Republicans sponsored the bill, which passed the Republican-controlled House of Representatives 36-30. Gov. Susana Martinez pressed for its passage, citing recent murders of children and police officers. Some Democrats say they suspected the governor of having a political agenda for adding the death penalty issue into the special session, which was needed to deal with a growing state budget deficit.
"She knows it's not gonna pass, what she really wants to do is to pin the Democrats as soft on crime," said Sen. Jerry Ortiz y Pino, D-Bernalillo, who spoke at a press conference held at the Albuquerque Center for Peace and Justice prior to the special session.
The senator said the Republican-lead legislation is simply a tactic to paint Democrat candidates as sympathetic to the murderers of Victoria Martens and "cop-killers."
"Those [crimes] offend and horrify us and I share in that, but to jump to the penalty phase avoids the really hard questions like how do we prevent it," said Rep. Gail Chasey, D-Bernalillo.
Chasey said this administration is not interested in resolving these hard questions.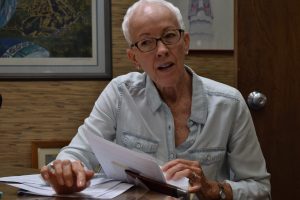 Chasey, along with other Democrats, say the governor's interest in the death penalty reinstatement is a political move and a distraction from the state's bigger issues which include, the state's $430 million debt and budget deficit.
Rep. Monica Youngblood, R-Albuquerque, is a sponsor of the death penalty bill. In response to an interview request, Youngblood wrote:
"The [Democrats'] claim is absurd, we've had 5 officers murdered in 18 months and too many children murdered in recent 2 years. The majority of people of New Mexico support the initiative and it's the legislature's responsibility to address it."
Senator Ortiz y Pino ended by echoing Chasey's critique of Gov. Martinez.
"This is a total diversion from what we should be focusing on which is the mess the governor and her policies have made of the budget," Ortiz y Pino said.
Death penalty may cost more in the end
The death penalty bill's fiscal impact report lists the average cost for a death penalty trial as $105 thousand per year with a typical judicial process lasting around 11 years.
Rep. Chasey claims that trials in which the death penalty is sought end up costing the state more money in the end.
"Even when we have it and it's available, juries don't tend to impose it very often," Chasey said.
Chasey says the cost of one death penalty trial could instead be used to pay the annual salaries of 50 sheriff's deputies, citing a column by criminal defense attorney Margaret Strickland.
Democrats have chosen to stress an increase in funding for programs that exist within public service as a preventative solution to the abuse of children in particular.
Sen. Linda Lopez, D-Albuquerque, also spoke at the death penalty press conference and called for the governor to look at "over 300 empty spots" at the CYFD and at behavioral health services for families.
"What about our mental health issues? When you look back at most of these families, they all have some issues…She already kicked that system out," said Lopez referring to the 2013 dismantling of the state's behavioral health system.
In her email, Youngblood claimed the recent cases of abuse and murder were "not linked to behavioral health," but rather, a lax criminal justice system should be blamed for allowing repeat offenders to avoid jail and treatment.
The special legislative session, which cost taxpayers $50,000 per day, closed after 7 days and resulted in legislators approving budget revisions to funnel money into the general fund for the 2017 fiscal. The death penalty bill still awaits Senators in the next regular legislative session scheduled for January.
Using an issue like the death penalty as a distraction from the state's budget issue is not an unfounded argument, said Timothy Krebs, professor and department chair of political science at UNM.
"People don't have a very well formed opinion of the state budget, but people have very well formed opinions on whether they support the death penalty," Krebs said. "There's an emotional component that people get.
Death penalty brings up another issue
Two recent polls from New Mexico Political Report and the Albuquerque Journal both suggest voters in New Mexico are sympathetic to reinstating the death penalty. Though nationally the number of supporters has dropped in the last year, according to a recent poll from Pew Research Center.
"Governor Susana Martinez has made it clear that she intends to reinstate the racist death penalty," said Chris Banks of the Party for Socialism and Liberation New Mexico. "And that would be a blow against the nationwide movement against the death penalty."
Rep. Youngblood referred back to local polls in her email, saying "A solid majority are in favor of the death penalty. Our children and those who put themselves in danger to protect the rest of us deserve justice."
According to activists, community organizers and religious leaders who have expressed opposition to the bill, issues of racial disparity are at the forefront of the death penalty issue. They say the governor's approach to criminal justice disproportionately punishes people of color.
Rep. Chasey also pointed to the potential for wrongful sentencing and racial bias.
"The government can't get it right, we don't necessarily meet out justice right," Chasey said, adding that the race of the victim is often a primary determinate in the severity of a sentence.
A notable case in NM's history involved the exoneration of four men on death row who were wrongfully convicted of murder in 1974.
When asked about the potential for wrongful sentencing and racial disparities, Youngblood wrote that race is not the issue and argued that the only person to be sentenced to death in New Mexico in the last 30 years was Caucasian.