Food insecurity in New Mexico is on the rise and the Democrat candidate for House District 23, Daymon Ely, thinks a change in government is needed to address the problem.
"Ultimately, the problem we have in New Mexico is poor governance," Ely said. "This has resulted in our state being among the poorest in the country."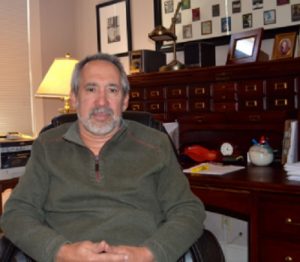 Food insecurity should not be confused with poverty although the two are related. Food insecurity is the lack of reliable access to a sufficient amount of nutritious food. Food banks like the Roadrunner Food Bank of New Mexico, help to supply food to insecure areas.
The Supplemental Nutrition Assistance Program (SNAP) also supplies access to nutritious foods for people nationwide. New Mexico's high number of people using SNAP benefits reflects a high number of people trying to deal with food insecurity. According to the New Mexico Human Services Department's monthly statistical report, Bernalillo's four administrative offices have the most SNAP cases in the state and the numbers are continuing to increase.
New Mexico's House District 23 contains parts of Corrales and Rio Rancho. The monthly report for Northeast Bernalillo's SNAP administrative office shows that from July of 2016 there was an increase of 20 percent from the year before in SNAP cases. The increase of over 300 cases from June 2016 to July 2016 shows that food insecurity is still rising in New Mexico and that Northeast Bernalillo is being greatly affected.
Ely says that there is no reason for New Mexico to be one of the poorest states in our country. He said that New Mexico has money both in the permanent fund and the capital outlay fund. Ely said what we lack is a stable source of revenue for the state.
"We could be the solar capital, the wind capital, the water management experts, the center of trade and have an expanding film industry," Ely said. "With this stable source of revenue we could create good paying jobs and revenue to address our most vulnerable populations — particularly our young children and the elderly."
The NM House Representative for District 23 is currently Paul Pacheco. Pacheco did not respond to repeated attempts to reach him by email and telephone. He was asked for his thoughts on the issue and any plans to increase food security in the district.
Pacheco's campaign website has recently been deactivated, but votesmart.org shows information on political issues he has addressed. According to the website, last year Pacheco voted against increasing the minimum wage annually to account for increases in the cost of living. This website also cites Pacheco's former campaign website, quoting him on his support for increasing the growth of small businesses to help New Mexicans.
"Small businesses are the engine that drives our state economy," Pacheco wrote on his website. "I believe that excessive taxes and burdensome regulations kill small business, while hindering new businesses from opening. As your state representative, I have worked hard to reduce the tax burden that has been placed on them, encouraging small business owners to hire more employees and grow."
Ely states on his website that he wants to use New Mexico's natural resources to develop renewable energy technologies that will bring in more revenue for the state. He writes that he plans to invest money into public work projects to repair aging infrastructure and create more jobs. Ely said he has seen first hand with his son, a video game designer, that many talented young people are choosing to leave New Mexico because they can not find employment here.
Ely said he spent almost three years doing free legal work in the South Valley representing and advising some of the poorest people in our community. He said he has seen food insecurity first hand and that changes need to be made in the way New Mexico is governed to deal with them.
"I have one talent — the ability to stir the pot," Ely said. "I think that is what we need right now. I am ready to mix it up."
With regards to food insecurity in New Mexico, Daymon Ely said if he is elected he will be looking to stretch state funds with more partnerships to keep the community involved. He said tax cuts have not been working to help New Mexicans and a new plan needs to be put into place to create a more stable revenue that will bring in more money to help New Mexicans in need.
Sonya Warwick, the Communications Officer for the Roadrunner Food Bank of New Mexico, agrees that bringing in more money for the state would help with the food insecurity problem.
"Anytime people are experiencing poverty it's likely they will be experiencing hunger, it's one arm of the poverty wheel," Warwick said.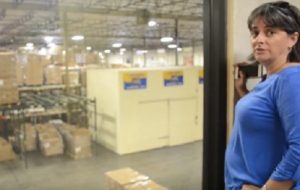 Warwick said most of the food bank's funding is private and most of the money and food comes from individuals making donations You can volunteer at the food bank or make donations at their website. She said the funding they do get from the government is authorized through the Farm Bill once every four years.
The program is known as TEFAP, which stands for The Emergency Food Assistance Program. Warwick said through this program every state is guaranteed an allotment of food authorized through the Farm Bill based on poverty level. The food bank is then responsible for distributing it based on poverty levels in each county.
Warwick said the Food Bank has a contract that is passed down from the federal government, to the state government, and then to the food bank. She said the support is not actually money but comes in the form of food from the United States Department of Agriculture.
Warwick said there are two types of ways the government supplies the food bank with food. One is bonus commodity food, where the government works with the farming industry if they have had an overproduction of a certain kind of food item. The other is to help keep food prices stable so that particular food items do not go below a certain cost. Warwick said to regulate this the US government buys those food items up and uses them for the purposes of distributing it through the food bank. She said on an annual basis government help represents about 20 percent of the total food the food bank distributes.
From her eight years of experience with the food bank, Warwick said she has seen lots of reasons people experience food insecurity in New Mexico. She said New Mexico does not typically have a lot of higher paying jobs, especially in more rural communities. She said rural communities in New Mexico are becoming aging populations where a lot of people are moving away to go to places where there are more jobs that pay better.
"There is a real lack of understanding in our country that if you're in need it's assumed that you're not doing the right things in your life or you've not made the right choices," Warwick said. "When most of the people who are in our food lines have someone in their household who's working, they just aren't earning enough of an income to cover everything that they need to cover on a monthly basis."
Follow Natalie on Twitter.