Jose Murillo is a 36 year old former staff sergeant in the U.S. Marine Corps who served four tours of duty in Afghanistan. Now Murillo finds himself watching the presidential race with concern — who is going to lead the armed forces of the United States?
Polling shows Murillo is among a majority of veterans favoring Trump. In a widely-cited NBC poll released in September, 55 percent of U.S. veterans would vote for Donald Trump if the elections were to be held today.
"It just looks like if she [Hillary Clinton] gets elected there will be no support and it will be a continuation of what this administration has done," Murillo said, referring to President Obama's eight years in office. "This administration has not supported the military or veterans."
Murillo, like many veterans, have their heads turned to the presidential election to see who would be best for the country, the military, and their families. To Murillo, the way veterans have been treated has to change — and in his eyes, the man to do it is Donald Trump.
"If Trump is who he says he is, he could get the job done," Murillo said.
Murillo estimates some 80 percent of his fellow veterans support Trump and 20 percent, if they vote at all, would vote for Clinton.
Murillo says Trump's support for gun rights is a big factor, in his view — and in the view of many veterans."When you get out of service, there are some things that you don't realize you will miss when you transition out of the military," Murillo said. "Having that Second Amendment can help with the transition."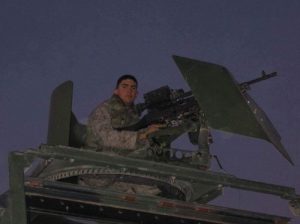 Murillo was discharged six years ago, and says he believes that every veteran is different, but for him the Second Amendment gives him a sense of security. Murillo says he is able to unwind from his memories of the war by going on a hunt or shooting at targets at the shooting range. He says this is the only thing that will "keep his mind in check." Murillo said, "If Clinton is in office, the gun rights will be stripped away from most Americans, and that could hurt the veteran population."
In recorded speeches and interviews, Trump asserts that the treatment of the nation's veterans has been awful and that people will vote for him because of his truthful talk. Trump states that he is not a politician and he tells it like it is.
Michael Ulibarri, 48, served in the United States Navy as a Boatswain's mate for four years. Ulibarri is also one of the New Mexican veterans who says they would vote for Trump. For Ulibarri, the history is what hits home for him.
"I'm not very comfortable with the Clinton's being back in office. For me, it goes back to her [Hillary Clinton's] husband and the way he treated the military when he [Bill Clinton] was in office…. He took away from the military and often left them behind to fend for themselves," Ulibarri said.
Ulibarri said Trump has more experience dealing with foreign countries and more experience with money in those foreign countries, versus Clinton who has stayed a politician her entire time in the United States Government. Ulibarri thinks that it would be another four years of politics and games; which in his opinion is something America should not tolerate at this point.
Ulibarri says the way the government treats veterans should be its first priority. He believes that the main issue is to take care of the veterans by giving them the support they need, whether it being healthcare or providing housing.
National Alliance to End Homelessness declared that in the year of 2014, 49,933 veterans were declared homeless.
Ulibarri described how his comrades have had issues at the Veterans Administration due to the overload of demands on the facility. Recently, High Country News wrote an article explaining the long waiting times for VA health care. This includes long wait times to get an appointment. Ulibarri described his friends waiting for hours, (the report cites some veterans have been waiting for seven years).
Ulibarri says he thinks there is room for improvement in the VA and it would be something Trump should offer. However, he said, if Clinton gets elected president, it would be a rerun of her husband Bill Clinton.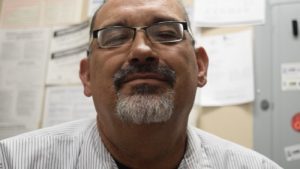 New Mexico News Port reached out to the New Mexico Veteran Administration numerous times. When asked what support the VA needs as far as general or government support, Sonja Brown, Chief Voluntary Service and Public Affairs Operations, stated, "I don't know of anything that the VA needs as we have been funded and are able to take care of our Veterans." Brown did not comment on either political party.