[vc_row][vc_column width="1/1″][text_output]
For incumbents, victory came decisively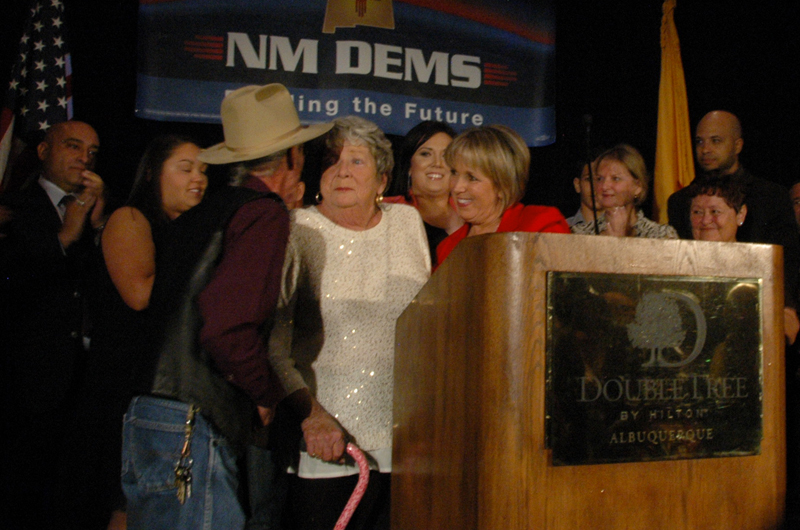 It wasn't a night for political mystery.
Incumbent Susana Martinez reclaimed the New Mexico governor's office with a massive victory over challenger Gary King, while incumbent U.S. Sen. Tom Udall and Reps. Michelle Lujan Grisham, Steve Pearce and Ben Ray Lujan also breezed to victory Tuesday night.
Martinez, whose fundraising through the campaign had dwarfed King's ability to gain traction, rolled to a huge victory, winning nearly 58 percent of the vote, according to results from the Secretary of State's Office just before 10 p.m.
Udall faced a stiffer challenge from Republican Allen Weh, but finished with about 54 percent of the vote. Pearce, Lujan and Lujan Grisham saw their races called in their favor early in the evening.
However, some races remained uncertain entering the latter part of the evening. A competitive race between Republican incumbent Dianna Duran and Bernalillo County Clerk Maggie Toulouse OIiver looked headed to a very long evening, as did the Public Lands Commissioner race between Republican Aubrey Dunn and incumbent Ray Powell, whose race centered on the handling of Dixon's Apple Orchard, destroyed by the Las Conchas Fire.
Meanwhile, Bernalillo County voters appeared to favor the decriminalization of marijuana possession of less than one ounce, according to early vote results Tuesday night.
More than 56 percent of ballots cast just before 9:30 p.m. favored the advisory question on the ballot, though the measure is not legally binding.
Voters also appeared to favor the establishment of a one-eighth percent gross receipt tax to be used for providing more mental and behavioral health services in Albuquerque and Bernalillo County. More than two-thirds of voters cast ballots in favor of the advisory question.
Four of five constitutional amendments on New Mexico's long statewide ballot appeared headed for easy passage Tuesday night, with voters approving measures to change the times of school board elections, add a student to the Board of Regents at a college in northern New Mexico, allowing the Legislature to set the state for filing declarations of candidacy for judicial retention elections and allowing certain counties to become urban counties.
A fifth amendment, which would alter restrictions on the types of investments in the Land Grant Permanent Fund and increasing the threshold for additional distributions, remained too close to call at about 
9:30 p.m.
[/text_output][share title="Share this Post" facebook="true" twitter="true" google_plus="true" linkedin="true" pinterest="true"][/vc_column][/vc_row]