By Eduardo Naranjo and Lauren McDonald / NM News Port 
New Mexico has big plans when it comes to higher education.
Governor Michelle Grisham Lujan proposed an Opportunity Scholarship, which would provide free higher education to New Mexico residents. 
The proposed legislation is a "last-dollar program" which means that once a student has used all other federal and state student aid they will be eligible for the scholarship.
"I think it's a good idea… because it allows the students who actually want to go to school, it motivates them instead of having that burden on them thinking about having to pay for school," Andrea Aguirre, a second year student at Central New Mexico Community College said.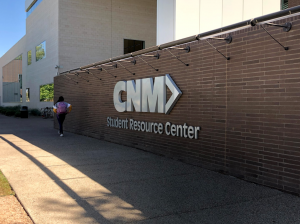 As of right now, New Mexico residents can apply for the Lottery Scholarship, which only applies to four-year or two-year institutions in the state. It is valid for students coming out of high school for seven consecutive semesters, excluding their first semester. The scholarship gives students four years to earn a bachelor's degree. Students must be enrolled full time, and maintain a GPA of 2.5 or higher.
Delisha Lopez is a nursing student at UNM who has been working as a waitress to pay for her school each term. She had the NM Lottery for her first two years — until she lost it. She said even with scholarships, she sees students incurring debt. 
"I have a couple of friends that have taken out student loans to pay for school, anything that isn't covered by scholarships," Lopez said. 
The Opportunity Scholarship is designed to kick in after the Lottery Scholarship, but exact eligibility details are still a work in progress — other than recipients must be New Mexico residents. 
The average estimated cost of attendance for a full-time New Mexico resident  at UNM is $22,900. That cost, which includes books, transportation and housing in addition to tuition, has caused many students to take out loans.
"I was a student at UNM about 15 years ago and never finished my degree because of finances and now I have a lot of debt," Elizabeth Dooner, former UNM student, said. 
Sixty-nine percent of students take out student loans. The average debt balance among graduates with a four-year degree in the U.S was $29,800 last year, according to Student Loan Hero. 
The Opportunity Scholarship would eliminate the use of student loans. 
If the governor's proposal does go through, it would affect hundreds of New Mexico highschoolers. 
"It's giving me an opportunity to go to college," Sebatian Muniz, a junior at Albuquerque High School said. "It's good for us students because it influences us to go to college and plan our future around that."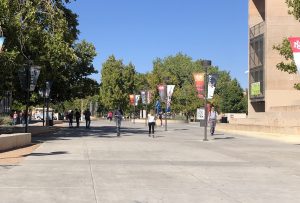 Aleck Wright is a University of New Mexico alumni with a degree in engineering, he seems pleased with the direction that Grisham decided to take about free college education. 
"About the free tuition, I think it's great and the right direction for universities to go in the future," he said.  
Grisham said free college would boost the entire state's wellbeing.
"In the long run, we'll see improved economic growth, improved outcomes for New Mexican workers and families and parents, a better trained and better compensated workforce," she said.  
The scholarship will have to become a law approved the legislature and signed by Grisham before it is enacted. The state legislature convenes in January. 
Eduardo Naranjo is a reporter for the New Mexico News Port. He can be reached on Twitter at eduardoanaranjo and nmnewsport@gmail.com
Lauren McDonald is a reporter for the New Mexico News Port. She can be reached on Twitter at lmcdonald24 and nmnewsport@gmail.com