By Jesus Mata and Kevin Clark / News Port
Their name is the New Mexico Ice Wolves. They're Albuquerque's only tier two competitive hockey team and the only team in New Mexico that is a part of the North American Hockey League. They're currently playing their inaugural season at the Outpost Ice Arena.
Albuquerque has not had an ice hockey team since the New Mexico Scorpions ceased operations in 2009.
Meet the Coach, Phil Fox
The team's general manager and coach Phil Fox said, there are some rewarding moments that come along with coaching.
"Getting the kids better and helping them not only succeed on the ice but as well as off the ice," he said, "it's not just about hockey to me, it's about making them better individuals in all aspects of life."
Fox is a native of Stillwater, Minnesota, where her grew up playing hockey.
"Being a first time general manager, I am learning a lot as I go," Fox said. "It's been a blast so far, being around the sport I have had a passion for when I was six."
The Ice Wolves are largely comprised of young men whose ages range from 17-20, many of whom are trying to play at the college level.
"We have a young, raw group of players," he said. "The focus can't be just on wins and losses. It needs to be on development of these players and getting them ready to play at the next level."
Fox said there are challenges a general manager can face like trying to find the best players to start and giving them playing time, plus inspiring his team and building a culture that will last.
"Am I teaching my players or just yelling at them," Fox said.
Most players came from elsewhere
A majority of the Ice Wolves roster is made up of players born and raised outside of Albuquerque. Because of this, the team recruits local host families to house players. These host get paid about $300 a month.
Nineteen-year-old Jackson Wille is from Forest Lake, Minnesota. He plays forward and says he loves the game. During what turned out to be a losing outing against the Odessa Jackalopes, Wille sounded upbeat about his team's abilities.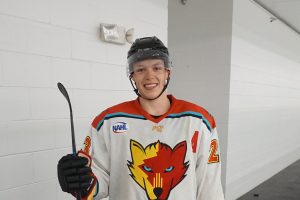 Ben Danford is also from Minnesota originally. He's serving in his first coaching job as the team's assistant coach. He also handles player development for the Ice Wolves. He said he loves coaching and, as a player, has seen a lot of the world.
The NAHL has a draft every June, where players are recruited, much like in professional sports and collegiate sports. The Ice Wolves are expected to hold tryouts in Spring 2020.
Fan support despite a losing record
"I'm very excited," local hockey fan Adam Montoya said. "I love watching hockey games here and it just got a lot better."
The Ice Wolves got off to a great start in September — their home opener welcomed a sold out crowd.
Despite the hurrah, however, by the end of October, the team had lost all but one of their 15 games.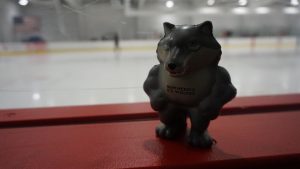 The Ice Wolves director of communications and marketing, Alyssa Laroach, moved to Albuquerque from Dallas. She indicates the team is building a firm foundation in New Mexico.
"My favorite part is absolutely games days. To see people showing up and having a good time and enjoying watching hockey in non traditional hockey markets makes everything worth it," she said.
Shelbra Thorla-Ginn works the games by selling Chilly "squishies" — the little rubber Ice Wolves mascots — which helps raise money for the (NMICE) youth hockey program. Fans bombard the ice with little Chilly's whenever their team scores a goal.
Team Owner Stan Hubbard invests in team and rink
Broadcast magnate Stan Hubbard, owner of KOB-TV, is the owner of the Ice Wolves. He also purchased the Outpost Ice Arena, the team's home ice.
Hubbard invested around $2 million to provide new stadium seating, a new Zamboni (the vehicle used to resurface the ice), new press boxes and player boxes, plus a new rink.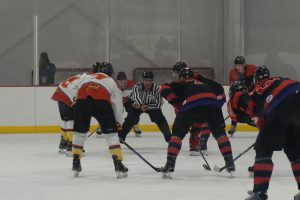 Kevin Clark is a reporter for the New Mexico News Port. He can be contacted on Twitter @crackerkev or at nmnewsport@gmail.com
Jesus Mata is a reporter for the New Mexico News Port. He can be contacted on Twitter @JesusMataJr99 or at nmnewsport@gmail.com