By Isaac Fason and Bryce Dix / NewsPort 
The University of New Mexico men's basketball team has seen attendance decline in the last several seasons, but fans like Timothy Mondloch, an undergraduate student at UNM, are looking forward to the new season that starts Nov. 6.
"I feel like it's going to be a really good season," Mondloch said. "I really hope to see them contend for the Mountain West title this year and make the big dance. They've been close the last couple of years."
The last time the Lobos won the Mountain West Tournament and made it to the NCAA Tournament was in their 2013-2014 season. That year, the Lobos won 27 of their 34 games, or about 80 percent, before losing to Stanford in the second round.
In the five seasons since then, the Lobos have won 82 of their 160 games, or just over half.
"It's hard to get people excited to go to games when the team just isn't winning," Mondloch said. 
The average attendance at the men's basketball games in 2013-2014 was just over 15,000 people. Last year, the team saw a little over 11,000 fans in attendance at each game — about 4,000 less per game.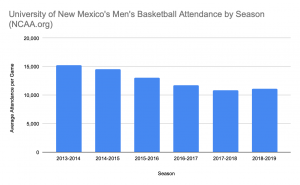 Returning players on the Lobos, like guards Tayvian Percy and Makuach Maluach, expect to see attendance go up this year if the team plays well.
"Once we start winning games, a lot of people are going to show up," Maluach said.
 Percy said the expectations for the team have gone up, from both the players and the fans.
"I feel like there's going to be a lot more energy, and fans, because of the hype around us this year," he said. "We've got a lot of transfers and people that came from major places, so we're going to have a lot more fans, I think."
Much of the excitement centers on former four-star recruits JaQuan Lyle, Carlton Bragg, and Vance Jackson, who all played at high-profile colleges before transferring to New Mexico in 2017. This season will offer the first opportunity for them to play in a game together.
The trio transferred to New Mexico from Ohio State, Arizona State, and Connecticut, respectively. 
For a time, it appeared as if the Lobos would have those three plus a four-year Lobo and New Mexico favorite Anthony Mathis to lead the team. 
Then, the team had a rough season in 2018. An achilles injury left JaQuan Lyle unable to play, eligibility requirements prevented Carlton Bragg from playing until halfway through the season, and Vance Jackson declared for the NBA Draft after the team's final game,before deciding to return to UNM for another season.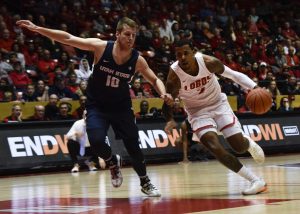 Other players had to decide if they should leave the team to pursue other opportunities. Anthony Mathis was thought to have played his last season, before finally deciding to transfer to the University of Oregon and play his final year in his home state.
While the group of four were never able to play together in a game for the Lobos, it appears that the remaining three of Lyle, Bragg and Jackson will take the court together in the upcoming season.
"That's a pretty good Big Three right there," Mondloch said. "To be able to see those guys all on the court at the same time, I think it's going to be special."
This year's roster also features returning players who have grown under third-year head coach Paul Weir. After spending some time working with their coach and the team's system last year, the players say they feel more confident in themselves and in the team.
"I got here as soon as Paul Weir got here, so we've been together for three years now. I'm pretty comfortable with him and with the system," Maluach said.
"I was a freshman last year so it was hard for me at first, but now that I'm a sophomore, I feel a lot more comfortable and feel like I'll have a bigger role this year," Percy said.
Some fans, such as undergraduate student Ryder Davenhall, care more about team spirit rather than if the Lobos win or lose. 
"When I was in high school I'd always love going to watch the basketball games because the crowd was always awesome," Davenhall said.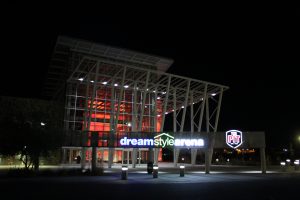 Last year, the team saw attendance rebound slightly after winning 19 games, the most they've won since they're last time making the NCAA tournament.
Players on the team spoke highly of how much attendance and the support of the community at The Pit means to them.
"It's the best arena in the Mountain West, so it's always good to play there," Maluach said.
"We love all the Lobo fans," Percy said. "We hope to have a packed gym this year. We love everybody that comes out and supports us."
The Lobos first game will be against Eastern New Mexico on Wednesday, November 6, at The Pit.
Isaac Fason is a reporter for the New Mexico Newsport and can be reached on Twitter @izfason or at nmnewsport@gmail.com
Bryce Dix is a reporter for the New Mexico Newsport and can be reached on Twitter @brycemdix or at nmnewsport@gmail.com