With new FBI statistics showing recent increases in crime in New Mexico, gubernatorial candidates Steve Pearce and Michelle Lujan Grisham, have stepped-up their campaign messaging targeting crime and crime prevention.
The candidates' platforms to make the state safer come as the federal government said New Mexico is top in the nation for auto theft— and, as one local police officer said, law enforcement officials are at their "wit's end" waiting for something to change.
Pearce wants 'consequence for bad actions'
During a recent gubernatorial debate held by KOB, Pearce, a Republican member of the U.S. House who represents southern New Mexico, said he would focus on tougher punishments for criminals.
"Our judges tell us many times they don't sentence people until the seventh, eighth, and ninth time. Let's have some consequence for bad actions before they become hardened criminals," Pearce said.
Pearce said the likelihood of an ex-convict committing additional crimes is unlikely if they have an income and a home.
"If you find people a place to live and a job, then recidivism is much less a problem," Pearce said. "Helping heal those lives is something I'm actively engaged in as we speak right now."
To lower crime rates in New Mexico, Pearce said ensuring children are safe — especially in the learning environment — is the best approach. Pearce said he'd focus on school safety.
"We must take steps to ensure that our nation's schools are better protected from those who wish to harm our children," Pearce said.
"I look forward to working with my colleagues in the coming days on legislation that will assist schools in New Mexico and around the country with improving security measures, and provide law enforcement with enhanced resources to identify and assist those in need," Pearce said.
Lujan Grisham wants repeat offenders held accountable
Lujan Grisham, a Democrat member of the U.S. House who represents the Albuquerque area, said the crime issue starts with police officers better communicating among themselves, which would result in improved collaboration.
"We have to make sure that all of our law enforcement agencies are working together to make sure that serious offenders are identified, arrested, investigated, and are held accountable for the maximum sentences," Lujan Grisham said. "We have to make sure that repeat offenders are also being held accountable."
Lujan Grisham also said New Mexico needs more mental health resources.
"Without behavioral health, treatment, and the right kind of courts that help navigate non-serious offenders and productive services, we can't get this right," Lujan Grisham said. "Comprehensive planning and real expertise is what it's going to take."
At a rally on Sept. 30, Lujan Grisham also talked about crime prevention, linking it to improved education.
"I believe that you believe that every single family can get a high quality education,  right in their schools, great schools and safe neighborhoods," Lujan Grisham said. "I believe that you believe that all of our kids can come back or stay here."
Lujan Grisham also said she's focused on preventing gender-related crimes, which have been brought to light by the #MeToo movement.
"We will not accept violence, sexual assault, discriminatory, and inappropriate behavior in any context," Lujan Grisham said.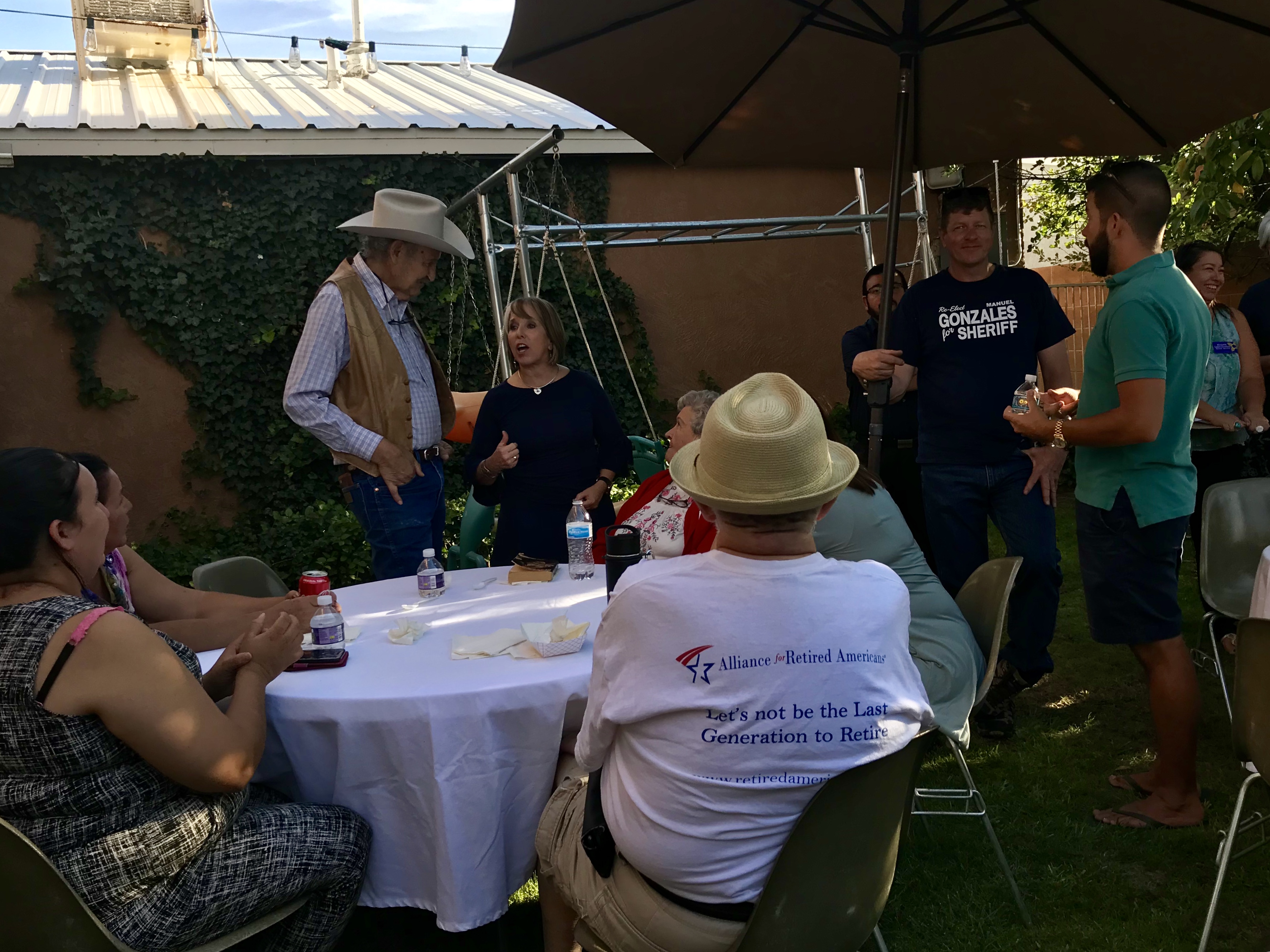 Supporters greet Michelle Lujan Grisham at a rally hosted by ABQCity Councilor Klarissa Peña. Photo by Lainey Jameson/ New Mexico News Port
New Mexico atop crime lists for 2017
The FBI released crime statistics on Sept. 24 showing New Mexico ranked third for violent crimes per 100,000 residents. In 2017, the state experienced 783.5 crimes per 100,000 residents, following the District of Columbia and Alaska.
In addition, 2017 statistics reveal New Mexico is first in the country for burglaries, robberies, and vehicle theft. Crime leads the top four concerns of New Mexico voters as the state's property crime rose by 0.5 percent and violent crime saw a 12 percent increase.
Rob Duren, a police officer at UNM Police Department, blames New Mexico's high crime rates on of a faulty criminal justice system.
"I think the courts play a huge role in what's going on and I blame the judges," Duren said. "If a person meets certain criteria, they have to be let out. That needs to be fixed."
Duren said the vast share of crime involves repeat offenders. He says political leaders can change the system.
"I would like to see the concerning effort with whoever's in office and really help us fight this crime. Maybe they can work better with the courts and start keeping people in jail or prison a little bit longer," Duren said. "We need some relief."
Duren said former New Mexico Gov. Bill Richardson and Governor Susana Martinez both spoke about their plans for fighting crime when they were candidates. Duren said those politicians did not step up to the plate after taking office. Now, he said he is expecting the next governor to stick to his or her word.
"Everybody talks about crime; that's a big platform. They always focus on crime but it never seems to go down," Duren said. "Hopefully somebody one day can come into office and help come up with some ways that we can combat this. Everybody's at their wit's end."
Lainey Jameson can be contacted on Twitter @livewithlainey.