By Sky Willard / NM News Port /
As key midterm elections for New Mexico reach their climax today, registered voters who didn't take advantage of early voting are rushing to the polls to cast their ballots.
According to Kayla Gibson, presiding judge of the Jefferson Middle School precinct, voters were ready to act early today.
"We had about 20 people waiting before we even opened and we've processed well over 200 already at 9 o'clock in the morning," she said.
"I would say this is a fantastic turnout." 
This is Gibson's third election as a poll worker where she sees that voters get checked in properly and she handles any issues, technical or otherwise. As of this morning, she reported no problems.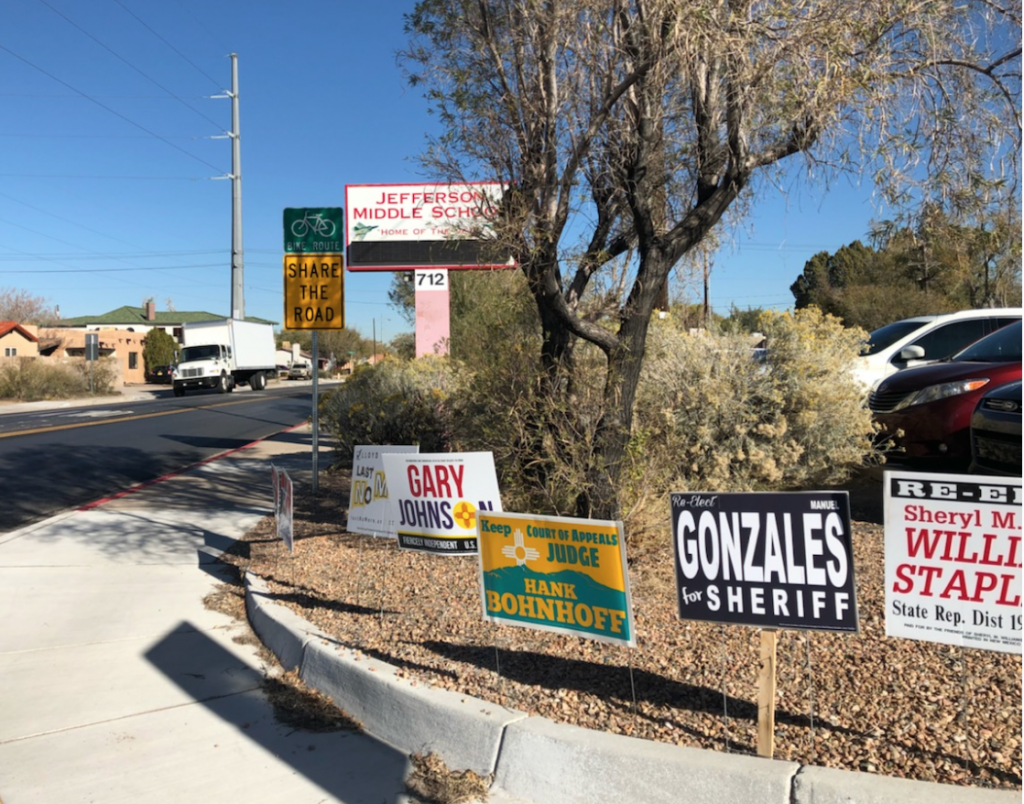 Other voting sites across Bernalillo county are seeing similar large numbers.The Albuquerque Journal reported that 25,000 ballots had been cast in Bernalillo county as of 11:35 a.m.
County Clerk Linda Stover is predicting a 50 percent turnout. That's considered very high for a midterm election.
This large influx of voters on election day should not come as a surprise considering the large numbers of voters who cast their ballot in the weeks of early voting.
In a press release Sunday morning, New Mexico Secretary of State Maggie Toulouse Oliver announced that early voting in New Mexico followed national trends.
"Early voting around the country this year has produced record-breaking results and New Mexico is no exception."
At the conclusion of early voting on Saturday, November 3rd, over 430,000 New Mexicans had cast their votes through early in-person voting poll sites or absentee ballots. That's the most early votes ever cast for a midterm election in New Mexico. For comparison, there were about 250,000 early votes in the last midterm election of 2014, and about 300,000 when there was a gubernatorial seat open for contention in 2010.
"A healthy democracy requires healthy voter participation and with over 430,000 New Mexicans having already voted this year, it's clear that our democracy is alive and well," said Secretary Toulouse Oliver.
The impressive voting turnout could be explained by the race for New Mexico Governor and state's two open congressional seats. For many, the national parties and President Trump are driving their behavior.
"I think more people are paying attention, more people are interested and feel compelled to vote," said Lou Ann Garner, who cast her vote this morning at Jefferson Middle School in Albuquerque.
"I like the spirit of election day as opposed to early voting" she said.
Despite the strong numbers of early voters, the majority of both registered Republicans and Democrats have yet to cast ballots.  For poll workers, this could mean nonstop action from 7 a.m. to when polls close at 7 p.m.
While it will be unclear until tonight how many registered voters participated in the midterm election, New Mexico could be on track to set statewide midterm voting records.
Follow Sky Willard (@Willard_Sky) on Twitter.