[vc_row no_margin="true" padding_top="0px" padding_bottom="0px" border="none"][vc_column][vc_column_text][text_output]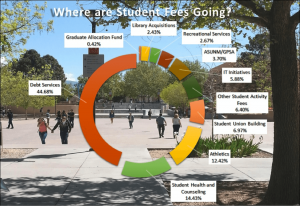 ANSWERED QUESTION
How are student fees distributed at UNM?
As part of our Curious New Mexico project, student Henry Sime asked where University of New Mexico student fees go, and how much goes to UNM's Athletic Department. Student reporters looked at the fees approved by the UNM Board of Regents on April 10 and found that the money goes to a variety of sources.
The difference in funding for programs can be stark: the Athletics Department will receive $4 million this year, while small programs like the Theater and Dance Department will receive about $35,000.
The fee distribution process is multi-pronged and sometimes contentious. UNM's undergraduate student government forwards annual student fee recommendations to UNM administrators, who in turn communicate with the regents. The regents have the final say on the university's yearly budget.
"The student government doesn't really have a connection to the regents," said Rachel Williams, the president of the Associated Students of UNM.
"We work really well with administration but it's a little bit harder to work with the regents."
The regents have acted unilaterally in the past and ignored the recommendations from elected student representatives.
Last year, the New Mexico Daily Lobo reported that UNM President Robert Frank tried to remove athletics and the libraries from the Student Fee Review Board, or SFRB, process, meaning students would no longer have a voice in how much money is given to these units.
The New Mexico Daily Lobo also reported in 2013 the Board of Regents went against the recommendation of the Student Fee Review Board, and approved a $900,000 budget increase for athletics.
Fee breakdown
A typical full-time resident student paid $1,440  in mandatory student fees in the current academic year. The Lottery Scholarship does not cover student fees.  Currently, the main campus receives a total of $32.2 million from student fees according to the Mandatory Student Fees breakdown by the Office of Planning, Budget and Analysis of UNM
These fees are used for a variety of programs and expenses on campus, including Student Health and Counseling, the Student Union Building and debt service.
Nearly half of student fees goes toward repaying university bonds issued by the UNM Board of Regents. Since 1986, the regents have issued more than $250 million dollars in bonds. This borrowed money has helped pay for instructional facilities on campus, the Student Union Building, libraries and information technologies.
According to UNM's Office of Planning, Budget & Analysis, student fees repaid $14.4 million this year toward debt and interest on university issued bonds. That means almost half of all student fees collected are earmarked for debt on past construction.
Although bond issuing is not a yearly occurrence, when bonds are issued it accounts for millions of dollars in debt.
"In 2005, there were big projects that the university wanted to undertake and at the same time state funding of capital projects had been decreasing" said Vahid Staples, budget officer at University of New Mexico Office of Planning, Budget and Analysis. "Our bonds are typically 30-year term. The 2005's will not be paid off until 2035," Staples said.
Unlike county and municipal bonds that are approved by the voters, university issued bonds are not.
"The Board of Regents ultimately decide and vote if the university will issue bonds," Staples said.
"The big three"
Williams said the Student Fee Review Board categorizes athletics as one of "the big three." The other two are the libraries and Student Health and Counseling. These three areas receive more than $9 million, collectively, each year.
"You don't cut from 'the big three,'" Williams said.
These departments are "protected" by members of the Board of Regents who are passionate and know what it costs to run these units, Williams said.
Student fees going to athletics
Any organization at the university has an opportunity to apply for funding from student fees. UNM's athletic department applies on an annual basis.
"It is an important part of our financial model," said Tim Cass, the deputy athletic director at UNM.
It's also a common approach at many universities to allocate a portion of student fees to to an athletic department.
The University of New Mexico used to be last in the Mountain West Conference when it came to funding from student fees, Cass said. This has since changed and UNM now ranks about midway in the Mountain West Conference.
UNM athletics received 12 percent, or $4 million, of the total student fee budget this year.
"We allocate those dollars to support our 450 to 500 athletes; whether it's through equipment needs, team travel needs, recruitment for students, health and medical support, and academic support," Cass said. "None of the fees are going to us building buildings, salaries, or coaches buyouts."
UNM's athletic budget totals about $32 million and student fees make up about one eighth of that. The department receives most of its funding from outside resources.
"We have a variety of revenue streams," said Cass. "For example, ticketing, marketing and promotions, concessions, parking, and special events that we host are revenue pieces."
The university also receives $696,977 from the Mountain West Conference in league distributions, according to an article by AthleticBuisness, including funding from television appearances.
One of the biggest forms of revenue for athletics, said Cass, comes in the form of fundraising, which generates up to $3.5 million. For example, the renovation of Wise Pies Arena was paid through a capital project fund drive and was not at all funded by student fees.
A portion of the athletic department's student fees also contribute to helping graduate students looking for internships in areas of athletics including in sports medicine training or in sports marketing.
"We try to provide an opportunity for people to grow in their career and support that endeavor," Cass said.[/text_output][share title="Share this post" facebook="true" twitter="true" google_plus="true" linkedin="true" pinterest="true"][/vc_column_text][/vc_column][/vc_row]