Over 400 attended the Albuquerque city council meeting on Wednesday night to watch the passage of Memorial 17-4, voting 6-1 to reaffirm the Duke City's status as an "immigrant-friendly" city.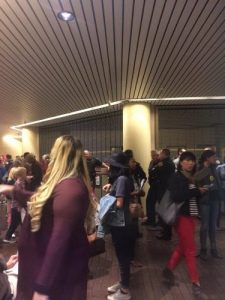 "A woman stood up here, toddler in hand," Councilor Pat Davis (d-6) said, referencing a speaker who had addressed the council with her two young girls during general comments. "That was an undocumented family. This city should not make that child a criminal."
Memorial 17-4  had four co-sponsors, Councilors Klarissa Peña (d-3), President Isaac Benton(d-2), Diane Gibson (d-7) and Davis.
The memorial aimed to emphasize Albuquerque's stance on policy that has been in place for the past 17 years. Resolution 151 (R-00-151) was originally sponsored by the former councilor for district six, Hess Yntema, who served on the City council from 1999-2003.
A memorial does not hold legal weight, but is a statement of intent put out by the council, and will not be sent to the mayor's office for signature. A resolution, on the other hand, is a binding policy for the city of Albuquerque.
Resolution 151 "welcomes and encourages immigrants to live, work and study in Albuquerque…and recognizes immigrants for their important contributions to our culture and economy." This vision requires the city to "facilitate the access of immigrants and their families to basic services."
The memorial holds that municipal resources will not be used to identify immigration status unless compelled by other laws, and reaffirmed Albuquerque's Police Department operating procedures in contact with immigration communities.
Private citizens and group representatives came to speak in support of the memorial. The tone of the speakers reflected the anxiety expressed in different communities in the wake of President Donald Trump's proposals on handling immigration.
Reverend Kay Huggins, Interim Director of the New Mexico Conference of Churches described the upset in congregations.
"The undercurrent of fear is palpable," said Huggins.
About 20 of the speakers represented El Centro de Igualdad y Derechos ( translated as: the Center of Equality and Rights).
Jessica Martinez, with her bouncy little girls, spoke on behalf of El Centro through translator Marian Méndez-Cera.
"At this moments we are witnessing fear, uncertainty and panic because of the Executive Order of Trump's generating. My daughters are so much like many New Mexico children, they don't deserve to live under this anti-immigrant climate. The fear of separation, they should not be concerned with this," Martinez said.
There were also moments of unity, and local pride. At one point, when a speaker could not pull up her reference, Council President Benton led the room in reciting the poem from the Statue of Liberty,
"Give me your, tired, your poor, your huddled masses yearning to breathe free," Benton intoned and the room joined in.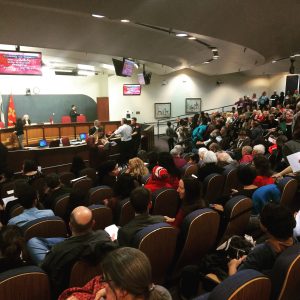 The Vincent E. Griego Council Chambers were filled to capacity, and crowd overflow into the lobby had to be relocated to a viewing room on the 9th floor. A representative of the Fire Marshall told the News Port that over 400 people had attended the meeting.
An open letter urged council members to strengthen current immigration policies against President Trump was presented by El Centro and 26 other organizations including the American Civil Liberties Union (ACLU) New Mexico, New Mexico Faith Coalition for Immigrant Justice, Islamic Center of New Mexico.
According to their website, El Centro is a "is a grassroots, Latino immigrant led organization based in Central New Mexico that works with Latino immigrant communities and allies to defend, strengthen, and advance the rights of our community."
"This is just the first step, we are working with our members and our allies to determine what the next steps will look like," said an El Centro spokeswoman.
On Thursday, at a meeting with manufacturing CEOs, Trump described current administration's actions towards removing undocumented immigrants as a "military operation" against "really bad dudes."
"You see what's happening at the border, all of the sudden for the first time, we're getting gang members out, we're getting drug lords out, we're getting really bad dudes out of this country," Trump said."And at a rate that nobody's ever seen before, and they're the bad ones, and it's a military operation because that has been allowed to come into our country. And you see gang violence that you've read about like never before, all of the things, much of that is people that are here illegally. And they're rough and they're tough but they're not tough like our people."
Trump's claims are incompatible with several studies that have concluded that immigrants are less likely to carry out crimes than citizens.
Earlier this week, the Department of Homeland Security released documents that demonstrate the administration's broadening of immigration policy compared to his predecessors. The goals include highlighting undocumented immigrant crime, increase hiring in federal agencies, deputize and enlist local law enforcement, erect detention facilities and quicken the deportation process.
Two of the council members expressed concern that the memorial would associate Albuquerque with being a "sanctuary city," an ill-defined term that interpreted as city law enforcement concealing or blocking information from federal immigration workers.
Councilor Trudy Jones (d-8) was the only dissenting vote on the measure, saying she is not anti-immigrant but saying "we need to follow the rules" when it comes to policing.
Councilman Brad Winter (d-4) voted enthusiastically for the memorial, but does not want to conflate the measure to making Albuquerque a "sanctuary city."
"People that commit crime need to be held accountable, no matter who they are," Winter said.
Christopher Melendrez, who serves as a legal expert for the city council says the next step will be determining if the city is following through on its policy promises.
"This means going forward we'll be reviewing various services the city offers and identifying the mechanisms and making sure they are truly immigrant friendly." said Melendrez.
Councilor Davis told the News Port that Council Staff will be reviewing all city agencies and recommendations are projected to be made in six months
Follow Dani on Twitter