[vc_row][vc_column width="2/3″][text_output]
Martinez defends her record, King calls for change in final debate
In their final televised debate Sunday night, New Mexico Gov. Susana Martinez and her Democratic challenger, Attorney General Gary King, traded verbal jabs over the state's struggling economy, high poverty rate and volatile education reforms.
Martinez also made clear she would serve all four years if re-elected.
About the only time the candidates agreed was when asked about the number one problem facing New Mexico. Both answered: education.
Martinez said, "our reforms are working, our children are graduating."
King complained that New Mexico spends 45 school days a semester performing or preparing for standardized testing.
"If we have another four years of that kind of process of education," King said, "I believe we will lose an entire generation of New Mexico children."
Martinez said "we want to track whether students are learning what they are supposed to learn."
King, supported heavily by teacher's unions, said he wants to "put education back in the hands of educators."
A panel of three journalists asked questions during the hour-long broadcast on KOAT-TV. The questions were not given to the candidates ahead of time, as they were in the first of the three debates.
When asked about New Mexico being first in the number of families living in poverty, King was quick to blame Martinez.
"We have the most hungry children in the country," King said. He said his administration would get all needy children into a school-based nutrition plan.
Martinez emphasized the strong link between improving education and winning the state's war on poverty.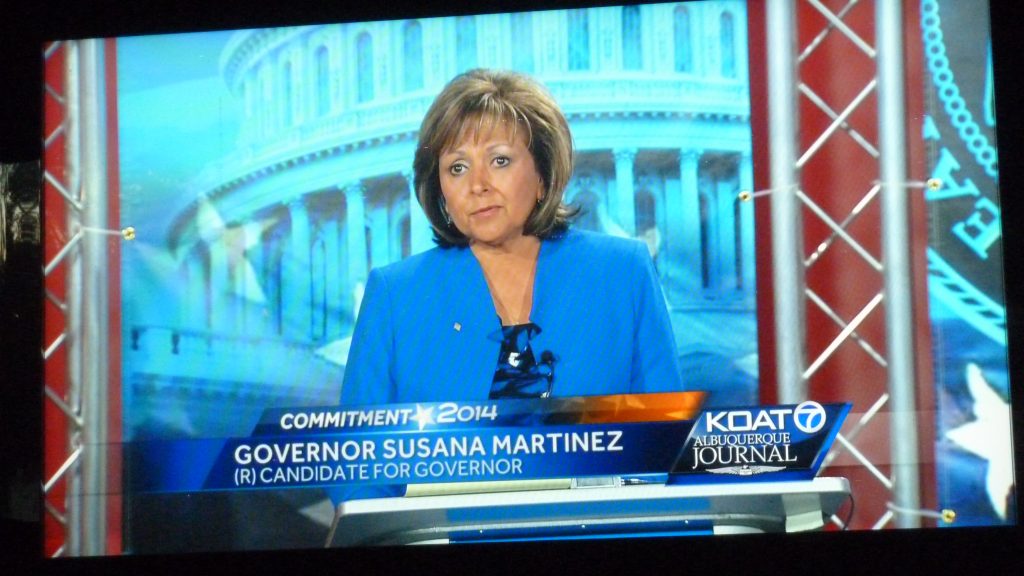 Martinez has been leading King in the polls and has been out spending King almost four to one.
Some political observers see Martinez as vice presidential material in 2016. But when asked directly about her loyalties to the office at hand, Martinez said, "my full commitment of the next four years is to New Mexico. I have no reason to think about running for vice president or any other position."
The final two questions of the debate were asked by the candidates themselves to each other.
Martinez accused King, as attorney general, of being soft on corruption and asked if he had any regrets. King admitted to not prevailing in every case he pursued, but that his office was successful in removing more corrupt politicians than any other attorney general.
King's question to Martinez blamed her for going out-of-state to find cabinet officials who failed empathize with New Mexicans. Martinez defended her team saying New Mexico deserves the best, and her staff is talented and dedicated to New Mexico.
At the conclusion of the debate the candidates were seen shaking hands and conversing for at least a short time.
Election Day is Nov. 4.[/text_output][share title="Share this Post" facebook="true" twitter="true" google_plus="true" linkedin="true" pinterest="true"][/vc_column][vc_column width="1/3″][image type="none" float="none" info="none" info_place="top" info_trigger="hover" src="3431″][text_output]
[/text_output][/vc_column][/vc_row]