On March 10th, Lobo track & field middle-distance runner Josh Kerr ran to victory in the one-mile race at the NCAA Championships held in College Station, Texas. His time of 3:57:02 was 1.3 seconds faster than the runner-up, Virginia Tech's Vincent Ciattei, and Kerr's was the eighth-fastest time in NCAA Championship history.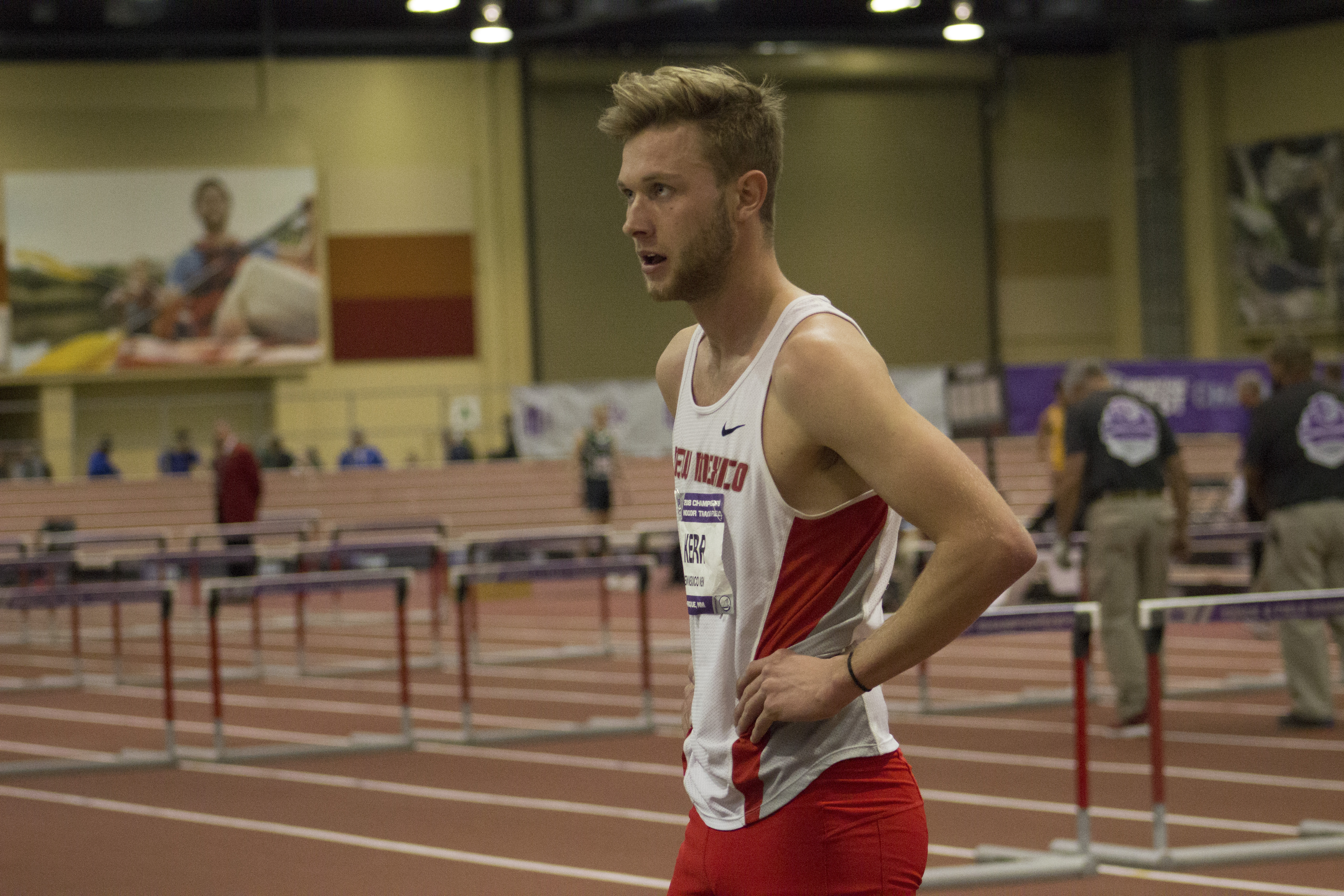 More importantly, the win was Kerr's second in as many years — making Kerr the first male athlete in the NCAA to win back-to-back NCAA mile titles since former Lobo, Lee Emanuel.
"I didn't really think too much about my competition, it was more about executing my race plan," Kerr said. "Hearing the bell I knew I had a great chance of winning so I just had to hold form, run the white line and give everything I had."
Backtrack to where it all began.
Kerr was born and grew up in Edinburgh, Scotland.
"I started running  when I was eight or nine years old and my parents put me in a summer camp," Kerr said.  "From then on my parents have been incredibly supportive and put me in the position I am today."
Kerr moved to Albuquerque in August, 2015, to study and train at the University of New Mexico.
Majoring in communications on the 3-2 program, to earn his MBA within five years, Kerr's daily routine requires balancing his education, training and social life.
Depending on the day, morning practice consists on an "easy run" of eight miles at a 6:30-7:00 minute pace or 12-mile long runs at a similar pace, he said.
After training, Kerr heads for his weights session, and then to the training room for recovery. Only then does he head to his classes. After classes, Kerr's daily routine might consist of a double run (four miles), homework, and finding time to socialize with friends.
After redshirt season, Kerr decided it was time to"start running really fast"
"I set extremely high standards for myself because I'm never satisfied with anything except first," Kerr said. "This is just a mentality I have had for a very long time."
Entering his first ever NCAA Division One National Championship race in 2017, Kerr was labeled an "underdog" and he knew it was going to be tough, he said.
Kerr went up against a 17-time NCAA individual champion, Edward Cheserek, a distance runner for the University of Oregon.
That didn't intimidate Kerr, who outran Cheserek.
"As much as this sounds bad, I didn't really care who he (Cheserek) was because I knew I was good enough to beat anyone in the NCAA at that point," Kerr said. "It was a huge upset because everyone expected him to win but that just made it even more sweet for me."
The 2017 NCAA Indoor track & field championship inspired Kerr to come back in 2018 to defend his title.
"It motivated me to backup my NCAA title by running fast and getting another one. It's easy to win one title but backing it up again is really tough," said Kerr.
With a strong mindset, people to prove wrong, and goals to accomplish, Kerr this year has his sights set on a three-decade old NCAA record in the 1500m race held by Sydney Marie.
"I look up to a lot of great athletes in the NCAA… and the record holders of my distance to see if I could get them," Kerr said. "That is the plan, this year, to get the 1500m NCAA record. It's 3:35 low but I have already ran 3:35:9 so I know that is well within my reach."
In addition to his back-to-back championships in the mile, Kerr won the 2017 NCAA championship in the 1500 Meter track race.
Kerr is happy if his wins reflect well on his University.
"It would be nice for people to know how good our coaching staff, facilities, and location we are for track," Kerr said. "UNM was able to give me an education and a shot to become a better runner so I am very proud every time I get to pull on the UNM vest."
Josh Kerr vs. Lee Emanuel
In his seventh year with the University of New Mexico, Mike Mulcahy serves as the Assistant Director of Communications, where he has promoted stories about track & field, cross country, beach volleyball, and volleyball teams.
Comparing Kerr and former back-to-back mile champion Lee Emanuel, Mulcahy notices connections.
"I think Josh and Lee are remarkably similar right now, but I think Josh projects to be better by the end of his collegiate career and through his post-collegiate professional career," Mulcahy said."Right now, they both have won back-to-back NCAA titles in the mile run, but Josh also won an NCAA title in the 1,500-meter run outdoors, which Lee never won."
Kerr also has won five individual Mountain West titles in three seasons while Lee won four over his three-year career.
"Josh ranks No. 5 and No. 6, respectively, in NCAA history. Lee has lifetime PRs (personal records), so at his peak, he compares relatively equally to Josh in college," said Mulcahy.
Kerr vs. Emanuel's NCAA Championship Mile Times


"Possibly one of the best in the world"
Kerr is one of the best middle-distance runners in the NCAA today and is arguably one of the best in NCAA history, Mulcahy said.  
"He's currently just the ninth athlete in NCAA history to win back-to-back national championships in the mile, so his credentials as a redshirt sophomore are impressive," Mulcahy said. "But in the here and now, there are few runners in the NCAA that can beat Josh at his game, and when he's on, he's quite possibly one of the best in the world."
Kerr's statistics set him apart from all the 28,334 NCAA track &  field participants, Mulcahy said.
"I would make an argument that his 1500-meter time is better since the 1500 is an event with relatively more history," Mulcahy said. "Josh is also less than .70 seconds from the 37-year-old NCAA record in the 1500, while he's over 2.5 seconds off the one-year-old NCAA record in the mile. But, either way, both of those times are absolutely stunning."
Now that the 2018 track & field outdoor season has just started, Kerr's focus and priorities remain locked in."
"My top priority is to make sure I am keeping my mileage up (60 miles a week), keeping my strides in (6x100m) and having fun," Kerr said.
Looking ahead, Kerr hopes to turn professional and make a good living.
"I know I can make the 2020 Summer Olympics but if I keep racing like I am then the goal is definitely a medal in the 1500m's at the Olympic games," Kerr said.
You can follow Aleks on Twitter