Albuquerque master glass artist, Lewis Wilson, has traveled the world educating people about the world of glass-blowing. His claim to fame includes presenting pieces to the former King of Spain and several U.S. presidents.

Born in Roswell, New Mexico, Wilson is self-taught, with about 100,000 pieces of glass made at his home studio in Albuquerque.

"I've always enjoyed working with my hands— and glass you can make it one day and sell it the next day," Wilson said.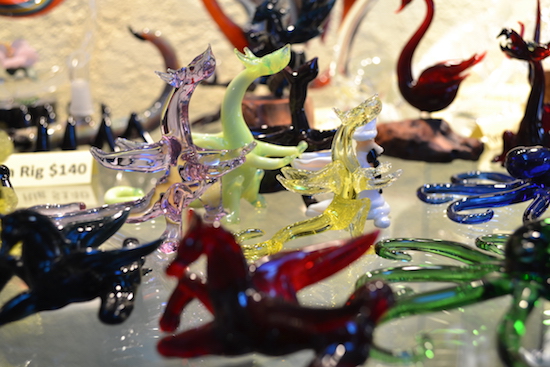 Wilsons work ranges from chess sets, candle holders, goblets, fantasy figures and eagle dancers.

Wilson traces his entry into the art back to when he served as a emergency room medic in the United States Air Force. He said that in his spare time he taught himself how to make small glass figurines with the lab's bunsen burners after reading a book about scientific glassblowing from his local library.

"I had lots of time off so I was doing all sorts of stuff," Wilson said, "mostly glass, at a really inferior stage."

Toward the end of his enlistment, Wilson began working with the Arribas Brothers, who held concessions for glass blowing at Walt Disney World in Florida.

In 1974, after his short stay with the Arribas Brothers, Wilson tried to get a job as a glass blower at nearby Busch Gardens.

"My first foray into doing art as a career wasn't glass, it was juggling and throwing knives at Busch Gardens," Wilson said.

Wilson said his act included two 15 minute shows working with tattooed belly dancers, magicians and organ grinders. Yet at night, he continued working his glass skills.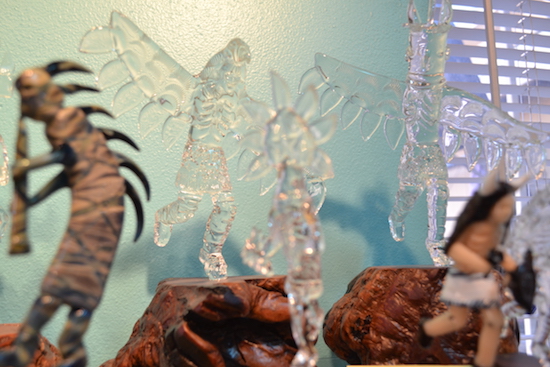 In 1981, Wilson moved back to Albuquerque and made his first glass Indian dancer. With growing popularity, the Indian dancers have been Wilson's signature piece.

After an announcement in the Albuquerque Journal said that the King of Spain would be coming to New Mexico and needed a gift of state, Wilson sent in his resume and photos of his work, Wilson said.

The former Governor of New Mexico, Garrey Carruthers, presented Wilson's first-edition Eagle Dancer as the gift of state to King Juan Carlos I. Wilson said he also made an inaugural piece for George H.W. Bush Sr.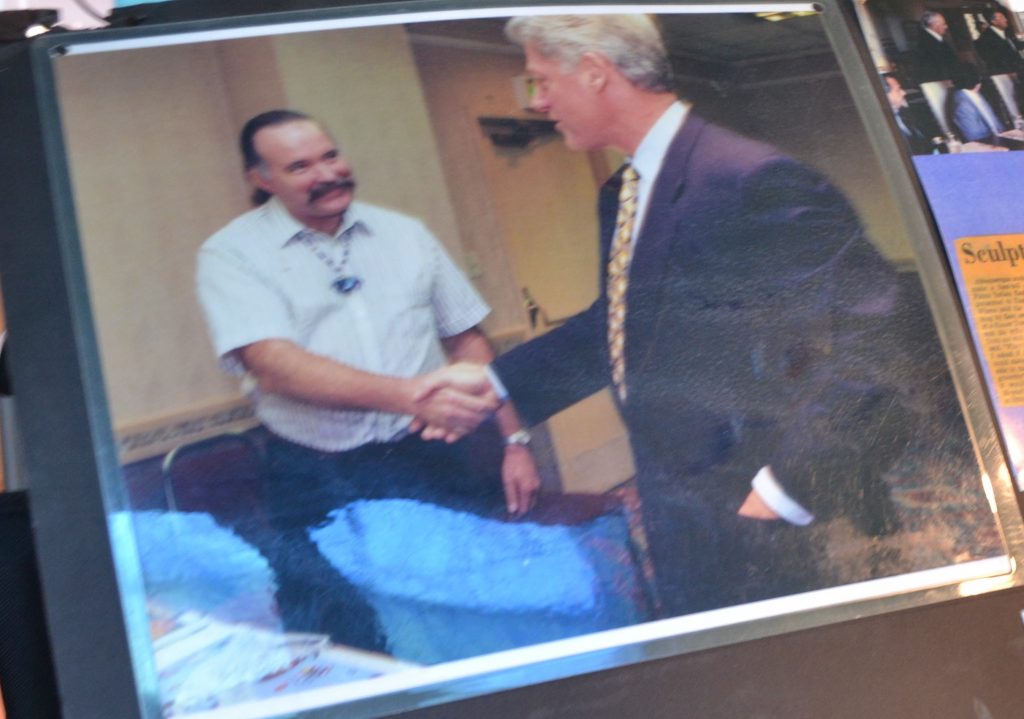 In 1996, Wilson made president Bill Clinton a Red-Tailed Hawk Dancer and sold the hat pin that Clinton would end up giving to Monica Lewinsky, Wilson said.

Wilson said he has trained over 1,200 students. He taught in Japan three times, where he taught students in Japanese about bead making using soft glass.

"He likes being everywhere, you know," said his wife, Barbara. "He has no boundaries in his work or where he goes or what he does and he loves teaching, loves talking."

Barbara is a romance novelist, and a glass artist in her own right. Her work concentrates on mixed-mediums to include glass and clay, but she has done some collaborations with Lewis.

Albuquerque does not have any glass museums and New Mexico has very few glass shows statewide. The glass work the public does see in galleries are furnace work, goblets or bowls, Wilson said.

"The torch workers work small, so it really doesn't get out there–you don't see it in the galleries as much," Barbara said.

New Mexico's art scene is known for its rich heritage and culture, if it were to have a glass museum, the public would not go out of their way to visit it Wilson said.

"There's a lot of people that don't think that glass deserves [a museum], but all over Europe glass was the gift that was given as a gift of state from one country to another, you'll do it in glass," Wilson said.

Despite the lack of places to display glass art, people will continue to make it for the joy of it, Wilson said.

According to Wilson, there are some 70 to 80 glassblowers in Albuquerque who supply most of the functional glass work — like pipes — seen in the medical marijuana clinics.

With more states legalizing recreational and medical marijuana that may change the stigmas associated with glass art, Wilson said.

"It's like we're the red-headed stepchild of the art world," Wilson said.

Wilson said he and his fellow glass blowers want to inform the public that glass is more than just making pipes, that it is an art form.

"This is just my job, I'm not making a political statement. I work with glass, I enjoy it , I teach it, I do it well," Wilson said.

Editors Note: This story was originally published with an error. The previous sentence stated that Wilson had over 100,000 hours of glass-blowing logged. It was corrected to 100,000 glass pieces made in his home studio.