By Sevía Gonzales and Joe Rull / NM News Port 
Brad Weikel spends three days a week collecting discarded food scraps from homes in Albuquerque. 
Last year, he founded Little Green Bucket, a pickup service that diverts organic waste to a commercial composting facility instead of Albuquerque's Cerro Colorado landfill. 
"It struck me as a business model that I could start quickly which was relatively low risk, had a good chance of success, and would have an immediate positive impact for the community and the environment," Weikel said. 
Seeing a growing local concern for the climate crisis, Weikel, formerly a web developer, saw an opportunity to get more people involved — without leaving their doorstep. 
He said he started LGB to give people who wanted to compost are concerned about methane emissions the chance to make a difference without having to do all the work themselves. 
"The main impact is the environmental benefit," Weikel said. "Even when you factor in my driving time, it's definitely the case that an individual's methane emissions are reduced significantly… if you use my service for a year, it's the equivalent of not driving at all for a month."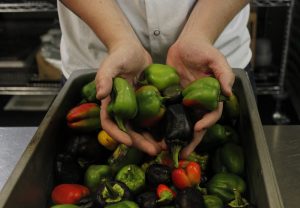 According to the Natural Resources Defense Council, methane emissions from landfill food waste in the United States emit roughly 37 million cars worth of greenhouse gases every year.
Since 1980, the percentage of total landfilled materials in the United States coming from food waste has more than doubled — from 9.5 percent to 22 percent, according to the Environmental Protection Agency. In 2015 alone, over 30 million tons of food waste were dumped in U.S. landfills. 
"When food waste is going into the landfill, you're getting anaerobic decomposition because organic material is decomposing in the absence of oxygen and creating methane, adding to greenhouse gas emissions in the atmosphere and contributing to climate change," University of New Mexico Sustainability Studies professor Jessica Rowland said. 
In Albuquerque, local businesses are looking for ways to create viable business models that reduce their ecological impact and raise awareness for sustainable food waste management practices.
LGB provides households with a receptacle for food waste that is picked up weekly or bi-weekly and brought to Soilutions, a commercial composting facility based in Albuquerque. 
According to their website, Soilutions has become New Mexico's largest diverter of organic materials from landfill since its formation in 1996, specializing in composting and food waste recycling. Today, Soilutions maintains several partnerships with local businesses including LGB.
Founded in 2018, Three Sisters Kitchen is a local nonprofit and test kitchen that recently opened a food shop and cafe. They partner with LGB to reduce food waste in both their commercial and community kitchens. Headed by kitchen manager Craig Jones, the downtown community space is developing a low-waste menu.
"It's the right thing to do — food waste is a huge problem in the industry," Jones said. "Trying to address that as a cultural issue is one aspect of it… the other aspect of it is that we're trying to create an economically viable cafe for people that's also using local ingredients." 
Now in its second week of business, Jones says the cafe is experimenting with ways of using food production byproducts creatively to reduce waste. That includes using leftover red chile pulp to make a red chile honey syrup and repurposing water used to cook pinto beans for bread-making.  
Jones said that using local food waste consciousness as a framework for business planning will foster economic opportunity and change the way people think about wasteful habits.
"We're creating a viable business for ourselves which allows us to hire more people, which allows us to invest more money in equipment for our food production class," he said. "That allows us to actually have more opportunities for them to start their own businesses which in turn creates more jobs which in turn creates more economic opportunity."
The United States Department of Agriculture estimates that Americans waste about 30 to 40 percent of the nation's total food supply. According to the NRDC, this costs the U.S. economy $218 billion per year.
Three Sisters Kitchen said it has reduced its food waste, but what it still creates is handed off to Little Green Bucket.
Almost exactly one year into the project's operation, Weikel serves about 250 residential customers and five commercial partnerships, up from just 40 residential customers in April. 
He credits public education as a major factor in the company's recent success. He estimates that by the end of October he'll be diverting about a ton of food waste every week. 
With service prices ranging from $20 per month for bi-weekly pickup to $36 per month for weekly pickup or a $396 annual membership option, Weikel realizes that his services are not accessible for everyone. 
"It's a boutique service that a lot of people are priced out of," he said. "There are definitely people who would like to take advantage of the service but can't justify the price point." 
Weikel said he is looking to change that. 
Little Green Bucket's efforts to reach more people include a compost drop-off service at the Downtown Grower's Market. There is a $10 monthly subscription for this service or a $1 per gallon option for non-members. Weikel accepts Growers' Market drop-offs for free from individuals on government food assistance or public housing vouchers. 
"The more people that are using my service and talking about their food waste with their families and neighbors, the more they're being educated about waste in general," Weikel said. "And the more that individuals are educated about waste management, the safer and cleaner and more efficient those systems become."
Similar efforts are being made to address Albuquerque's food waste at all levels. UNM Recycling Supervisor John Shaski has been providing compost and food waste reduction education outreach service in Albuquerque for over a decade, and now oversees the major food waste management program in place at UNM.
"The value [of food waste management] is indirect," he said. "The value is to the community and to the planet, it's really a public health benefit, it's doing the right thing."
""The value is to the community and to the planet, it's really a public health benefit, it's doing the right thing."
Shaski joined Soilutions in 2007, managing their food waste pick-up services and fostering UNM's ongoing commercial composting partnership with the company in 2009. Through this program, food waste from UNM's La Posada dining hall is sent to Soilutions, composted, and turned into refined soil. In 2019 alone, UNM's partnership with La Posada has diverted nearly 140,000 pounds (or 70 tons) of food waste, an average of nearly two tons per week. 
In 2011, Shaski began partnering with the Downtown Growers' Market to run public demonstrations and bring community awareness to the importance of food waste reduction through education. In 2015 Shaski left Soilutions and founded Knowaste, a business which provides sorting bins for waste at large events and educates the public about food waste. 
According to the most recent available data from the New Mexico Environment Department, the average waste diversion rate throughout the state was just 19 percent in 2015. So far in 2019, Knowaste data provided by Shaski show that events featuring Knowaste sorting bins experienced an average waste diversion rate of 36 percent — roughly double the state average.  
Shaski said he believes that creating a sense of community around these efforts has helped responsible waste management gain momentum in recent years.
"When you feel like you're part of a community you feel like you have a responsibility to each other," Shaski said.  "You're forced to see the sign that says this goes to the landfill, this goes to the recycling center, this goes to the composting facility, this whole experience causes you to stop and think and reevaluate your position in the greater community."
The food waste management community is optimistic about the progress being made to reduce waste in Albuquerque.
"I'm very excited about it" Weikel said. "I think there's a lot of momentum right now… there's a lot of enthusiasm locally to try to find solutions to all sorts of waste management problems."
Sevía Gonzales is a reporter for the New Mexico News Port. She can be reached on Twitter @GonzalesSevia or at nmnewsport@gmail.com. 
Joe Rull is a reporter for the New Mexico News Port. He can be reached on Twitter at @rulljoe or at nmnewsport@gmail.com.