Albuquerque-area musicians Dave Heidt and Angelo Unale pose after winning at The New Mexico Music Awards in 2017. Unale won for Best Metal with Heidt's help. Photo provided by Unale
Fresh off being named by the New Mexico Music Awards as among the best in local metal music, Angelo Unale of Placitas is gearing up to release his debut album, Gold Winter.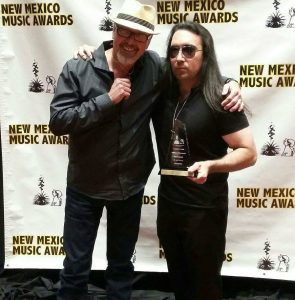 "I'm just working on last little covering stuff. I definitely want to have a physical CD out as that has always been a dream of mine but also have it out digitally through my own website but it will definitely be out by years end. Gold Winter will finally see the light of day," Unale said.
A active in the local music community for 10 years, Unale follows a long line of artists who populate the hometown music scene — hoping to make it big, or at least make enough money to quit his day job as a restaurant supervisor.
"If I can make a living out of it and make it a full force priority, where I can pay bills, definitely it would be full, 100 percent focused," Unale said, "but the game has changed so much, you have to find new ways and ventures to get yourself out there, and there are ways but it takes time."
This community of musicians includes his producer and collaborator, Dave Heidt.
"I love New Mexico because there aren't too many people, but there's scenery and plenty of great talent," Heidt said. "I do projects from other places, and will spend more time back in Montana someday, but right now this is home base."
When asked about working with Heidt, Unale said, "We're good friends. He does a lot of the mixing, editing, plays a lot of the instrumentation. I can have him play anything; he's very diverse and he's an amazing person, engineer, and artist."
Heidt has the same feelings about working with Unale. "Working with Angelo is a gift from God. He does what I don't do, and I do what he doesn't do," Heidt said. "Together we get a real satisfying thunder."
New Mexico has produced many musicians who have gone on to recording industry fame. Recent examples include Demi Lovato, Brokencyde and The Shins and a 2013 study found that almost 91 percent of musical artists found online are virtually "undiscovered" — citing a wide assortment of barriers despite the fact that today's artists have the internet as a tool to send their work out worldwide. But, to Unale, the key in today's music scene isn't necessarily getting a big recording deal.
"If you have something that's real and true and you have something to say, people will find you and people will listen and you will make your success that way," Unale said. "I think when you find an audience, without a record label, it can be done. I really believe that."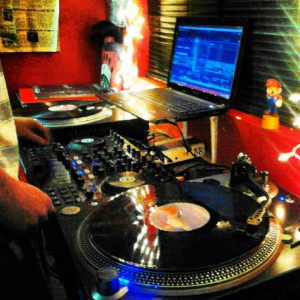 Live music performance is one way to get one's music in front of an audience. Albuquerque offers venues like Sunshine Theatre, Launchpad, El Rey Theatre, and The Jam Spot. While these venues are crucial to supporting the local scene, the area has lost some venues recently including Blue Phoenix and The Gas Works so, another stepping stone that aspiring bands look for is the chance to open for bigger bands who are playing locally. A recent example was when local band Almost Lost opened for Butcher Babies in Gallup. Almost Lost DJ Ed Cruz said that and the chance to play at a popular festival gave the band a real boost.
"Gallup, New Mexico is where we have played, where there have been crowds of people who have no idea who we are but are just fans of rock music. Spekfest has always been our best crowds; it's a festival held once a year in Gallup," Cruz said.
"Anytime a band can get with another band that's a bigger name than them, will bring a bigger audience so that's helping out a lot," Unale said.
Cruz says other things a local band can do is tour and make music videos. He says videos need to be good quality using studio quality recordings — which takes time and money.
Unale, Heidt and Cruz are part of an active, growing music community. As they promote themselves, they are also promoting New Mexico's local music scene.
"This is the whole state and you're getting these guys that you've never even heard of and they're getting recognized for their music," Unale said.. "I think that is so awesome. It gives all artists a chance to get recognized."
For more follow Kenya on Twitter.