Local artists are pushing to get creatives involved in Albuquerque's growing startup scene.
"I think it's challenging because there's so much focus on business," said Emily Dunkin, the program coordinator at Keshet Ideas and Innovation Center (KIIC). "It's not just about the business startup, it's about the arts startup as well."
Dunkin works with KIIC, an organization providing a number of resources to artistic entrepreneurs including workshops, mentorship and a shared community space.
"We're helping artists on their path to starting or growing their arts business," Dunkin said. "We help artists however we can."
One way artists get that help is through a workshop at the Keshet Center for the Arts.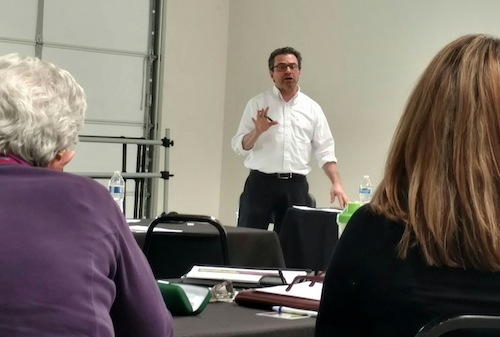 The workshop focuses on the importance of having an effective board of directors. According to workshop leader Steve Barberio, both nonprofit and for-profit businesses can have a board of directors, which acts as a business owner by making governance decisions for an organization.
Barberio said a good board has a clear set of rules and guidelines, so that things don't become "chaotic" for entrepreneurs. He encourages workshop participants to create clear, in-depth contracts for board members, and to make board diversity a top priority.
Barberio, the advancement director at Keshet, previously ran the Stages Theatre Company in Minnesota. He also served as the President of the board for Minnesota Citizens for the Arts, an arts advocacy organization.
He says the workshop series is meant to support artistic learning.
"I think that we're all students of the world," he said. "And the more that we can inform ourselves, even if we think we know all of the subject matter, it helps us renew our knowledge."
As Mary Pratt, a workshop participant said, "I'm just here to absorb."
Arts in New Mexico
The city of Albuquerque seen its local startup scene develop recently, and, according to Dunkin, KIIC is one of the few groups working to make sure the creative community keeps up with the burgeoning tech industry.
She says supporting the arts means supporting a significant portion of New Mexico's economy.
According to a report commissioned by the New Mexico Department of Cultural Affairs, the arts and culture industry in New Mexico is responsible for about one in 10 jobs in the state, employing nearly 77 million people . That is more than construction and manufacturing employment combined.
Arts and culture also contribute $5.6 billion a year to the state economy, and pay more than $2 billion in yearly wages, according to the report.
On top of the economic impact, Dunkin said the arts are a large part of the Albuquerque experience.
"When I meet people who say, 'Oh there's nothing to do in this city' I think, 'seriously?' I feel like I don't have enough time to do everything I want," she said, noting that there's an arts related event in the city almost every night of the week.
Keshet Center for the Arts
KIIC is housed in the Keshet Center for the Arts, a warehouse currently undergoing renovations. It serves as the home base for a number of other programs as well, said Dunkin, including the Keshet Dance Company and a number of dance and theatre classes.
"Our mission is to welcome the community into the arts," Dunkin said. "We're just really trying to build a center for the arts where every artist feels comfortable making and sharing art."
She added that workshops are a way for the artistic community to come together and develop as entrepreneurs.
"I think there's a lot to learn," said Dawn Beck, one of the workshop participants. "[The workshop] helps us to continue to grow."
According to its website, KIIC offers a number of workshops that cover a broad range of topics, from accounting to intellectual property law. Workshops cost $25 for the general public, and free for KIIC members.  Members consist of entrepreneurs paying a yearly fee to be a part of the KIIC community. There are also free quarterly workshops for those who cannot afford to pay the $25.
The workshop calendar for the next few months can be found here.
Follow Marissa Higdon on Twitter.