By Gabrielle Hockstra-Johnson / NM News Port
New Mexico's restaurants just endured another statewide ban on in-person dining due to the coronavirus — crippling income and forcing layoffs. Now Governor Michelle Lujan Grisham has enacted a new health order which started December 2, providing at least a little more room for restaurants to serve customers.
Having been through a near-total shutdown earlier this year, Robert Palmer, owner of Palmer Brewery, knew what to expect during this latest closure. He had to lay off employees — again.
"We've been through it once so we know how to navigate it better now," Palmer said. "It's been devastating for a small business. We depend on that revenue."
Under the previous health order, indoor and outdoor dining were ceased for two weeks, but curbside and takeout were still permissible. Under the  new health order now in effect, restaurants and breweries in counties deemed "red" — at greatest risk — can serve food on outside patios, but only up to 25% of their seating capacity. 
The outside weather is a concern for John Katrinak, owner of Soo Bak Seoul Bowl. The restaurant received a patio grant from the city and is waiting for the arrival of outdoor heaters.
"In the past two weeks things have definitely changed," Katrinak said. "The weather has gotten colder and the cold weather season is definitely slower."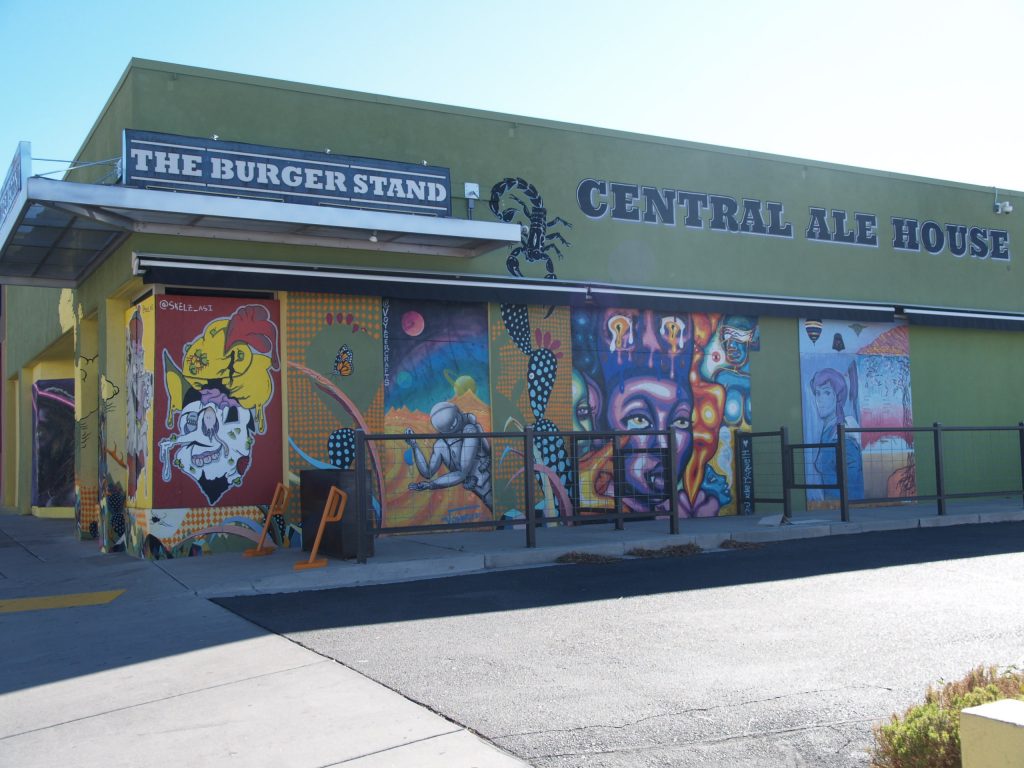 Katrinak acknowledged that outdoor seating is best for the safety of his staff and customers, but that it puts a limit on how many customers he has in a day. 
Now just over a year old, Soo Bak Seoul Bowl is struggling — profits are down approximately 20-30% compared to last year, but Katrinak reports that takeout has been doing well, attributing it to the restaurant's customer base, its origins as a food truck, and the fact that Asian food travels well.
"We were a food truck before, so now it's like that again, just one big food truck with more space," said Katrinak
Soo Bak partnered with the Guild Cinema and Nob Hill Main Street for "Dinner and a Movie" to bring Soo Bak deals to those who rent films from the Guild. 
Many restaurants and breweries have taken to creating specials and teaming up with other businesses to attract more customers. 
Palmer Brewery has started producing gift baskets to bring people in. During the initial shut down last spring, they also started distilling hand sanitizer that went to first responders and the Navajo Nation. 
But the second shutdown has greatly affected business.
"Our business model isn't loans and debt, our business model is to grow as you can afford to. It's definitely put us back a few years," Palmer said.
The overall effect on the state's small business breweries and restaurants has been harsh. 
Data from Track the Recovery show the number of leisure and hospitality small businesses that are open in New Mexico decreased by 55%. And employment in this category, which includes restaurants and breweries,  has fallen by 35%, with revenue falling 68%.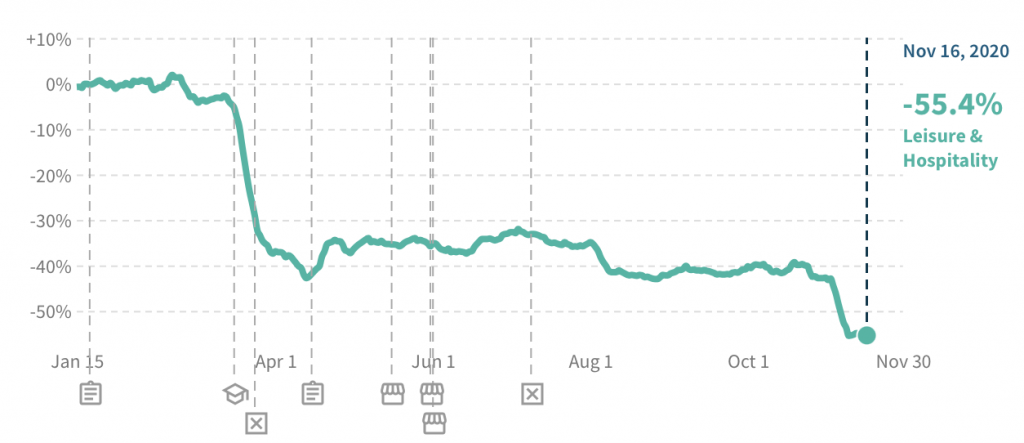 Carol Wight, CEO of the New Mexico Restaurant Association, says the new health order won't help restaurants much — especially during the winter..
"I had a restaurant call me the other day and he said at 25% of my outdoor dining, I can get two tables, and that's only on good weather days." Wight said.
Wight says restaurants that were previously built on take out are succeeding, but sit down restaurants are really suffering. For restaurants to begin profiting again, restrictions need to be loosened. 
"At least open outdoor dining at 50% and give us some indoor dining at 25%," Wight said. "There has been no linkage that shows that restaurants are super spreaders of any kind. We believe that restaurants are a safe place to go."
The current health order, under which restaurants can open outdoor dining at 25%, states that restrictions are slowly lifted on a county by county basis. In the tiered system, the New Mexico Department of Health analyzes each county and labels them green, yellow or red — based on the average COVID test positivity rate and cases per capita. The lower the infection rate, the few restrictions. The Department of Health will update the status of each county every Wednesday. As of the implementation of the order, all counties except San Miguel County are labeled  red.
Gabrielle Hockstra-Johnson is a reporter for the New Mexico News Port. She can be reached via twitter @GHockstraJ or by email at nmnewsport@gmail.com.