[vc_row][vc_column][vc_column_text]It's Monday morning, and directly in front of Tamara Thorpe lies a neat stack of graded papers. She hasn't seen the students in her public speaking class in a month, but she's ready to pick up right where she left off.
The small group of students of all ages gather at Brown Mackie College every month for a four-hour session. Some are there to achieve goals they set a long time ago, while others are in need of more individualized attention.
"I certainly have a strong desire for mentoring, training, and coaching the next generation to move towards their next place in life," Thorpe said.
Thorpe refers to herself as the Millennials Mentor, dedicated to helping young people maneuver through life's obstacles. In 2011, she launched an online business complete with course modules and coaching packages on leadership. In her spare time, she volunteers and teaches communication classes at Brown Mackie College, including public speaking.
In September 2015, Thorpe created a new five-step course called Real Leadership. The course, which is available for downloading, is aimed helping teams learn to work together and leverage differences. She said the project was a "labor of love" because it took nine months before it was up and running.
"If you're going to go through the challenges of running your own business, you gotta love it," she said.
Her online business, however, hasn't always been web-based.
Thorpe said her business went through a huge makeover three years ago when she decided to change her target market.
"It (the change) was a complicated beast and a huge learning curve for me," she said.
Ultimately, it was her love for travel, language and volunteering that brought Thorpe to "jump off the cliff" into the field of entrepreneurship.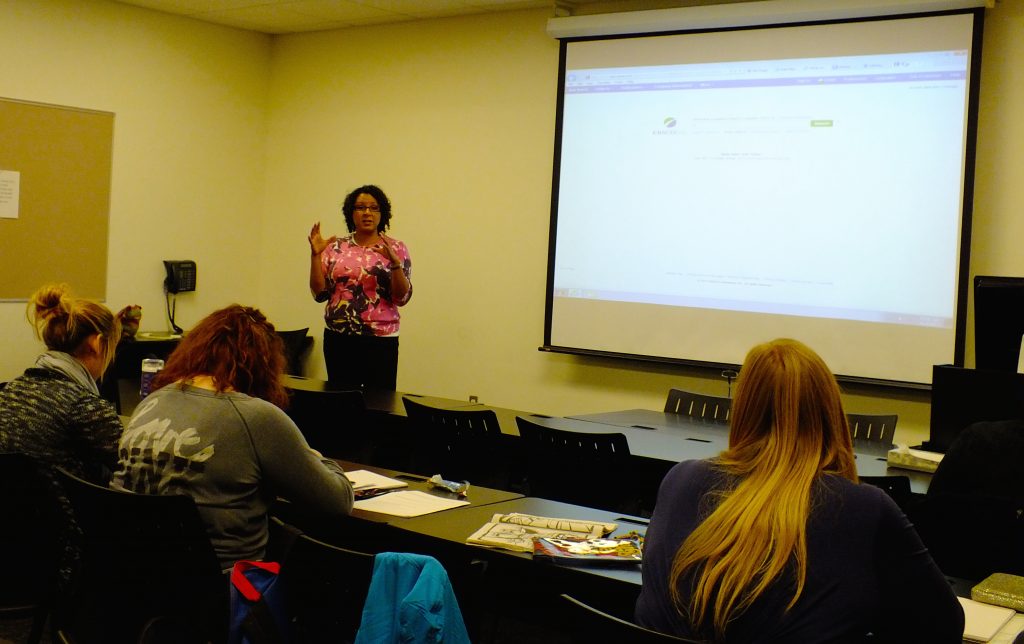 Taking the jump
Originally from Los Angeles, California, Thorpe developed an appreciation for diversity during her junior and senior years in high school when she was given the opportunity to study abroad in Spain.
"I found this really small, hippy private school in Hollywood where there aren't uniforms and you called teachers by their first name," she said.
She said a former high school teacher was instrumental in guiding her passion towards culture and education. Along with a few other students, Thorpe was invited to her teacher's second home in Spain for six weeks.
"That was a really profound experience for me," she said. "It was my first experience traveling abroad and experiencing European lifestyle and culture."
Since her class trip, Thorpe has visited 25 countries, including France and Canada. She later moved to Victoria, British Columbia after pursuing an undergraduate degree in linguistics. Thorpe taught English in Seoul, South Korea for a year and then returned to the states to focus on volunteer work. For Thorpe, education and service go hand in hand.
"Volunteering is a way of life and I'm fortunate that my mom modeled that behavior for me in terms of giving back to the community," Thorpe said.
A leadership conference brought Thorpe to New Mexico.
She has volunteered for a variety of local and international organizations, including YWCA Middle Rio Grande in Albuquerque. The organization received a donation from Larry H. Miller Toyota earlier this month for the Henderson House, a gender-specific shelter for veteran women and children who are homeless.
"It's a wonderful way to connect with what's happening in New Mexico," she said.
For about 12 years, Thorpe has volunteered for CISV International, a peace education program for youth. She also participated in a three-week program in Dallas, Texas, working with refugees and victims of human trafficking.
Having a great deal of nonprofit volunteer work eventually prompted Thrope to go back to school in Canada. Ten years later, she earned a master's degree in leadership and training.
"My research focused on how traveling abroad really changes us in terms of becoming active citizens," she said.
Not long afterwards Thorpe said she discovered intercultural training as a profession, one that would turn out to suit her well.
An 'idea worth spreading'
One of the Thorpe's goals for this year was to launch her online course. The other was to speak at a TEDx event, which happened in the same week. She said she wanted to speak to gain experience and most importantly, raise her business profile.
"I loved working with coaches," she said. "One of the things that Albuquerque has done really well is our TEDx programs and having a really strong coaching community."
Thorpe prepared a seven-minute speech for Entrepreneur 2.0, a TEDxSalon event held at the Albuquerque Museum Oct. 8.
"I was thinking, how do condense it and tell the story so that people laugh and cry and are inspired within that time period?" she said.
Her speech generated a lot of positive feedback from audience members like Angella Welcome, coordinator of the Small Business Institute at UNM.
She said Thorpe explained how to deal with unexpected turns in life and taking advantage of opportunities that unfold–something that many college students can relate to.
"I felt her speech was especially pertinent to those of us who are just starting our careers or in the process of redefining them," Welcome said. "It reminds us that we shouldn't panic about the roadblocks that seem to keep us from our goals because they create unique and valuable experiences that we can draw upon later in life."
One experience Thorpe had not foreseen occurred while traveling abroad. The year that she was teaching in South Korea, Thorpe was mugged and beaten by three men. Before TEDx, it was a memory she had chosen to share privately for several reasons. Rather than derail her, she said the incident pushed her along.
"I could go home and say that traveling is a dangerous thing and never do it again, or say this was a bad thing that could have happened anywhere," she said.
Her goal is to inspire others to go across an unexpected path with confidence, she said. For students at Brown Mackie College, that begins with facing the common fear of public speaking.
"I'd been waiting for this class for a long time," said Terrilyn Morris, a student in the class. "I love her (Thorpe's) positive energy. After I took a business class, I was a fan of hers."
When talking with college students or young professionals, Thorpe said she always reminds them that she didn't get to where she is now in a straight line.
"The reality is, maybe you won't take that ideal job," she said. "But maybe there's something there that you can use to build a skill-set, develop an expertise or strengthen within yourself to get yourself to where you want to be."[/vc_column_text][/vc_column][/vc_row][vc_row][vc_column][vc_tweetmeme][/vc_column][/vc_row]