[vc_row][vc_column][vc_video link="https://www.youtube.com/watch?v=N8dEMPEJNRM"][vc_column_text]
Within the Native American artist community, there is a noticeable divide between the newer artists who employ social media and older artists who don't.
Local artist Elizabeth Kirk uses Facebook, Pinterest and Instagram to showcase the jewelry she makes.
"I concentrate more on Instagram just because when we finish a product I can shoot it and just put in up there without a lot of words," Kirk said.
More established artists like Duane Maktima rely less on social media and more on their long-established reputations.
Maktima has been making native jewelry for almost 40 years.
"I'm in my early sixties, and social media is not something I normally use due to my ignorance of this media," Maktima said.
Maktima does have some online presence, through a personal website, although it isn't always up to date.
His website allows visitors to browse his collection of finished crafts. However, there is not any information on how or where to purchase the jewelry. And Maktima provides ways to contact him, but not through social media.
"I'm not of the computer literate world due to my ignorance and late comer to the computer age," Maktima said.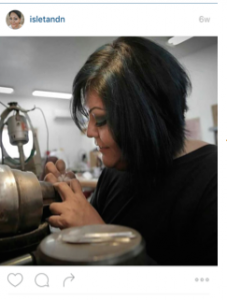 Wendy Forbes, owner of Wendy92, which specializes in social media for hospitality, arts, culture and tourism, says that the use of social media can be very helpful, even for established artists.
"Reminding people that you are still there and you are still creating new works is important," Forbes said. "It keeps the artist on the minds of collectors and reaches out to potential new collectors."
Ira Wilson, the general manager of Shumakolowa Native Arts, a gallery inside the Indian Pueblo Cultural Center, said gallery owners can find new artists by using social media.
"A lot of that has to do with word of mouth, and it depends on the associations they have made with their collectors," Wilson said. "If their name is synonymous with a particular collector's name, people will naturally gravitate toward them because they are the best of the best."
Wilson says that for new artists their involvement with social media not only helps to gain a reputation within the Native arts community, but it also helps him find new artists. Wilson said he found an artist, Mary Irene, through social media. Now, some of her jewelry is displayed in his gallery.
"There was a buzz through other artists talking about her pieces, and being an up and coming artist," Wilson said. "Those are the artists that I would go and check out and see their pieces and contact them through social media."
Not only can social media help an artist get that needed exposure, but it can also build that relationship between the artist and the buyer.
Kirk, for example, will frequently post on Instagram, photos of herself working in her shop to give potential customers a more intimate look into how each piece is made.
"You can't truly appreciate it until you see the process," Kirk said.
Kristelle Siarza, founder of Siarza Social Digital, says Native American artists can have an unique advantage when it comes to social media.
"Native American artists have great visuals, such as photos, videos and any other mediums that showcase their works," Siarza said.
The Facebook page of Artist Adrian Wall, for example, is full of unique and very colorful jewelry. According to Wilson, who has some of Wall's crafts in his gallery, he has people coming in asking if he has Wall's jewelry because they saw it on Facebook.
This can also be said about Kirk's use of social media. Both on her Pintrest and Instagram, her audience gets to see the beautiful colors and her unique designs.
Siarza said artists using the Internet are reaching a wider and wider audience throughout the world.
Wilson he sees younger artists gaining exposure through social media.
"The lens as it is now, as someone who is a proprietor of native arts and an advocate for native arts, I'm beginning to see through this lens that Native American arts is way bigger than I ever thought," Wilson said. "Because 10 or 15 years ago it was all word of mouth. Now, we are hearing about these young, brilliant artists coming up and the lens has to get bigger and bigger."
To keep active with a worldwide audience, Forbes said artists need to take time and dedication to constantly update their accounts.
"Staying consistent on social media takes work and dedication. It's not something that may come naturally to an artist," Forbes said.  "Most would rather work on their art, but those that have jumped into social media to promote their art and do so with an open mind and consistency will see results."
[/vc_column_text][/vc_column][/vc_row][vc_row][vc_column][vc_tweetmeme][/vc_column][/vc_row]