Hundreds of New Mexicans gathered at the Roundhouse in Santa Fe in January in support of protecting the state's public lands and in opposition to a U.S. bill proposing to sell off federal land in New Mexico and nine other western states.
"I think we are really going to have to fight tooth and nail for public lands in the next four years," said Garrett VeneKlasen, Executive Director of the New Mexico Wildlife Federation. "We're gonna see an onslaught of bills that are targeting everything from all our national public lands, which is 600 million acres across the U.S."
The third annual Public Lands Rally drew a diverse crowd as many showed up standing against a new bill now in the Republican-controlled congress that would allow the government to dispose of federal lands.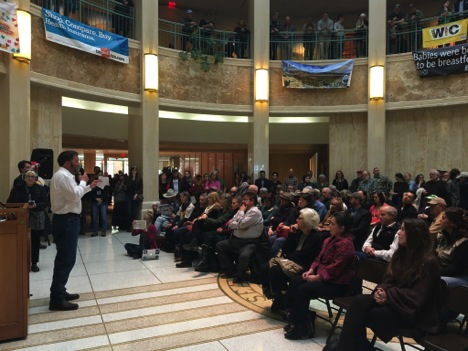 Under H.R. 621, also cited as "Disposal of Excess Federal Lands Act of 2017," over three million acres of public lands would be privatized, with nearly one-third of the land situated in New Mexico. The bill would allow the lands to be sold for a competitive price, no less than fair market value. The final land value is to be determined by an independent appraiser.
The rally at the New Mexico State Capitol came just days after the legislation was first introduced on Jan. 24 by U.S. Rep. Jason Chaffetz (R-UT) of the House Natural Resources committee. Protesters included those from both sides of the aisle along with hunters, students, ranchers and conservationists, among others.
Many of those protesting the legislation voiced their concern that New Mexico faces a large budget deficit and none of the money of the sale would go to the state. Under Section 1. D. of the bill's text, all proceeds from the sale of identified federal lands will be transferred directly into the national treasury with hopes of reducing the national debt.
"The first week of this session, the House of Representatives passed rules making it easier to give away our public lands," said Sen. Tom Udall (D-NM), in opposition to the proposed action. "The House action is bad for the national treasury and bad for the American public. Public lands should not be given away or sold off."
Republicans and other supporters of the transfer of lands bill argue the federal government has not managed the lands properly. Supporters say unharvested forests are overgrown and result in wildfires. They also say lands could be opened up for gas and oil development, providing revenue for the State of New Mexico.
"New Mexicans can manage New Mexico lands better than officials in Washington, D.C. would," said Bernarr Treat, State Government Affairs Manager for XCel Energy and native New Mexican rancher.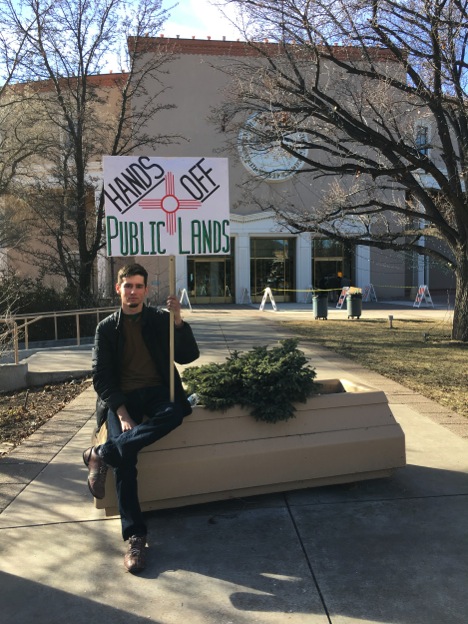 Rally attendees encouraged one another to reach out to elected officials to show their interest and the importance of preserving public lands.
NM Governor Susana Martinez did not attend the rally, and participants expressed their disappointment in her absence.
"She didn't show up to help us out or support us. I wish she would have," said Lino Paez Jr., a landowner from Roy, New Mexico.
House Bill 621 is based upon a report from 1997 during the Clinton administration where each state identified federal lands that could be used for "disposal and other purposes."
Public lands at risk are overseen by the New Mexico State Land Office administered by federal agencies including the U.S. Forest Service, U.S. Fish and Wildlife Service, National Park Service and the Bureau of Land Management.