Craftsmen spend more than 20 hours constructing a single barrel
Inside a barn on Isleta Pueblo, Mahad Ahmed and Eric Abeita are reinventing the barrel-making process. The pair, who own D.R. Cooperage and Grain, craft handmade barrels that are smaller and waste less wood than traditional ones.
Their shop — the only cooperage (barrel maker) in New Mexico — is strewn with homemade tools that allow Ahmed and Abeita to piece together American white oak barrels. Those barrels are what Ahmed says they hope to sell to New Mexico's booming alcohol, craft and beverage market.
"The way we have our shop set up it really doesn't take much to do this," Ahmed said.
Sitting at 3 feet tall and 23 inches in diameter, the 27 gallon barrels are much smaller than the standard cooper's barrel. That's intentional. Ahmed says their design saves wood and money.
"[At] a typical cooperage you lose about 20 to 25 percent of your wood product during the manufacturing process," Ahmed said. "[So] we wanted to make sure to conserve as much of the wood as possible."
Ahmed says D.R. Cooperage and Grain's wood waste is down to 10 percent. But a smaller design has resulted in other benefits too – like an increase in surface area-to-volume ratio (or the amount of beverage that touches the barrel), which is important in bringing out wood flavors.
"Because we've kept our barrel smaller, kind of tall, like a cigar shape, we're able to incorporate different woods into the barrel," Ahmed said.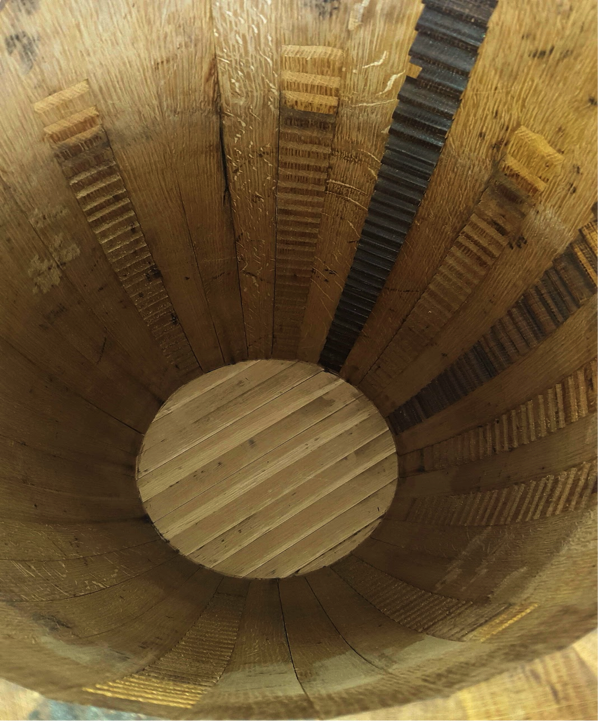 And different wood options means crafters and distillers can experiment with non-traditional flavors like piñon, apple wood, and cherry. Ahmed says it takes 20 hours of "hands-on" labor to make a barrel – not including the hours it takes for toasting and charring – a very crucial step.
"The real meat and potatoes is your toast," Ahmed said. "Because the toast is the baking of the dough… and how you bake that dough is how you're going to get what flavor."
The co-owner of Boese Brothers Brewery, George Boese says the idea of a cooperage in New Mexico is rare. Boese Brothers Brewery was D.R. Cooperage and Grain's first client.
"It's interesting… A cooperage, in general, that isn't directly attached to a very large distillery or a very large winery is very unique," Boese said.
D.R. Cooperage and Grain wants to do more than just offer design features to its clients – the company hopes to provide barrel aging solutions.
"I firmly believe in the science of barrel aging and maturation… it provides such a unique property to whatever is being aged," Ahmed said. "And even though the barrel and barrel technology is over 2,000 years old, what it does is so darn good that any method of reinventing the wheel to provide that kind of quality… no technology is going to take place of."
For Boese Brothers Brewery, D.R. Cooperage and Grain is doing just that. Boese says the brewery makes specialty products and seasonal beers, like their Patriot Porter, with the barrels.
"You don't have options in [the aging] department with the exception of D.R. Cooperage and Grain," Boese said. "It's something people should consider."
Turn-key aging and maturation is the science of "turning out" product as fast as a client wants, Ahmed said.
Each barrel is made up of 33 wooden staves and the number of cuts and grooves made inside determines the time needed for aging. Proper aging of a product is achieved with an increase of the surface area-to-volume ratio he says.
Modifications are made to each stave by a grooving or comber system. Ahmed said the grooving system increases the surface area-to-volume ratio by 63 percent, while to the comber system increases it by 80 percent.
"If you use a used barrel it would take you three to six months to age a beer. If you use a new barrel you can do it in a week," Boese said.
Making the barrels more affordable
The next step for D.R. Cooperage and Grain is to bring down the cost of barrels.
"We're not the cheapest because the quality of what we're doing is very high. We have very high expectations. We're not skimping on the thickness of the staves, we're not skimping on any part of the material," Ahmed said.
The barrels sell for $380, but a price drop will allow D.R. Cooperage and Grain to stay competitive with its national competitors, Ahmed says.
"Once we get it to that $300 super magic number, not only do we become a super asset to the folks here in New Mexico, we can begin selling regionally," he said.
D.R. Cooperage and Grain is taking small steps to get there with the help of the Central New Mexico Community College FUSE Makerspace and FabLab community center. Ahmed provides the price for barrel hoops as an example.
"Our hoops were costing us $60 a barrel, well now with the Makerspace… they're going to run us about $4 a hoop… so $24 [a barrel]," he said.
Ahmed says he uses tools like the plasma cutter to make the hoops. Ahmed got involved with the FUSE Makerspace and FabLab when he started taking carpentry classes at CNM. Prior to going into business, he admits to having no woodworking experience.
He says the idea of a cooperage came to him two years ago when he worked on the business plan for a possible distillery. Ahmed said that after much research, he learned the barreling of the product was going be the most costly, so he set out to create a cheaper alternative.
"It really took my heart… In the beginning I looked at this as an 'ends to a means' but I thought this could be a game changer for the beverage industry. I would love for that to happen here in New Mexico," he said.
Since business began in January, Ahmed says D.R. Cooperage and Grain makes about 10 barrels per month, a number he hopes see increase in coming months.
Listen to our audio interview and follow Alicia on Twitter.