By Spencer Butler / NM News Port
Among the election decisions facing New Mexicans this year is whether to keep or replace two New Mexico Supreme Court justices, which could change the pendulum of power within the state.
Currently, the court is composed of four Democrats and one Republican.
The two seats that are being voted on are currently held by Democrats who were appointed by Gov. Michelle Lujan Grisham, both on the same day of Jan. 25, 2019.
One of the Republican challengers is Kerry J. Morris, a lawyer who thinks that his experience makes him a good fit for the Supreme Court.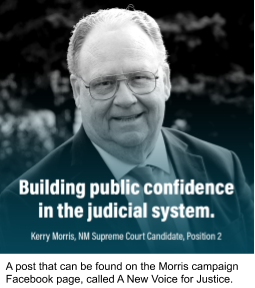 "I have spent nearly 40 years as a lawyer, representing individuals, small businesses, and others in almost every area of law," Morris said.
"This gives me a unique insight into the issues that are likely to come before me as a jJustice on the Supreme Court. I understand the law and the relative positions of the parties involved in most cases and I believe that I am in the best position to make a fair, impartial, and independent decision that is in the best interest of justice and all parties concerned," Morris added.
Morris's campaign website says he has lived in Albuquerque since 1953. He attended Bel Air Elementary School, McKinley Middle School and Del Norte High School. Kerry considers growing up in New Mexico "to be one of his greatest blessings."
While Morris has his own separate campaign Facebook page, it has no activity and has seemingly been abandoned. His page is now under the A New Voice for Justice Facebook page, which contains some pre-recorded videos urging people to mail in their absentee ballots as soon as possible.
He is running against the Democratic incumbent David K. Thomson, who says his career and life make him qualified for the Supreme Court.
"My legal career and community involvement have uniquely prepared me for this position," Thomson said. "I was vetted by a bi-partisan judicial nominating commission and extensively interviewed by the Governor."
Thomson is a former trial judge in the 1st Judicial District. He said his courtroom experience has helped the state legal community navigate the coronavirus.
"My experience proved invaluable in ensuring the NM court system remained open during COVID19," Thomson said. "I litigated for the NM Attorney General's Office and am familiar with how to run a court system."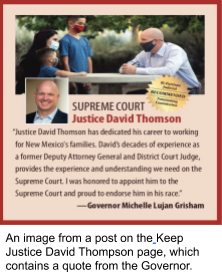 Thomson stated on his campaign website that he has served the Santa Fe, Rio Arriba and Los Alamos counties since 2015. Thomson also has a campaign Facebook page, under the Keep Justice David Thompson page.
The other Supreme Court battle concerns the seat currently held by Shannon Bacon. She is being challenged by Republican Ned S. Fuller.
"I have both the necessary legal and administrative experience to serve all New Mexicans on the Supreme Court," Bacon said. "Prior to my appointment to the New Mexico Supreme Court, I served as a District Court judge on the Second Judicial District Court here in Albuquerque for almost a decade." 
Bacon has experience adjudicating all kinds of cases. 
"While I was a district court judge I was the court's presiding civil judge and I presided over thousands of cases spanning complex commercial litigation, class actions, adult guardianship and conservatorship cases, real estate and contract disputes, election issues, domestic and children's court cases and appeals," Bacon said. "I was also the Bernalillo County water and Middle Rio Grande Conservancy District judge."
Bacon's campaign website states that she has volunteered her personal time on several non-profit boards, including Casa Q, Cuidando Los Niños, Southwest Women's Law Center, Emerge New Mexico and the Albuquerque Community Foundation. 
"Shannon has dedicated much of her volunteer work to address the needs of youth experiencing homelessness," the site states.
Much like Thompson's campaign Facebook page, Bacon also has a similar site under the name Keep Justice Shannon Bacon name.
And while the two pages share similar imagery and posts, Bacon's campaign Facebook page does have some more unique posts, such as one where she shows that she voted and another where she watches a hot air balloon launch.  
Fuller said on his campaign website, "Judges are the guardians of the Constitution and the law. No one wants a guardian to rewrite the rules to favor one side or another. It is critical to hav judges who follow the law and do not rewrite it."
Fuller's website biography mentions his serving as a Mormon missionary in Japan and his earning his law degree from Arizona State University. 
"The most important quality for a judge is humility," Fuller said on his site. "A judge must enforce the Constitution to protect civil liberties and restrain political leaders. However, in doing so a judge must restrain him or herself to ensure that he or she is not simply imposing his or her will in place of the will of the people."  
Maryam Ahranjani, an associate professor at the University of New Mexico's School of Law, said that she would be surprised if the two incumbent Supreme Court justices weren't reelected. 
"I'm always in favor of, if the incumbents are doing a good job, I feel like it's helpful to have some continuity in the judiciary, and really every branch of government," Ahranjani said.
When it came to the main issues that voters are concerned about during this election cycle, in particular a 1953 abortion law that still exists within New Mexico, Ahranjani said that it would be difficult to say what any version of the New Mexico Supreme Court would do or rule on. 
According to Ahranjani, this line of thinking can also be applied to many of the other issues that voters are weighing, such as immigration, the Affordable Health Care Act and climate change, which could include the banning of fracking.
Spencer Butler is a reporter for the New Mexico News Port. He can be reached on Twitter @SpencerButler48.