By Madison Spratto / NM News Port
As President Donald Trump took the stage at Santa Ana Star Center Monday night, more than 200 Burqueños gathered at Tiguex Park to protest his arrival in Rio Rancho. The rally, dubbed NM United Against Trump: A Day of Cultural Resistance, was co-sponsored by numerous groups and created a family-friendly event during Trump's speech and other protests around central NM.
Joan Sanford, the executive director of NM Religious Coalition for Reproductive Choice, said she attended the event to be with the community.
"We need to come together and remind ourselves that that's where our strength is—in community," she said.
The park was filled with attendees of all ages listening to live music, performances, and speakers. Various booths were set up around the park, including a spot for people to register to vote.
Dave Mulryan, the state central committee ward chair for the New Mexico Democratic Party, was in attendance registering potential voters. He said he had registered about 20 people at the park, but had five stations around the city and expected over 100 registrees by the end of the day.
The park wasn't the only option for New Mexicans looking to speak out, but some said it was the safer one.
Justin Rogers, a member of the Asian American Association of New Mexico, said he was at the park to support the community and had the chance to speak to the crowd.
He said he was unsure what would be most effective in resisting Trump's message and considered going to the Santa Ana Star Center, but opted out due to safety concerns.
"This (event) is a better chance to find our shared values among the community rather than reacting to people who follow Trump to encit things," he said.
Sandi Rourke was accompanied by her son and said she wanted to join the community coming together. She said the event in the park seemed like a good alternative to the protest at the center because she figured there was a good chance of it turning violent.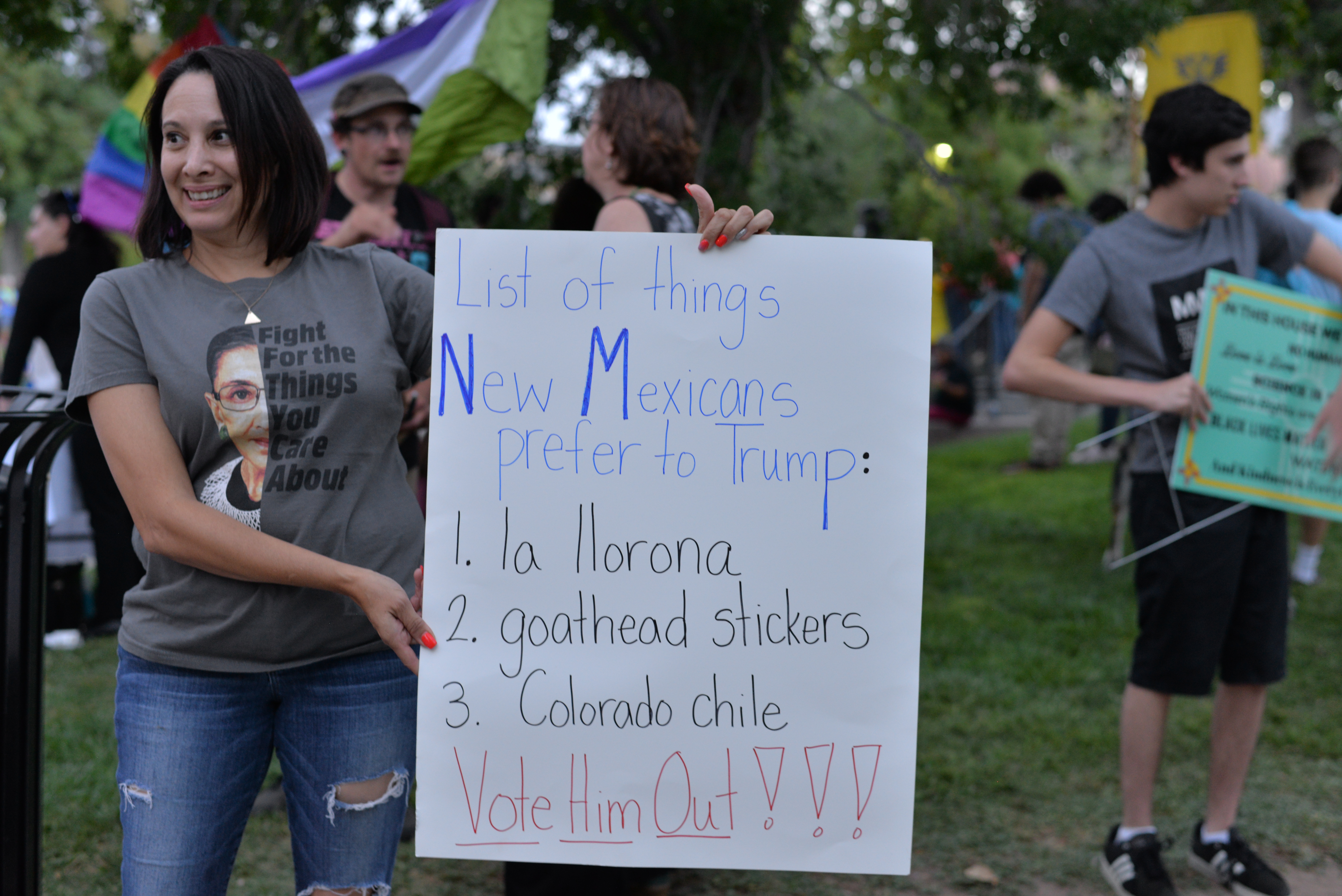 Some attendees wanted to attend the protest, but couldn't because of the location.
Mary Canant and Carla Eichwald said they love protests, but believe Trump's decision to hold his rally in an isolated place such as the Santa Ana Star Center was deliberate and hindered people's abilities to make it out there.
"It's just not fair; freedom of speech is still free," Canant said.
She said the Tiguex protest was more diverse with good speakers and shows Trump supporters that the community is united.
Eichwald said she wanted to go as well, but was deterred because of the whispers of violence.
"I thought we should show our numbers — they act like they're showing their numbers up there in the middle of nowhere, where no one else can get to, and they did that on purpose," She said.
Carman Landau said she didn't want to go up to Rio Rancho and give Trump attention or lead him to misidentify her as being a supporter. Her son was in tow, and she said it is important for children to see their parents exercise their First Amendment rights and freely expressing their opinions.
She said she wanted her son to experience solidarity in a frustrating, and hopeless time.
September 16th is Mexican Independence Day, which Landau said Trump visiting New Mexico on this day wasn't a coincidence.
"Having (Trump) here, in this state, on this really important historic day, it's really important to be around people so we can remember there are a lot of people in our community who also believe that we all deserve to have our rights protected."
Madison Spratto is a reporter for the New Mexico News Port. She can be reached on Twitter at madi_spratto or at nmnewsport@gmail.com.